Well, we're back. I hope you enjoyed a lovely Easter and the briefest sliver of Autumn sun before the rains regained their strength.
Prior to the break we'd been discussing that one of the most nourishing and economical ways to eat pasture-raised chicken (a slightly pricier option yet better value than conventional chicken from a nutritional perspective) is by purchasing a whole bird and making use of every part.
It's a nice easy way to dip your toe into the realm of nose-to-tail eating – a sorely overlooked traditional practice which offers some unexpected benefits.
We'll no doubt revisit this over the coming months – it's a topic that's become rather close to my heart (no pun intended).
I'd promised a series on how to stretch that one purchase over several family meals.
In the last piece we explored how to poach a whole chicken – this week we're taking the leftover meat and broth from that recipe and using it to make Vietnamese coleslaw and a delicious Tom Kha soup.
One of the things I love about cooking in this way is how effortlessly it reduces the mental load of planning.
It's more of a formula:
Step 1: Poach or roast the whole bird. Enjoy it as a meal in its own right.
Step 2: Take the leftovers and create two more family meals. Usually salad and soup in our house, but don't let my routine stifle your creativity!
We do this each fortnight and it's a day or two where very little thinking or planning is required. And the more at ease you become with throwing together a delicious soup or salad without relying on recipes, the more seamless the whole process becomes.
Master a few family favourites and you've got a good weekly or fortnightly routine that will serve you in good stead.
So, without further ado, here are two mouth-watering recipes that will help you on your way.
These are slightly more elaborate options … as a mum, my inclination generally leans toward simple and rustic with slightly fewer ingredients – we'll come back to that rendition next week!
Vietnamese Coleslaw
This is a delicious recipe that utilises the tender meat from your poached chicken, transforming it into a huge, flavourful salad that easily serves four.
It's perfect for this time of year when fresh citrus is on the menu and a great option for warmer days when you want to enjoy a heartier salad that can hold its own as a standalone meal.
I've come to enjoy two distinct versions of this salad and I'll explain why. I tend to oscillate between using wombok and red cabbage as the main ingredient.
The former, for its delicious flavour, unique texture and unparalleled ease of preparation; the latter as a vibrant, visually appealing and anti-oxidant packed alternative.
The aforementioned children prefer the soft texture of the wombok, to any parents contemplating this recipe.
Cashews and peanuts are the usual choice for Asian dishes, however I love using Australian macadamias as there's less chance of rancidity.
And there are two reasons for this. The first is that they're grown locally so tend to be fresher at the time of purchase, and secondly, they have a unique fatty acid composition (mostly monounsaturated) which means they're extremely stable and less likely to oxidise in the first place.
Ingredients
Dressing
2 tsp Tamari or soy sauce
3 tsp fish sauce
1 tbsp maple syrup
Juice of 1 medium orange (1/4 cup)
Juice of 2 medium limes (1/4 cup)
2 large garlic cloves, minced
1 inch of ginger (20g), peeled and grated
1 tbsp toasted sesame oil
Extra pinch of salt to taste
White pepper to taste
Salad
1 ½ cups poached chicken meat, roughly chopped
½ medium purple cabbage or Wombok, finely sliced
3 medium carrots, grated
1 green chilli, seeds removed, finely diced
6 spring onions, including greens, finely sliced
½ cup roasted macadamia nuts, roughly chopped
1 large bunch of coriander, roughly chopped
½ a bunch of mint leaves, roughly chopped
1 small handful of Vietnamese mint, finely chopped (optional)
Freshly toasted sesame seeds to garnish (optional)
Method
In a large salad bowl, whisk together the dressing ingredients.
Add all the salad ingredients and toss well to combine.
If you'd prefer to save some of the salad until the following day, keep the dressing separate and incorporate it shortly prior to serving. Instead, you can add a squeeze of lemon or lime to the salad to help keep it fresh.
Tom Kha Gai
This is one of my favourite flu season recipes – and trust me, it works a charm when it's served at the onset of a cold.
The ginger, garlic and chilli are powerful antibiotics and antivirals in their own right. And the Thai herbs aren't merely aromatic soup-making miracles, they're a sorely underrated source of immune-boosting compounds and antioxidants as well.
It is a delicious, flavour-packed homemade alternative to recipes relying on refined sugar and by utilising the leftover broth from the poached chicken dish, that extra hurdle is removed and we're halfway there.
And what this recipe lacks in terms of simplicity (granted, it's not a small or readily accessible ingredients list) it makes up for with its fleeting cooking time.
You're serving it 13 minutes from when the pot goes on the stove … It's a great option when you're craving powerful flavours – that unmistakably seductive mix of sweet, spicy, salty and sour – and yet don't have a particularly overwhelming desire to cook.
This recipe makes two hearty servings.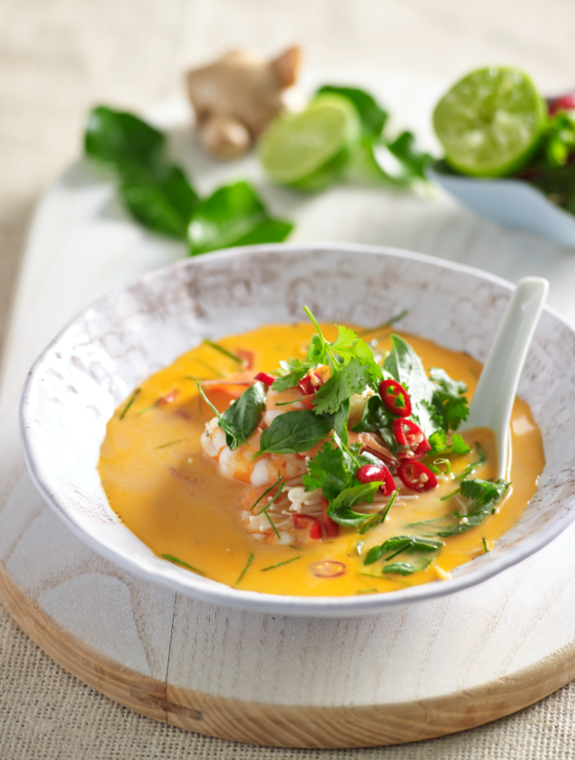 Ingredients
3 tsp ghee or coconut oil
5 cloves garlic, minced
1.5 inches ginger, minced or grated
1 fresh red chilli, finely sliced (seeds optional)
2 spring onions, sliced
1-2 sticks lemongrass (bottom third, sliced open lengthways)
8-10 cherry tomatoes, halved
500ml chicken broth
1.5 tbsp fish sauce
1.5 tbsp maple syrup
1 large pinch of salt
2 tbsp coconut cream
Small handful mushrooms, sliced
5 large kaffir lime leaves, gently scrunched
Large handful of diced poached chicken meat
Small handful of either (or both): coriander or Thai basil, roughly chopped
Juice of 1 small lime or half a medium lemon.
Method
Heat the ghee on high heat in a medium-sized pot. Sauté the garlic, ginger, chilli, spring onions, and lemongrass for 2 minutes, stirring occasionally, then add the tomatoes and continue to sauté for an additional 2 minutes.

Add the broth, fish sauce, maple syrup and salt. Bring to the boil and then reduce heat to low. Simmer for 5 minutes.

Add the mushrooms and kaffir lime leaves, simmering for a further 3 minutes.

Add all other ingredients except for lime juice, simmer for 1 final minute, then swiftly remove from heat. Garnish with the lime juice and extra coriander to serve.
When people mention the higher price of regeneratively farmed, pasture-raised chicken – this formula, this approach to cooking, is my answer.
This is how I justify opting for nutritionally superior food – which for that reason is far more flavourful than your average supermarket chicken.
In my experience, and I've been doing the maths for many years now, the protein cost per meal is roughly the same as long as you learn to cook like your grandmother did.
Next week we'll be back with a marginally less exotic ingredients list that your grandmother would have undoubtedly been more familiar with.


Georgia is a clinically trained nutritionist, wholefoods chef, columnist and mum. She's been featured in Body & Soul and had TV appearances on ABC Breakfast and Studio 10 for her unique approach to food and health. She's known for reinventing traditional foods for the modern kitchen and was instrumental in a radical new approach to sports nutrition with a program for the NRL Parramatta Eels, kickstarting their ascent on the ladder in recent years. Find out more at stirringchange.com.