A Mardi Creek detention basin and levee on Anzac Rd, Tuggerah are the two key options to manage flooding trouble spots in Wyong.
These are just two recommendations in the Wyong River Catchment Floodplain Risk Management Study and Plans which have been adopted by Central Coast Council.
Other options in the plan are to establish a separate flood plan for Tuggerah industrial area and to update other local flood plans.
Mardi Creek detention basin is the main structural recommendation in the plan, taking four years to implement at an estimated capital cost of $440,000 plus $60,000 ongoing costs.
A proposed site is Council owned land between Old Maitland Rd and the M1 Motorway, which would take advantage of potential flood storage capacity at Mardi Dam.
Further detailed feasibility assessments would be required, including a flora/fauna impact and Aboriginal Heritage Assessment, as a significant site is nearby, but it is not expected to be disturbed by building the detention basin.
The report says, overall, that the detention basin would reduce flooding along Mardi Creek and adjoining flood plains, but Tuggerah industrial area would still experience flooding even though the depth of water would most likely be lower.
A recommendation in the report is a levee embankment across a feeder channel adjoining Anzac Rd, to reduce the potential for floodwaters backing up from the Mardi Creek channel and inundating properties near McDonalds and Hungry Jacks.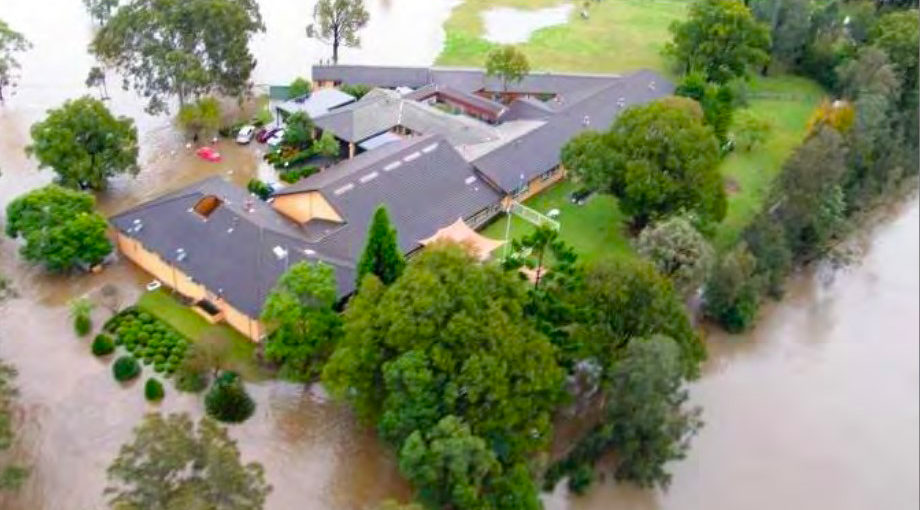 A gated culvert through the embankment would allow runoff from Anzac Rd to travel north along the channel and into Mardi Creek, but would prevent elevated water levels from Mardi Creek from backing up through the culvert, the report said.
It is expected the levee and gated culvert would cost about $150,000 to implement and take about two years.
Wyong Aged Care Facility on the riverfront came under special consideration as part of this study as it can be isolated during relatively frequent floods and is home to vulnerable residents.
The report said that if, in a large flood, staff and occupants waited until floodwaters approached the floor level, it was likely to be too late to evacuate.
Due to the relatively isolated nature of the facility, the use of traditional structural mitigation measures such as levees, were not considered viable to protect this property.
A private flood emergency response plan has been prepared for the facility that sets out protocols for staff and residents to follow before, during and after a flood.
It is understood that the owner of the aged care facility, Riviera Health, has plans to expand the facility, and discussion with Council continues about incorporating an elevated on-site flood refuge as part of any future development.
The report noted that during community consultation, the most prevalent drainage "problem area" reported by the community was the northern floodplain of the Wyong River around McDonagh Rd and Kooindah Waters.
Residents stated that the poor drainage was mainly associated with a lack of maintenance of various drainage channels and culverts that they said were completely blocked by debris.
They said that maintenance of these drains was infrequent and they recognised that these blockages had a significant impact on the frequent stormwater and overland flooding.
Residents placed the cleaning of these structures as a high priority action as part of this risk management plan.
It was recommended in the study for Council to undertake a local drainage study for the northern floodplain of the Wyong River between Wyong and Tacoma, as well as investigating installation of flood gates on pipes draining to Wyong River.
Further detailed investigations will be undertaken on the South Tacoma Relief Floodway, separate to the Wyong River Catchment plan.
Even though Porters Creek is in this catchment, it is not included in this particular plan as it has its own Porters Creek Floodplain Risk Management Study.
Other high priorities in the flood management plan include maintenance of drainage channels and culverts, improvements in the flood warning systems and disseminating flood information, update of flood emergency plans, community education about property level flood information and strategies to discourage dangerous behavior such as driving through floodwaters and to open and maintain fire trails to allow access to and from upper catchment areas during floods.
It is noted in the report that adoption of the plan does not commit Council to delivery of those actions, however, the actions identified become eligible for state or federal grant funding.
This also means that recommended works, such as culvert upgrades and trunk drainage works can potentially be included in Council's capital expenditure forward plan of works.
The Wyong River catchment is 440 sq km and drained by a network of rivers and creeks including Wyong River, Cedar Brush Creek, Jilliby Jilliby Creek, Porters Creek, Mardi Creek and Deep Creek, that ultimately drain into Tuggerah Lake before discharging to the sea via The Entrance Channel.
Source:
Meeting, May 25
Agenda item 2.7
Central Coast Council
Reporter: Sue Murray