A proposal by a coastal engineer to trial a low-cost sandbag wall in order to keep open the mouth of The Entrance Channel has been reffered by Central Coast Council.
Instead, Council has referred it the expert planning panel to be considered.
The proposal was for Council to consider a geo-textile sandbag groyne at the channel mouth to train the channel slightly north.
In the opinion of Angus Jackson, an internationally recognised coastal engineer with 35 years' experience, this would assist maintaining a permanently open channel that would self scour.
The proposed works were estimated to cost $300,000 and Jackson says it could be an easy and inexpensive solution to managing The Entrance Channel.
"The problem at the moment is that when you've got a northerly swell, it pushes the entrance south and over that rock shelf and that means it can't scour.
"It acts like the lip on a basin for the lake water to flow out across that high rocky shelf and is very inefficient.
"Whereas if you hold that entrance further north, where the new entrance has been cut, the outgoing waters will scour the channel fairly deeply and that will keep widening and a lot of water can come out very quickly and scour a good channel, whereas over the rock platform it can't.
"It will tend to hold itself open more efficiently in that location, but if it were to close by itself, you would re-open it further northwards.
"It's the first step and maybe that's all that is needed to make it more efficient."
Jackson said this option could be used as a "full-scale model" and could either be adapted to improve efficiency or easily removed if proven ineffective.
Councillor Bruce McLachlan put the proposal to Council's June 9 meeting.
He wanted Council to investigate a more permanent option to the sand berm recently built to prevent erosion along the southern side of the channel and keep the flow further to the north, which seemed to be successful until it was washed away by heavy seas late in May.
"It's time to review some alternative cheaper options towards the ongoing flood mitigation and erosion issues of Tuggerah lakes," he said.
"A geo-tech sandbag wall is a fraction of the cost of an expensive permanent rock wall, which was estimated at $50M in 2013, but could more like $80M today.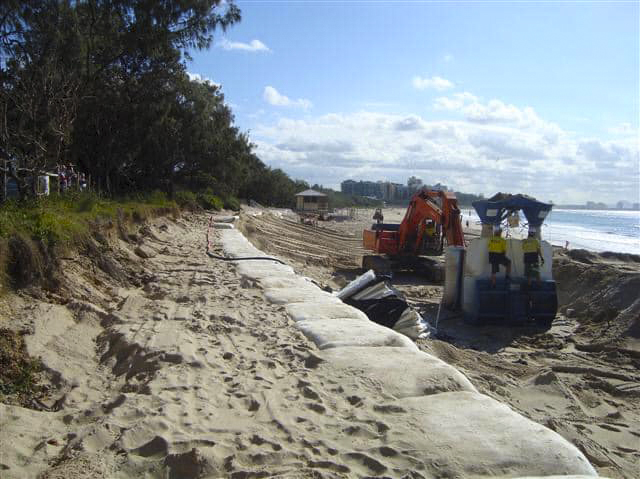 "Geo-tech bags are not the magic bullet and will not negate the need for dredging nor stop the natural process of the sand berm closing, however, they will assist in sand scouring and maintaining an open channel for longer periods, keeping that fresh tidal exchange of sea water for the lakes.
"Surely, it's time to trial something," he said.
"Doing nothing and allowing the channel to silt up, water stagnate, lakes putrify with an increased flood risk is no longer an option.
"If the trial is unsuccessful, then the sand-filled geo bags can be cut open and easily removed."
In a letter read out at the Council meeting's public forum, Craig Hillman, a member of the NSW Coastal Alliance, said that the sand bund that Council built at the channel as a trial was a success.
"The channel widened and moved north and provided an increased exchange of tidal waters that, through wind effect, the whole northern Tuggerah lakes system has benefited from.
"Unfortunately, Council's sand bund efforts were washed away when put under the stress of recent weather events, so I urge Council to install geo textile banks to form and stablise the channel entrance to withstand storm damage and have a long term design life.
"Local residents are sick to death of the inaction and are looking for real action from their elected councillors, not the same old excuses of why nothing can be done at The Entrance Channel and Tuggerah lakes."
Coastal engineer, Angus Jackson, said it was easy to get in the cycle of saying 'we're not quite sure, we feel there's some risk', but to do this full scale modelling by putting in the geo-tech sand bank and monitoring it is less risky and less costly than continually ordering all these reports.
Cr Jilly Pilon reminded councillors that Council has $4.7M of federal government funding that could potentially be used to look at this affordable suggestion.
"The Water Minister has previously said that Council should be making its own decisions, we shouldn't be using the state expert panel to say let's hold off, in that case it was about dredging, but people are still saying let's just wait to see what the state expert panel has to say," she said.
Deputy Mayor, Cr Jane Smith, said she understood the consultant (Jackson) had skills and knowledge, but under the Act, Council had a very clear responsibility and liability about coastal management actions, so it was imperative that Council made sure that it had expert and peer reviewed advice.
"I think it's entirely appropriate that we refer that suggestion (from Jackson) to an expert body and to the consultants that are going to be considering the Coastal Management Program."
But Cr McLachlan said that all Council was doing was pushing it off to another report and pushing it over to the state government, hoping something got done.
"If you are just going to shunt this away, you are not serious about doing anything about the channel, you just want to leave it dirty, choked, stinking – the public are over it," McLachlan said.
The final decision by Council on an amendment by Cr Jane Smith, seconded by Cr Doug Vincent, was that further consideration of investigations or designs of sandbag walls or similar at The Entrance be deferred until the recommendations of the expert panel are provided and the action plan for the new Coastal Management Program has been completed.
Councillors Louise Greenaway, Chris Holstein, Kyle MacGregor, Richard Mehrtens and Jeff Sundstrom voted in support.
Crs Jillian Hogan and Lisa Matthews both declared a pecuniary interest in the matter and left the "chamber" during discussion.
Source:
Meeting, Jun 9
Central Coast Council
Reporter: Sue Murray