Australia has voted for change in the 2022 Federal Election, most vividly reflected in a swing of over 6 per cent against the Scott Morrison led LNP Coalition government and gains of around 2 per for both the Greens and Independents in a broad-based protest against big-party politics.
On the Central Coast, Labor strengthened its hold on the northern seats of Dobell and Shortland, while Dr Gordon Reid delivered a resounding 7.7 per cent swing for the ALP in Robertson to oust incumbent MP Lucy Wicks.
By the close of counting on Saturday night, Labor had secured 72 of the 76 seats needed for an outright majority with 14 seats still too close to call, albeit most political commentators are still predicting a minority Labor-government formed with the support of select cross-benchers.
It was always going to be an election full of surprises, with a long list of well-funded, so-called TEAL Independents contesting key seats, mainly in the Sydney and Melbourne metropolitan areas. By midnight, the TEALs had claimed the scalps of former Treasurer Josh Frydenberg in Kooyong, Jason Felinski in Mackellar, Tim Wilson in Goldstein and David Sharma in Wentworth among many others.
The ALP also suffered at the hands of the TEALs with the demise of Kristina Keneally who had been parachuted by Anthony Albanese into the seemingly safe seat of Fowler only to suffer a 16.1 per swing against.
The TEALs mostly captured the vote of traditional liberal voters, while in seats in and around Brisbane, both the LNP and Labor incredibly suffered a loss of voters to the Greens.
Another surprising outcome was that the ALP victory came in spite of a 0.5 per swing against it nationally and after receiving less than one in three votes, a primary vote that is even lower than when the Rudd government was defeated.
Locally, in the bellwether seat of Robertson, the ALP's Gordon Reid enjoyed a 7.7 per cent swing on a two-party preferred basis (5 per cent on primary vote) to capture the seat from Lucy Wicks who was looking to win a fourth term. Shelly McGrath polled well with just under 10 per cent of the primary vote, with the Greens preferences expected to flow mostly to Labor.
Reid campaigned strongly over the past six weeks with repeated messaging about Labor's Powering Australian Plan and associated investment in renewables, including community batteries, addressing the GP and broader healthcare crisis, a federal corruption investigation body and restoring real wage growth for low-income earners.
Many voters also appeared to be incensed by the LNP's prolonged obstruction to the cancellation of the PEP-11 gas exploration permit and subsequent attempts to claim credit for it.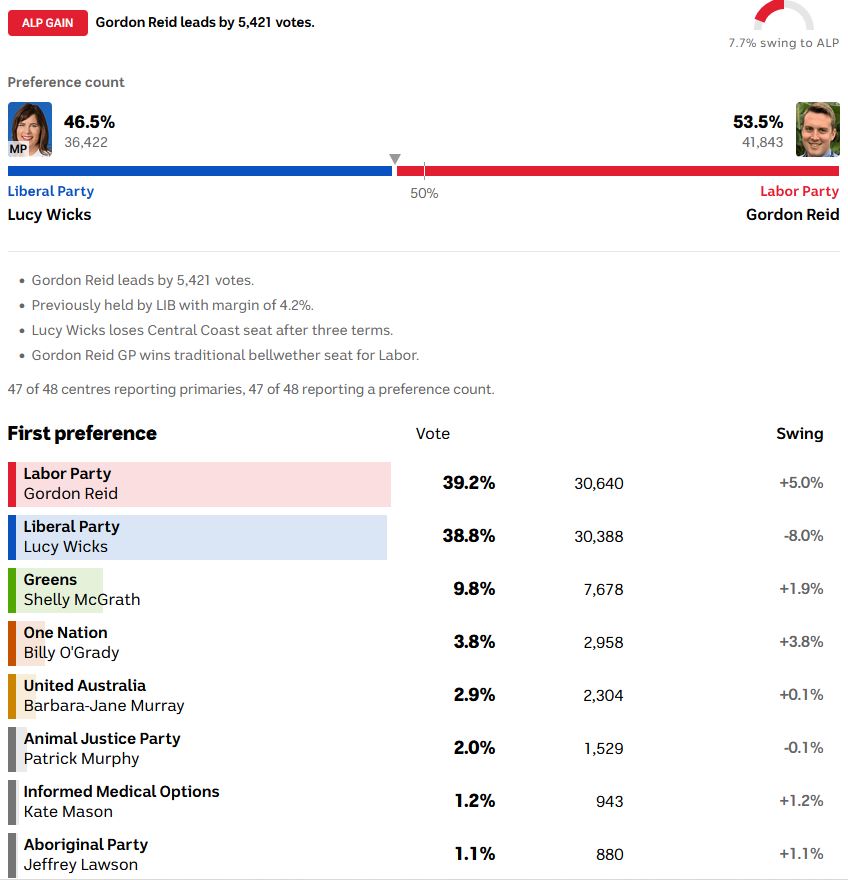 To the north, Labor MP Emma McBride, who previously held a slender 1.5 per cent margin, enjoyed a 5.2 per cent swing in her favour on a two-party preferred basis to be re-elected for a third term as member of Dobell.
At the close of counting on Saturday night, Dobell had 43.4 per cent of the primary vote, well ahead of Liberal candidate, Dr Michael Feneley, with 33.4 per cent and the Greens Cath Connor on 8.3 per cent. One Nation's Martin Stevenson made a solid showing capturing 7.7 per cent of Dobell's primary vote.
McBride's key election commitments were around addressing the health and aged care crises and a major investment in The Entrance town centre.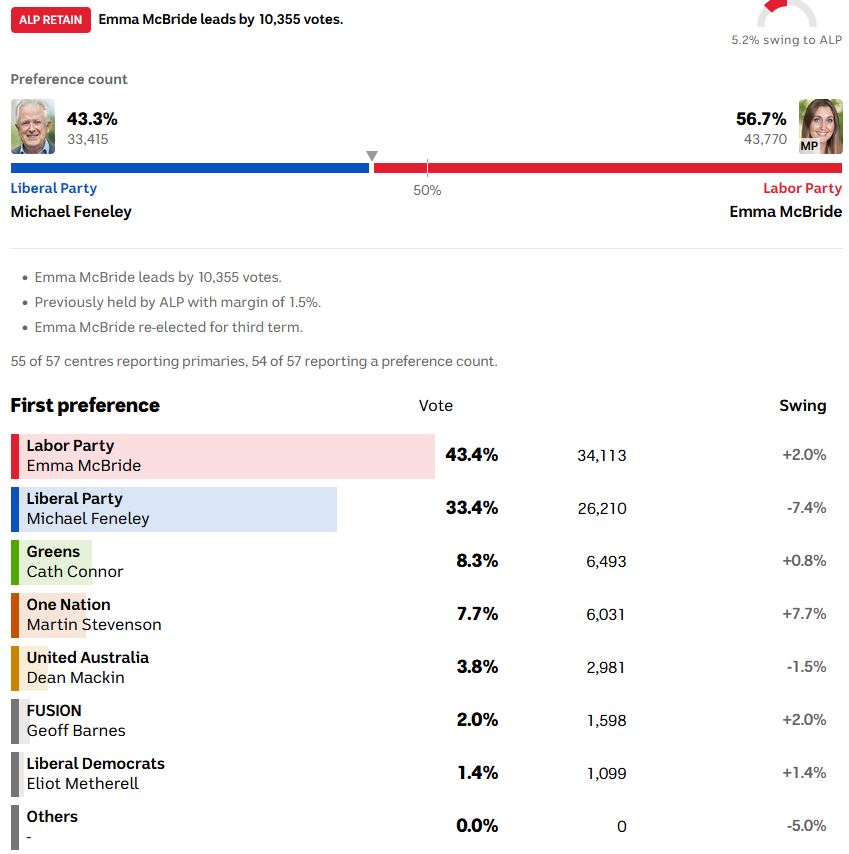 While local issues have clearly been a major factor in many electorates, according to political commentators, the results nationally reflect three fundamental step-changes in national sentiment – the nation appears to be fed-up with inaction on climate change, fed-up with inaction on women's rights and security and (more generally) fed up with the lack of genuine political representation of their communities … something the ALP will now need to quickly tune into.
CCN will be seeking an interview with Dr Gordon Reid and Emma McBride in coming weeks.
CCN