We're back with part two of our 'one bird, three meals' series which aims to highlight how easy it is to stretch a whole pasture-raised chicken into several days' worth of delicious family meals.
Last week we touched on two Asian-inspired recipes that could be created from the meat and broth left over from poaching a whole chicken (a Vietnamese coleslaw and a spicy Thai Tom Kha soup).
This week we're keeping things a little more rustic and exploring two simple ways to transform whatever is left behind after your family have devoured a roast chicken into lunch and dinner the following day.
The good thing about most pasture-raised birds is that they are much older than your average conventionally-farmed chicken (which invariably means more flavour). They're bigger, sturdier and far healthier which means more meat and a far greater concentration of collagen in their bones and cartilage, resulting in a heartier, more nourishing broth.
And remember – broths and stocks aren't just a way to add delicious flavour to your meals. There's twelve grams of protein in your average cup of broth and an abundance of natural glucosamine – the most widely used supplement after vitamins and minerals! This is what nose-to-tail eating is all about. The parts we've commonly tossed away ever since we lost touch with grandmas kitchen wisdom are actually some of the most nutrient dense.
Saving your roast
Whenever you've made a roast chicken, the best way to maximise the potential of your leftovers is to salvage all the bones. In our house, this means everyone returns their chicken bones and cartilage from their respective plates to a container in the fridge or directly into my bubbling stock-pot to create the most nourishing and flavourful broth. We're boiling this broth for a minimum of an hour, so there's no chance of contamination.
I tend to pick all the meat from the carcass and save it in a separate container, ready for use the next day.
Chicken & corn soup
This is a simple, nourishing classic and a delicious way to make use of the leftover chicken frame from your roast. The secret is to use the corn cobs to create a quick but intensely flavoured stock. If you're pressed for time, even 30 minutes will suffice!
Serves 3
Stock
Chicken frame, cartilage and bones
3 corn cobs, kernels saved for soup
2 tsp apple cider vinegar
Enough water to cover (1.25 L)
Soup
1.5 Tbsp ghee
1 large brown onion, finely diced
4 cloves garlic, minced
3 waxy potatoes, peeled & large diced
Corn kernels, reserved from stock
1L chicken & corn stock
½ tsp of salt (and more, to taste)
Black pepper, to taste
Large handful of reserved chicken meat, diced
Optional: cauliflower puree to thicken
Garnish: handful of parsley, chopped
To make the stock: pick the remaining meat off the chicken frame and set it aside. Place the frame and any additional bones into a medium saucepan. Remove the corn kernels from the 3 cobs and set them aside. Chop the cobs in half and add them to your pot with the vinegar and enough water to cover (usually around 1.25 litres), then simmer on low, covered, for 30-90 minutes. Strain the mixture, discarding the bones and cobs.

Sauté the onion in ghee over medium heat for 3 minutes. Add the garlic and continue to cook for another 3 minutes, stirring occasionally.

Add the potatoes and sauté on high heat for 5 minutes, continuing to stir occasionally, then the corn kernels, sautéing for another 3 minutes.

Add the stock, salt and pepper then simmer gently on low heat for 5 minutes or until the potatoes are just cooked through. Add the chicken meat and continue to cook for another 3 minutes.

I like to add a little cauliflower puree to thicken the soup (which I store in ice cube trays specifically for this purpose), however it is equally delicious without this addition. Serve immediately, with a sprinkling of fresh parsley and some extra pepper or even a splash of cream to take it up a notch.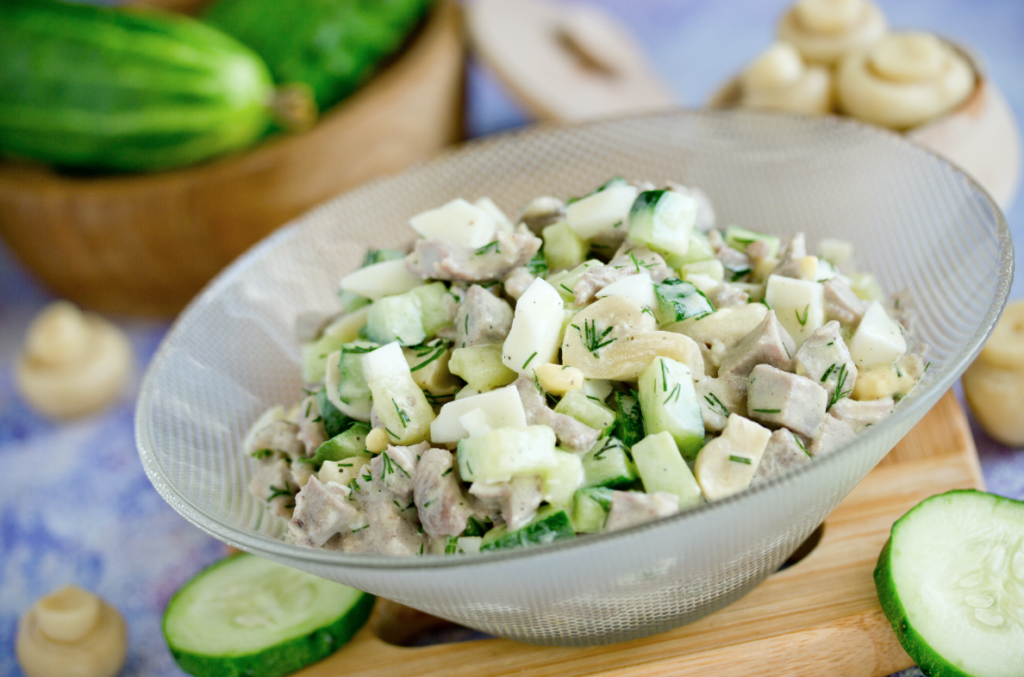 Yoghurt, cucumber & chicken salad
This is a tangy and refreshing salad which is delicious served in pita bread pockets or lettuce cups. It's such a simple, one-step recipe as there's no need to make a separate dressing!

I love using my own garlic marinated mushrooms with this one, which I've included the recipe for, below. Alternatively, you can source some from your local deli or supermarket.
200g of chicken meat, diced or shredded
2/3 cup Greek yoghurt
½ cup of garlic marinated mushrooms
2 Lebanese cucumbers, diced
Large handful of dill, finely chopped
2 spring onions, including greens, finely sliced
2 pinches of sea salt
Zest of half a large lemon
1 Tbsp lemon juice
Pepper to taste
Stir together all ingredients in a large bowl until well combined. Enjoy right away or chill before serving.

Garlic marinated mushrooms
This is such a simple way to enjoy delicious marinated mushrooms at home. If you're going to attempt this one, please don't skip the cooking process!
There are plenty of recipes which advocate a shortcut around this, however I don't recommend eating raw mushrooms under any circumstances. The only exception is if they've been properly lacto-fermented. Many of the beneficial nutrients found in mushrooms are only accessible to us by using these two traditional methods of preparation. Cooking and fermenting also help to remove the mild toxins found in mushrooms in their raw state.
This recipe makes around 1 medium jar of mushrooms that can be stored for 10-14 days in the fridge. For optimal flavour, leave them to marinate for a few days before serving.
600g of small button mushrooms (halve larger ones)
¼ cup + ¾ cup apple cider vinegar
½ cup olive oil
5 garlic cloves, peeled and roughly chopped
3/4 tsp salt
Rinse the mushrooms well to remove any soil residue.

Place the mushrooms in a medium sized pot with enough water to cover and add the ¼ cup of apple cider vinegar. Adding this acidity to the water will preserve the light colour of the mushrooms.

Bring it to the boil over med-high heat and continue to boil them for another 7 minutes.

Whilst this is happening, heat the remaining apple cider vinegar, oil, garlic and salt over medium heat in a small pot until it reaches boiling point, then reduce the heat and simmer for 2 minutes. Remove it from the heat and set aside.

Drain the mushrooms and discard the water, then transfer them into a jar, leaving at least an inch of space at the top.

Once the marinade has cooled slightly, pour it over the mushrooms. Allow the jar to cool on the bench before sealing it with a lid and transferring it to the fridge.
Well, I hope this gives you some more inspiration around how to stretch your pasture-raised chicken as far as is humanly possible. Check out the comprehensive Farmers Market guide we produced last year to find a local supplier. The Central Coast hinterland is home to some incredibly dedicated farmers choosing regenerative farming methods – let's support them!
Georgia is a clinically trained nutritionist, wholefoods chef, columnist and mum. She's been featured in Body & Soul and had TV appearances on ABC Breakfast and Studio 10 for her unique approach to food and health. She's known for reinventing traditional foods for the modern kitchen and was instrumental in a radical new approach to sports nutrition with a program for the NRL Parramatta Eels, kickstarting their ascent on the ladder in recent years. Find out more at stirringchange.com.