People who have received both doses of a COVID-19 vaccine will be allowed more freedoms this month, according to the NSW Government. Though the NSW Council for Civil Liberties is concerned with some elements of lockdown.
The recent announcement marks the first step in the Government's roadmap, which had been promised for several weeks.
Further freedoms are expected to follow for those who have had the jab when the state hits new vaccination targets of 70 and 80 per cent.
From Monday, September 13, following consultation with NSW Health, adults who have received both doses of the COVID-19 vaccine will be able to gather outdoors with up to four other people within their LGA.
The NSW Government said when 70 per cent full vaccination is achieved, a range of family, industry, community and economic restrictions will be lifted for those who are vaccinated.
At 80 per cent fully vaccinated, it is expected there will be a further easing of restrictions on industry, community and the economy.
The government will investigate trials of certain industries in coming months, as a proof-of-concept measure to prepare the businesses to open up and operate in a COVID-safe way.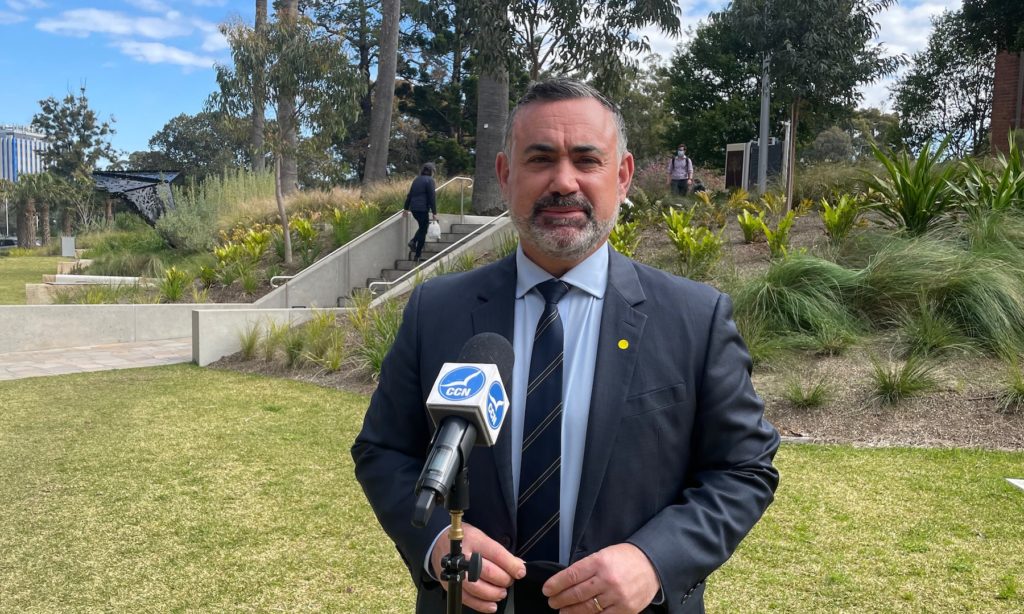 Deputy Premier, John Barilaro, said the roadmap was the biggest incentive yet to get vaccinated in order to return to a level of normality.
"The roadmap … outlines a clear pathway forward in which a range of family, industry, community and economic restrictions will be lifted for those that are fully vaccinated when NSW hits 70 per cent," Barilaro said.
"Having a meal with loved ones or having a drink with friends is just around the corner, but to get there, we need to keep up momentum in the vaccination rollout."
Local legal practitioner and President of the NSW Council of Civil Liberties, Pauline Wright, said it was 'not unreasonable' for the government to be employing proof of vaccination cards but warned the scheme should be temporary.
"There are some people who can't be vaccinated because they are immune-compromised so an alternative way is needed for them to be able to be free in the community," Wright said.
"And that is rapid testing.
"While this deadly pandemic is still around, we do need to accept there are going to be some limits and we're going to have to show that we have a licence to go about our business.
"It's got to be temporary but whilst we've still got the pandemic the proof of vaccination is not unreasonable."
However, Wright said she was highly concerned over the range of 'Stay at Home' measures brought in by the NSW Government.
"The Council is onboard with having properly calibrated temporary measures that are designed to reduce the spread of this deadly pandemic so there is no argument about that," Wright said.
"But what we are concerned about is the overreach and disproportionality of some of the measures and we are really concerned about the special powers announced on August 20.
"We are facing a health crisis and not a crime wave.
"These are significant new powers which have been given on top of the existing sweeping powers entrusted to police over the citizens of NSW.
"Heavy-handed policing will not lead to successful health outcomes and is likely to undermine trust not only in police but also in the government that empowered them.
"A two-pronged approach is required – adequate vaccination and testing being made freely available coupled with properly calibrated health directives based on evidence."
The full interview with Pauline Wright can be found on Central Coast Community News' YouTube channel.
Proof of vaccination
There will be a range of options available to receive proof of a COVID-19 vaccination:
• Download a COVID-19 digital certificate via the Express Plus Medicare mobile app or through an Medicare online account on myGov;
• A COVID-19 digital certificate on Apple Wallet or Google Pay;
• Vaccination providers can print an immunisation history statement; or
• Contact the Australian Immunisation Register on 1800 653 809 (Monday to Friday 8am to 5pm) and ask for a statement to be sent to you.
Maisy Rae