The first group of "under-performing" assets to be sold by Central Coast Council to recoup hundreds of millions of dollars of debt includes sites at Wyong, Warnervale, Doyalson, North Gosford and in Gosford.
Land at The Entrance identified by Council as one of five top sites for affordable housing was struck off the list of asset sales when it went before Administrator Dick Persson at Council's meeting on Monday, November 30.
"I'm not interested in selling sites that are part of an affordable housing strategy … housing is one of my priorities," he said.
The three lots at 23-25 Ashton Ave, The Entrance, are currently being used for informal car parking.
Persson also removed 129 Albany St, Gosford, off the list of properties to be sold, which currently houses a childcare centre, a dementia care centre and hostel.
Other properties at Warnervale, Doyalson, Jilliby, North Gosford and Council's own office building will be sold.
A Property Advisory Committee will be established to advise Persson and General Manager, Rik Hart, through the next three lists of asset for sale to follow later, as part of the Business Recovery Plan to recoup Council's debts.
"This Committee will be two or three people with vast property experience outside of the area, people who won't be part of the development industry or the networks that are here," he said.
Persson said tight time frames and the urgent financial situation prevented community consultation.
"I'm going to release a report on Wednesday (December 2) which I think will surprise some people … that the situation we are in is far more serious and urgent than I thought when I got here," Persson said.
"So, there is an issue in terms of time and our financial situation is going to require Council giving confidence to lenders that we are on the job to improve the dire situation that we are in.
"I believe that we'll need to move ahead more quickly than I thought recently with some of these measures and that will limit the opportunity for consultation.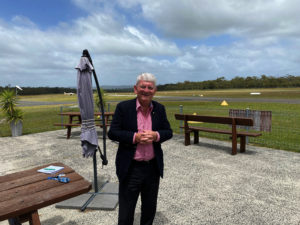 The Warnervale land sell-off includes areas earmarked in the airport masterplan for aviation industry development, comprising 9.2ha at 140 Sparks Rd and 15.4ha at 4-10 Warren Rd, which also was the site of the failed Chappie Pie Chinese Theme Park proposal, and land which Council had voted to sell a year ago.
A For Sale sign will also go up at Jilliby on 11 lots totalling 88ha, known as Warnervale Industrial Park at Kiar Ridge, and with subdivision approval for 69 industrial lots.
Those Jilliby sites, another failed proposal by former Wyong Council for an airport site, comprises 225 Sparks Rd and several sites along Hue Hue Rd: 671, 689, 701, 725, 749, 781, 791 and 811.
Another 234.85ha of vacant bushland will be sold at 200, 740 and 1550 Thompson Vale Rd, Doyalson, which is part of the Northern Growth Corridor and identified in the Central Coast Regional Plan as a potential industrial release zone and proposed biodiversity corridor.
The four lots are known as Spring Creek Business Park at Doyalson, and Wyong Coal is an existing tenant on part of that land with a licence until June 2021 with a one-year option.
A public reserve parallel to the Pacific Highway and opposite Wyong Golf Course at 1a Lucca Rd will now proceed to sale, 12 months after Council first decided to sell the 1.47ha for potential business/manufacturing development.
Another disposal will be five lots with current development approval for a mixed retail, commercial and residential project at 15-23 Hely St, Wyong, known as the Oasis site.
Several sites in Mann St, Gosford, including the Council chambers and administration building and land beside it that was bought with a regional performing arts centre in mind are also included.
Persson said that those plans for a Gosford regional arts centre may well prove to be unaffordable.
"We have a very good performing arts centre in Wyong – we may only be able to afford one," he said.
Other Gosford sites to be sold include the Broadwater Hotel, and part of the Central Coast Conservatorium at 126 Georgiana Terrace will be up for sale.
A sum of $540,000 will be allocated from the current approved operational budget to cover the cost of market valuations, legal fees, reclassification/planning proposals and marketing.
Sue Murray