An exhibition of 22 original artworks on calico by NAISDA Dance College students has raised over $1,400 to provide resources for the remote Aboriginal community of Nyinyikay in North East Arnhem Land.
Hatching the idea themselves to donate the artworks and raise funds, the NAISDA students suggested they be placed on sale at the exhibition launch during NAIDOC week.
Each striking work expressed the student's connection to place, lands, waters and each other and honoured this year's NAIDOC theme Always Was, Always Will Be.
The works on sale were eagerly snapped up within the week.
Diploma student, Chandler Connell, explained the motivation behind the art sale.
"It was about getting into the practice of giving back," Connell said.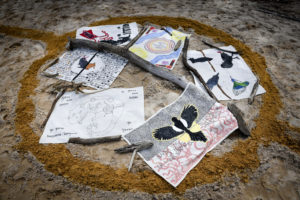 "Our Cultural Tutors travel from their homelands in North East Arnhem land to teach at NAISDA for our onsite Cultural Residency.
"They give their time and knowledge and share Yolŋu culture with us.
"We felt this would be a great opportunity to use our artworks to give something back to Community."
The artworks reflected the students' connection to their own Country as well as the Yolŋu kinship they are adopted into by NAISDA's Cultural Tutors from Nyinyikay.
"We can't wait to have the conversation with the Elders and Community to let them know and have a yarn about how it's going to help," Connell said.
The exhibition will be remounted as part of NAISDA's onsite end of year celebration in early December in lieu of its annual Sydney Performance Season.
It will also be translated into a virtual experience including interviews with NAISDA students, making it COVID-accessible to wider audiences.
NAISDA CEO, Kim Walker, reflected on the achievement.
"This was totally the students' brainchild," Walker said.
"Their efforts reflect the depth of connection our young Aboriginal and Torres Strait Islander people have with our Cultural Tutors, Elders and Communities across Australia.
"We are extremely proud.
"The drive, strength of character and commitment displayed through initiatives such as this reveal these young people as our Aboriginal and Torres Strait Islander leaders, mentors and innovators of tomorrow."
Source:
Media release, Nov 24
NAISDA Dance College