It might not be the event Coast residents are used to, but the highly popular annual Harvest Festival will go ahead despite the coronavirus through an exciting new online format.
Central Coast Council said residents would be able to explore the four event hubs of the festival through video packages featured on the Harvest Festival Facebook page and Council's new Coast Connect YouTube channel.
Council's Unit Manager Community Partnerships, Glenn Cannard, said while locals and visitors may not be physically heading to the beautiful Central Coast hinterland this June long-weekend they would still be able to take a glimpse behind the farm gate.
"Harvest Festival is one of our most popular events – both with locals and tourists – and we know it's disappointing that the physical event can't go forward but we're thrilled to bring some of the magic of Harvest directly into our homes," Cannard said.
"We've worked with our event hub partners to create four video packages – Taste of Harvest, Paddock to Plate, Embrace the Adventure, Farmers' Story – and each of these highlights packages will be available on the Harvest Festival Facebook page from June 6."
Viewers will be able to watch cooking demonstrations using local produce, discover hidden waterfalls, pick seasonal fruit (virtually) and get to know some of the region's farmers as they take you onto their properties, virtually.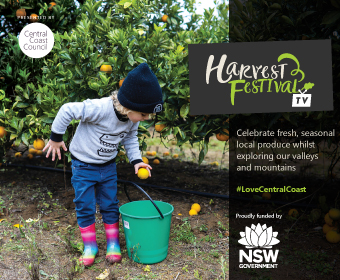 Mayor, Lisa Matthews, said Harvest Festival Online would continue the annual tradition of celebrating the spectacular Central Coast hinterland.
"We may not be donning our winter woollies to head up to our beautiful hinterland region but we will be able to experience some of the amazing local sites of the incredibly popular Harvest Festival from the safety and comfort of our living rooms," Cr Matthews said.
"Harvest Festival shines a spotlight on one of the Coast's hidden gems – our beautiful, fertile and productive hinterland – and it is very exciting that we can experience on online version of this event in 2020.
Harvest Festival can be viewed on the Harvest Festival Facebook page and Council's Coast Connect YouTube Channel – centralcoast.nsw.gov.au/youtube – with the first video package on Saturday, June 6, and then each Saturday for the next three weeks after that
Source:
Media release, May 27
Central Coast Council