[Canberra] A 57,000 strong petition from Save Our Coast against offshore exploration was delivered to Independent MP for Warringah Zali Steggall on Tuesday morning in Canberra.
Representatives from the Central Coast, Newcastle and Sydney's Northern beaches drove to Canberra to deliver the signatures at the People's Climate Assembly on the lawns of parliament house.
The petition has been signed by tens of thousands of residents along the coast affected by the proposed Petroleum Exploration Permit 11, PEP11 , that encompasses 4500 square kilometres of ocean off Manly, though the entire Central Coast all the way to Newcastle.
The petition represents one of the largest signature collections ever presented to Federal Parliament from members of the Coast communities. Ms Steggalls will table it in Parliament this week.
Save Our Coast had previously celebrated the decision by exploration company Asset Energy not to conduct 3D seismic testing in the PEP11 zone. However the company has since announced that it intended to proceed with drilling within the PEP11 area.
Zali Steggalls MP in her speech on the lawns of Parliament house appealed to the company and the federal government to stop the exploration for gas in the PEP11 area. Citing the high risk of destruction to the coastal environment, communities and local industries.
Save Our Coast founder Natasha Deen said "In this climate emergency it is incredulous that our federal decision makers will even consider an extension to the permit to drill for fossil fuels within 4,500 square km, off our beautiful coast, along the most heavily populated area of Australia, within an area of rich biodiversity, in the whale migration path and threatening our thriving tourism and fishing industries. "
Coast Community News has reached out to Central Coast Federal MPs Lucy Wicks and Emma McBride for a statement in this regard. Ms Wicks declined to comment at this point and no response has been received from Ms McBride at this stage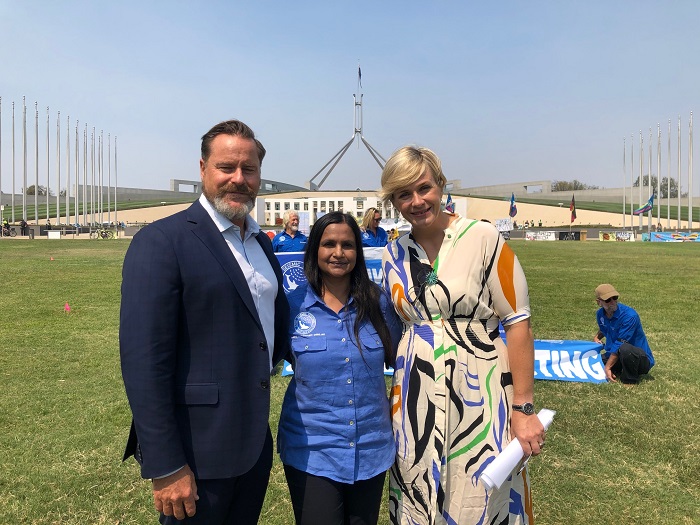 In related news Senator Whish-Wilson, confirmed that the Senate Inquiry into Seismic Testing will be holding a public hearing on the Central Coast in March thanks to the high number of submissions from Central Coast residents and businesses.
More to come…
Source: Interview Zali Steggall MP, Natasha Deen, Save Our Coast. Febuary 4, 2020. Reporters David Abrahams & Alex Herget