Two locals have been recognised for their meritorious service to the community in this year's Australia Day Honours List.
Eleven Central Coast residents were named in the 2020 Honours List with two hailing from the former Wyong Shire, Carter Edwards of Canton Beach and Lester Pearson of Fountaindale.
Both received Medals of the Order of Australia (OAM), with Edwards receiving his for service to broadcast media and Pearson for service to youth and the community of Gosford.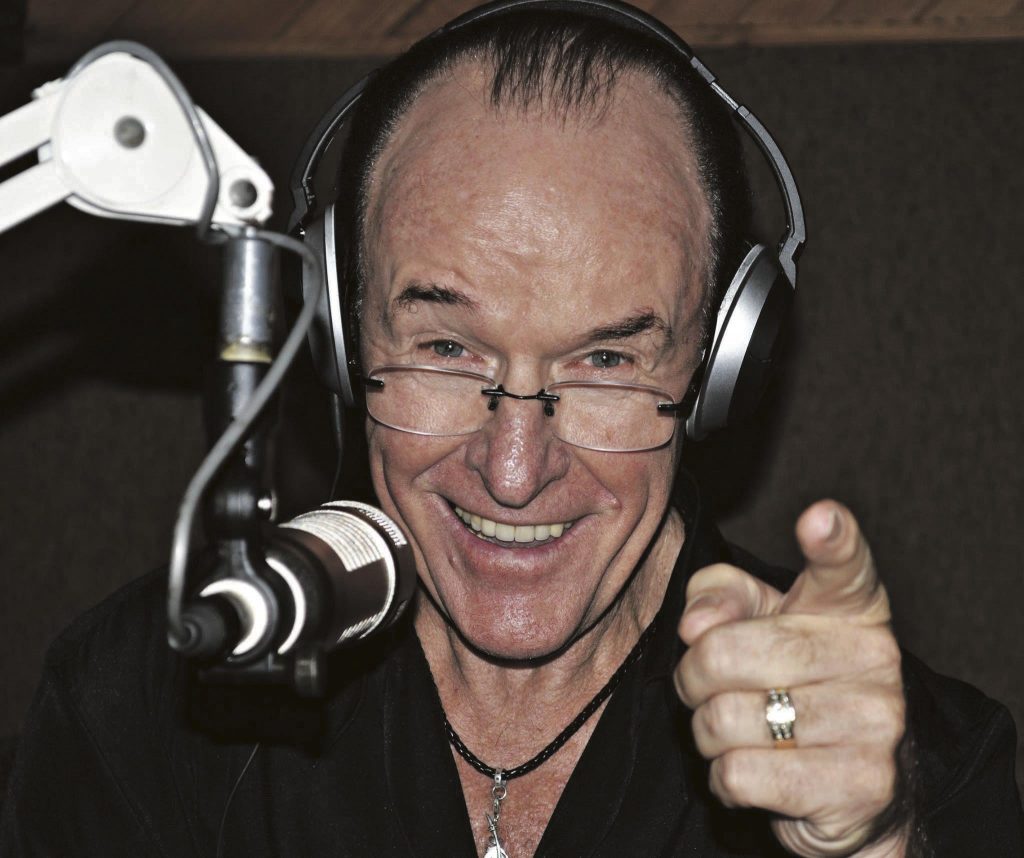 Carter Edwards OAM
To say Carter Edwards has lived anything less than an extraordinary life is a disservice to a man that took a chance nomination to a local talent show and turned it into an international career.
Throughout his lifetime, Edwards has been a musician, comedian, compere, script writer, motivational speaker, author and even a onetime politician.
His likeness has been featured in media around the world, with the entertainer most well known for his appearance in the iconic, international, Taubman's Paint commercial of 1978, where he sang a rendition of 'I Did It My Way'.
The commercial was so successful, that it netted Edwards a nine year deal with the paint giant and would go on to win a prestigious Clio Award for Best Commercial in the World.
That was Edwards' big break into the industry, but before that, he was no stranger to the spotlight.
Growing up as an aspiring muso in Perth, Edwards got his first taste for the limelight after his family entered him in Channel 7's popular New Faces program, the same program that helped launch the careers of the likes of Daryl Somers, Paul Hogan and Keith Urban.
The entry was unbeknownst to Edwards, with the up and comer and his family both stunned when he won every heat of the Western Australian program, including the state final, to appear on the national final in Melbourne.
While he didn't win at nationals, just getting there opened a world of opportunities for Edwards, who turned bookings and guest appearances into a career as a compere.
Ever the showman, Edwards soon transitioned from host to comedian after years of perfecting the art of comedic timing and a razor-sharp wit, whilst working with comedians through compere gigs.
In a few short years, he'd gone from a musician trying his luck to a fully fledged quipster, but Edwards had grown too used to Perth and was hungry for a fresh start.
He turned his sights on Sydney, and true to form, he made as grand an entrance as possible.
"I didn't really have the money to move, but I heard that a rental truck company needed a truck returned to Sydney and I thought this could be something," Edwards recalled.
With his ride sorted, Edwards decided to hit the East Coast with a bang.
He set up a drumkit on the back of that truck, driven by his dad, and played non-stop for 96 hours during the truck's 3,824km journey from Perth to Sydney.
When Edwards finally arrived, it was to a press frenzy, with national media picking up the story of the drummer headed to Sydney, and covered his journey across the country with fervor.
Now the talk of the town, Edwards picked up a plethora of auditions and opportunities in the harbour city, including the Taubman's audition.
With a knack for leaving a lasting impression, Edwards decided to utilise his comedic skills to make sure he stood out.
"There were six of us at the final audition, but I was the only one to show up with two Taubman's paint cans screwed to the bottom of my shoes," Edwards said.
He did his entire audition atop the cans and ended up getting his tape sent back to Taubman's head office so that the executives could marvel at the voice of "the idiot with paint cans on his feet."
That commercial helped cement Edwards as one of Australia's highest profile entertainers.
He went on to be a television regular, performed for royalty at the Sydney Opera House, took his one man show around the country, and ran his weekly Hey Hey It's Thursday show at Toukley RSL Club for 27 years.
He's collected more accolades and awards than he can recall, but it's his three decades as a disc jockey and radio personality that saw him receive an OAM.
Edwards' first hit the airwaves with radio station 2HD Newcastle (now 2SM Super Radio Network) in 1986.
After more than a decade presenting his Carter Edwards' Country segment, a cancellation led Edwards to believe his radio career was over.
But when the station was bombarded with complaints over the fate of the wayward presenter, he was quickly reinstated as the host of a new evening weekend program, The Carter Edwards' Show.
That was in 2006 and the show is still airing every weekend, with Edwards providing six hours of talk-back radio, music and commentary.
In that time, Edwards hasn't sat still.
When's he's not in the studio, he's entertaining.
He still regularly performs both comedy and music and has even delved into writing scripts for television and theatre, and authored a children's book.
His work as a motivational speaker has also taken off, with Edwards mentoring a new generation of entertainers looking to learn how to break into the industry and turn talent into a successful career.
He even ran as a One Nation candidate for the seat of Dobell in 2016.
Among his many accolades, he counts his induction into the Australian Country Music Broadcasters Hall of Fame and his two Australian Country Music People's Choice Awards for Most Popular Radio Announcer, as some of his most prestigious, and of course his Clio Award.
Looking back on his time on the air, Edwards said getting to help listeners struggling with their mental health was one of his biggest blessings.
"I went through a tough time when I was younger, but my dad, who was the most wonderful man, helped me through it, and now I get to do that for my listeners.
"Dad used to say, people don't care about how much you know they want to know how much you care and that's really stuck with me.
"Sometimes just being an ear for people doing it tough can make all the difference," Edwards said.
On his OAM, Edwards said he was in total surprise.
"It was a real shock, in no way, shape or form, did I ever think I'd get an OAM," Edwards said.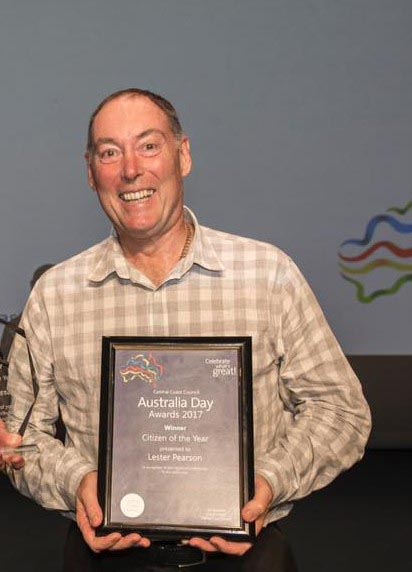 Lester Pearson OAM
Lester Pearson has been a dedicated member of the Rotary Club of Gosford North for the past two decades, and in that time, he's served in just about every club position possible, including two stints as President.
But it's his work to help at risk youths on the Coast that saw him receive his OAM.
While Pearson has volunteered with various organisations over the past 40 odd years, two projects that he founded have had a lasting impact.
The first is Coats for Kids and the second is SOKS.
In 2006, Pearson and his wife Sue launched Coats for Kids through their dry cleaning business. The program saw the couple collect, clean and distribute warm clothing for children and young people sleeping rough.
Through their efforts, more than 5,000 coats, jumpers and jackets have been donated to kids in need through the Youth Off The Streets program.
SOKS is arguably the largest and most successful community led youth suicide prevention program on the Coast.
Standing for Save Our Kids from Suicide, SOKS was thought up by Pearson to help support students on the Coast struggling with their mental health.
He took his idea to his fellow Rotarians who wholeheartedly supported it, and in 2013, the program was launched in partnership with Lifeline.
The program sees Lifeline deliver its SafeTALK training program to teachers, counsellors and staff members at schools across the region to better equip them to identify and approach students who may be contemplating suicide.
Since 2013, Pearson and his fellow Rotarians have raised over $650,000 for SOKS and helped fund the training of over 3,000 school staff on the Coast.
SOKS was also instrumental in delivering training for ASIST (Applied Suicide Intervention Skills Training) to Central Coast teachers and counsellors supporting high risk youth, already identified as being in crisis, to make appropriate suicide interventions and provide referrals for additional care and support.
In addition to funding ASIST and safeTALK, SOKS has also funded several other youth programs/training programs for adults working with young people, covering everything from first aid to youth domestic violence.
TTheir fundraising efforts will ensure SOKS will be able to continue their work in tackling youth suicide on the Coast for years to come.
Pearson has been at the forefront of SOKS since the get go and counts it amongst his proudest achievements.
His work with SOKS also saw him crowned the inaugural Central Coast Citizen of the Year in 2017 by the then newly formed Central Coast Council, and now an OAM, but its never been about the accolades for Pearson or any of his fellow Rotarians.
"Receiving an OAM was very humbling.
"SOKS started out as a three year trial and to see what it has become has been very gratifying
"Since it started, there's been 658 interventions, where local children admitted that they'd thought about suiciding.
"That's 658 lives saved," Pearson said.
Outside of knowing that a program he helped initiate has saved hundreds of lives, Pearson said getting to work with so many dedicated people and organisations to tackle youth suicide on the Coast kept him going, particularly as suicide rates continue to rise.
"Suicide is on the up.
"What we're doing is helping, but we're just one of many organisations doing good work.
"Our focus is on saving lives and it has been very encouraging to hear from young people that SOKS has helped, but we know that it will take more than one program or organisation to make change, but we'll keep chipping away," Pearson said.
Pearson also praised the efforts of his Rotary Club in ensuring that SOKS has thrived.
"We have a fantastic, collaborative committee all working to save lives.
"They also deserve recognition for all that they do," Pearson said.
Source:
Document, Jan 23
Australia Day Honours List 2020: Medals of the Order of Australia
Interviews, Feb 3
Reporter: Dilon Luke