Koolewong and Point Clare/Tascott Progress Association is ramping up calls for a major fix for Glenrock Pde at Tascott after President Ken Janson was involved in a car accident in late October.
Coast Community News first brought the issue to light 18 months ago, at which time Jansen said the road was full of huge potholes, had no drainage and the road surface and edges had deteriorated to such a point that they were extremely dangerous.
Nothing has been done to address the problem since and Janson himself fell victim to the continuously worsening conditions on October 29, narrowly escaping with his life.
"I was just returning from shopping at West Gosford and coming up on the left-hand side of the road, with my indicator light on to turn (right) into my driveway in Glenrock Pde," he said.
"Because I have to make a sharp turn and drive a manual car, I had slowed almost to a stop and was just starting to make the turn when I saw a flash on the right side of the car.
"It was a car set to overtake me and as it did, it clipped my car and sent it off the road into the embankment leading down to the railway line.
"The car flipped three times as it rolled down the embankment.
"My head hit the ceiling of the car and it fractured my neck in two places."
When the car came to rest Jansen, unable to get out of it, turned the ignition off.
"I was terrified it would burst into flames but couldn't get out," he said.
"I was very lucky I didn't die on the spot.
"If my spinal cord had been severed I would have been paralysed or dead.
"Emergency service workers were on site within 15 minutes and they managed to get me out of the car and into an ambulance."
After six days in hospital, Janson was told he would be in a brace for at least eight weeks and has to go to Royal North Shore Hospital in December for tests to make sure his neck is knitting satisfactorily.
He also has rib fractures and a nasty laceration on his head.
"It is difficult to sleep and I have a nurse who comes to help me shower," he said.
He says the accident would not have been nearly as bad if the side of the road had not deteriorated to the point where it dips down sharply to the railway line and if there were some sort of safety fencing.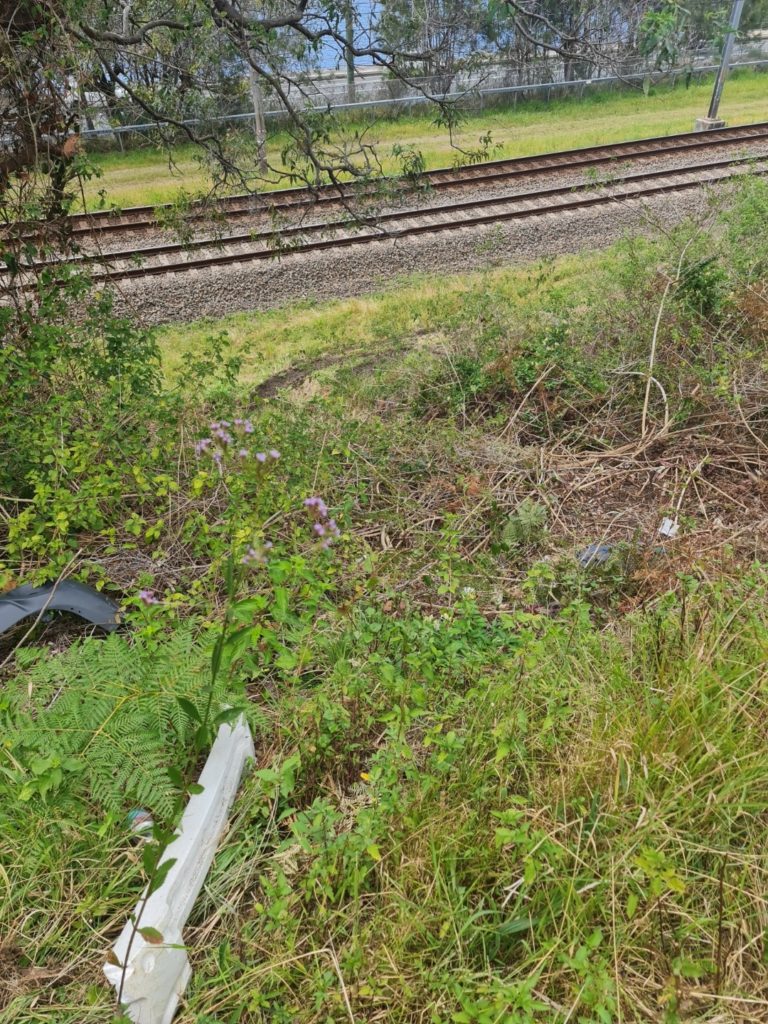 "When I moved here in 2009 there was a wide area between the road and the railway embankment," he said.
"It has steadily deteriorated since.
"Last year a crack developed; they came any put bitumen over it which did nothing to solve the problem."
Janson said the then Member for Robertson Lucy Wicks had secured $65M in black spot funding several years ago, some of which was to be used on Glenrock Pde.
"Council used the money to repair a section of the road near Koolewong railway station, which did not need fixing, and did nothing between there and Tascott station, where the problems really are," he said.
"The state of the road is so bad now that buses can no longer pass each other.
"There should at least be a wire fence between the road and the embankment.
"The situation is increasingly dangerous with people forced to walk on the road itself when going to the station or shops."
A Council spokesperson said roadworks along Glenrock Pde were unlikely for at least four years.
"As part of Council's annual Capital Works Program, funding is allocated to undertake an extensive Road Renewal Program," the spokesperson said.
"This type of funding is designed to maintain and improve the condition of the road network by undertaking works such as crack sealing, road rehabilitation, resurfacing of the pavement and the like.
"It should be noted these renewal works do not provide new infrastructure, such as kerb and gutter or footpaths, where they currently do not exist.
"Council uses an advanced Pavement Management System to prioritise road segments, select treatment options and develop the Road Renewal Program.
"Roads considered for inclusion in the Road Renewal Program are objectively assessed and prioritised via application of a range of technical criteria within our road pavement management system.
"Projects with the highest priority are then considered for an allocation of funding.
"Based on the above criteria, no renewal works of Glenrock Pde are expected to be undertaken within the next four years, but they are likely to be undertaken within the next 5-10 years.
"Importantly however, until such time as further road renewal works are able to be done, Council's maintenance staff will continue to routinely inspect the road pavement and schedule any maintenance repair works, such as pothole repairs, as required.
"Council has previously undertaken road upgrade works in Glenrock Pde between Koolewong station and Havendale Close with the provision of street drainage, kerb and gutter, new road pavement and footpath.
"Additionally, a landslip which occurred on the embankment opposite house number 310 has been investigated and made safe.
"Grant funding has recently been secured to carry out remediation of the area with Council awaiting receipt of a concept design.
"Following this, tender documentation will be released seeking a suitably qualified contractor to carry out the works.
"Updates on this project can be viewed by visiting Council's website and viewing the interactive disaster recovery map by searching 'disaster recovery'."
Koolewong and Point Clare/Tascott Progress Association says this simply isn't good enough and will investigate starting a petition to urge immediate action.
Terry Collins