Health on the Streets (HoTS) is set to continue operating with the Federal Government providing $400,000 to keep the program running past its June 30 deadline.
HoTS is run through Coast and Country Primary Care and provides a mobile health clinic for people that are sleeping rough, vulnerable or experiencing homelessness.
Member for Dobell and Assistant Minister for Rural and Regional Health, Emma McBride, said HoTs provides care to some of the most vulnerable people on the Central Coast, including those experiencing or at risk of homelessness.
"Working together with the Member for Robertson, we have secured further funding for HoTs to make sure people on the Coast have access to the care they need, when they need it," she said.
Former Robertson MP, Lucy Wicks, had promised additional funding of over $2.5 million for HoTS ahead of the recent election, .but the change of government had left the commitment in limbo
Coast and Country Primary Care CEO Kathy Beverley is thrilled with the announcement of short-term funding.
"We've been given some interim funding of $400,00 which enables our whole team to run for the next 12 months," Beverley said.
"We're extremely grateful for that funding and we will also continue to push for the (extra) $2.2 million.
"I'm confident we'll be able to work with Dr Gordon Reid and Emma McBride to build and grow the current service further across the Coast."
"The service has been active throughout the pandemic having started in 2019 and we've been working steadily ever since."
"The pandemic seems to have exacerbated those numbers, our information says the numbers are growing, back in 2019 the numbers we had over 8,500 homeless on the Central Coast, and we see those numbers increasing."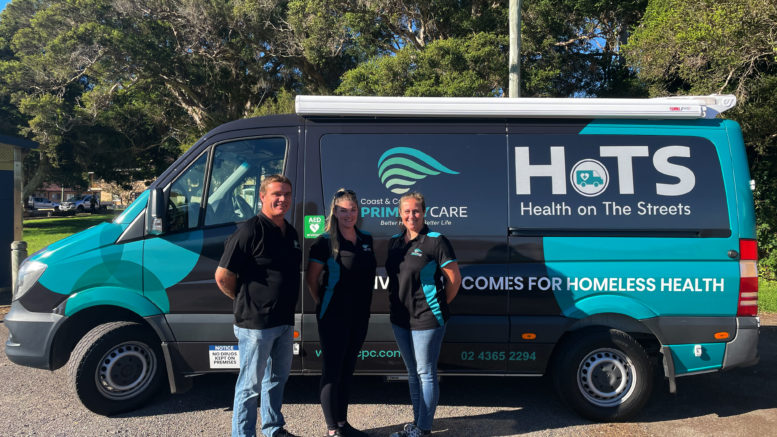 Member for Robertson, Dr Gordon Reid, criticised the former Morrison Liberal Government for politicising funding for homelessness health services.
"Despite the previous Liberal Member for Robertson, Lucy Wicks's, promise of further funding for this project, it has been made unquestionably clear that there was no further funding actually budgeted to this program by the former Morrison Government," Reid said.
"Our community deserves promises that are kept and delivered.
"I have been closely working with the new Health Minister and Emma McBride to try and find available funding to keep this vital health service operating on the Central Coast.
"I will continue to work with the Health Minister and Coast and Country Primary Care to investigate funding sources to ensure the program is sustainable into the future."
FOR MORE EXCLUSIVE CONTENT SUBSCRIBE TO OUR YOUTUBE CHANNEL
HoTS travel around the Central Coast and ensures people who cannot access healthcare due to obstacles like lack of identification or transport barriers can receive the healthcare they need.
It is staffed by healthcare professionals and outreach workers who can assist with a range of other social services.
A full interview with Kathy Beverly can be found on our website and on the CCN YouTube channel.
David Abrahams