It's not often that an artist will undertake a trade apprenticeship for the purpose of furthering his art, but that's just what Mark Joyce of Woy Woy did.
Joyce, who will head to Mudgee this weekend to see two of his works featured in the Sculptures in the Garden exhibition, started sculpting timber works when he was a teenager.
"Then I had a five-minute welding lesson with my uncle, who was a boilermaker and became hooked on working with metal," he said.
Joyce completed a Certificate III in engineering and a boilermaker trade apprenticeship to become more familiar with the medium and these days his works are primarily of steel, which is an alloy.
"I like working steel because it is something that is going to last a long time," he said.
"It was very important to me to learn how to work with metal the correct way and make the sculptures sound.
"I needed to learn the basics of how to bend and mould metal.
"The apprenticeship was really just a pathway to my art.
"I have been fortunate to have worked in remote parts of Australia and have collected a lot of interesting materials.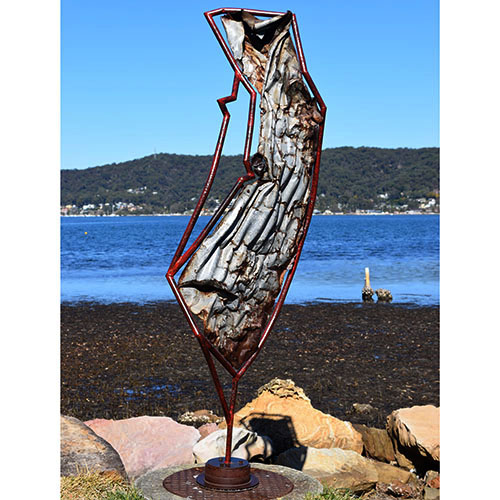 "These days I do use some wood but I have been mainly working with steel for about 10 years now."
Exhibiting his work is relatively new for Joyce, who mainly sells his works by commission, although he was a finalist in the 2019 Wildflower Art and Garden Festival and in the Ku-ring-gai Sculpture Trail and Sculpture in the Vineyards, both in 2021.
The first piece he will exhibit is Daydream – a piece made of recycled Australian hardwood and steel.
"This piece is really a reflection on myself – especially during lockdown," he said.
"It is inspired by people taking time out through the day to let their thoughts settle."
The second piece, Tracy, is made of recycled steel and enamel paint.
"I leave the interpretation of that piece to the viewer," he said.
"I just wanted to give it a title and when people see it they can make up their own minds."
Joyce is one of 15 Central Coast sculptors who will feature in the exhibition.
The two-week long not for profit Sculptures in the Garden will open on November 6 and run daily until November 21 at the Rosby Winery in Mudgee.
More than 280 sculptures will be on show by artists from across Australia, all of which are in the running for several acquisition and non-acquisition prizes.
The total prize value for 2021 is over $40,000 and includes a top prize of $25,000.
Visitors who attend the event can expect live music on weekends from folk-rock musician, Matt Boylan Smith; artisan picnic boxes by Mudgee locals, Blue Wren Farm; barista made coffee by Workin' Beans; and premium wines from the Rosby Wine Bar.
Weekend ticket sale proceeds will go directly to the Mudgee Support Group for Guide Dogs NSW/ACT.
The partnership has raised over $175,000 for the charity over the last decade and on weekdays the Support Group will have food, tea and coffee for sale as a fundraiser.
The exhibition format has been updated to comply with the advice from NSW Health, with capacity limits to be enforced, masks mandatory for all staff, and proof of double vaccination required for staff, volunteers, artists, and attendees over the course of the two-week event.
The exhibition will be open from 10am-4pm every day from November 6-21.
For more details and ticket information go to https://www.sculpturesinthegarden.com.au.
Terry Collins