Pretty soon our garden centres will be awash with seas of seedlings.
These seedlings naturally are born from seeds, and you can be like the 'big guys' and start planting seeds too.
Why bother?
Well, there is a far greater variety of plants available in seed form and they are a lot cheaper than seedlings.
The down sides are that you need to be prepared for failure of germination of at least some of your seeds, you may lose some to transplant shock, and there is sometimes more work involved.
Overall, I personally love the fact that I can find heirloom, unusual and a more plentiful supply of plants when purchased in seed form.
Buying Seeds
Standing in front of a display wall of seed packets can be rather overwhelming for the newbie gardener and over-tempting for the more experienced.
Don't gather those packs like you are creating a stash of pick and mix lollies.
Have a plan before you go and pretty much stick to it.
The reason is, that like any organic matter, seeds have a use by date.
While it is true that they can survive beyond this, they will not usually germinate as readily.
Know what you are shopping for and be open to suggestion.
You will also need to know what is best planted for the time of the year for your area and while there is no problem with buying ahead, make sure the seeds will still be in date.
All this information is printed on the seed packet.
Seeds can also be purchased directly from seed saving companies and individuals and while the information may not be directly on their packaging, it will be in their catalogues/online store listings.
Don't be shy with reaching out to these people for help with your purchases.
The other great thing about smaller businesses, groups and individuals is that they are a treasure trove of heritage, new and unusual seeds so are very worth adding to your resource list.
Resources: theseedcollection.com.au, diggers.com.au, happyvalleyseeds.com.au
How to Plant Seeds
Sounds simple, poke a seed in the dirt, water it and up comes a plant.
While that is mostly true, like any endeavour in life, the better the foundation and the care, the better the results.
Follow the directions given by the supplier of the seeds for the best chance of success.
You will find that some seeds do far better when planted directly into the earth while others can be started in seed trays or containers a little earlier so that increased heat and protection from the elements can be given.
Another tip that for some seeds is a requirement is to soak your seeds in water for a few hours before planting.
Once you are ready to plant seeds, make sure that the earth in your garden plot is well tilled and moist.
Potting mix must be suitable for seed raising and kept moist while seeds are germinating.
Light is crucial as is soil warmth and if need be, use heating pads.
Once germination occurs, feed with a liquid fertiliser once a fortnight and gradually move out into the final position in your garden.
How to Save and Store Seeds
Now here is how the magic happens!
You can collect and store your own seeds and then either grow them next season, sell, swap or share.
I wasn't joking about magic either as you may end up with some interesting varieties when collecting seeds in the average suburban garden.
This is in fact how many great gardening discoveries have been made.
Seeds are the result of plant breeding that occurs during pollination.
If the pollen from the same plant or genetic equal occurs, then you will have seeds that will produce plants pretty true to their parents.
If however there are other plants around that vary in their characteristics, you may well end up with a whole new variety and although I did say this can be exciting, it can also be bitterly (pun intended) disappointing with sometime inedible produce.
To save seeds you need the fruit to fully ripen and then gather and allow seeds to dry completely before storing.
Seeds from fleshy and fibrous fruits and vegetables will need to be cleaned first and those from wet fruits, like tomatoes, will need to be soaked in water first for a few days.
Store in a cool, dry, dark place in an airtight container.
Make sure you label with name date of harvest and any notes on planting or interest. Resources: 'The Seed Savers Handbook' Michel Fanton and Jude Fanton.
GARDEN BOOK REVIEW
Future Steading, Live like tomorrow matters: Practical Skills, Recipes and rituals for a simpler life. Jade Miles Murdoch Books. This is a lush, inspiring, and rather lovely book that I would recommend as a good starting point into the world of more sustainable living. It is also a gorgeous giftbook for those so inclined and includes recipes that can be made from harvests, simple traditions/rituals 4 leaves out of 5 leaves.
TASKS & TIPS FOR YOU THIS WEEK
This week make sure that the recent winds have not dried out your soil.
Though winter watering does need to be decreased, be aware that the wind will wick the water right out of your soil.
You could plant artichokes, asparagus crowns, cape gooseberry, capsicum, beetroot, broad beans, cabbage, carrot, English spinach, lettuce, mustard, spring onions, parsnip, peas, potatoes, radish, rhubarb crowns, salsify, silverbeet, sweet corn, alyssum, calendula, California poppy, carnation, celosia, chrysanthemum, cosmos, dahlia, dianthus, everlasting daisies, gazania, gerbera, marigold, petunia, salvia, zinnia, kangaroo paw, nasturtium, snapdragon, salvia.
YOU & YOUR GARDEN: Kevin Galea, The Glen
Our Central Coast Gardener this week hasn't got a garden problem, in fact he is a garden problem-fixer.
Kev Galea is a man who is passionate about gardening having been inspired by his Pop when he was a child.
He finds that it helps him on so many levels, mentally and physically and is now taking his personal experiences to others by providing a continuing gardening experience and infrastructure at 'The Glen Rehabilitation Centre' in Tuggerah.
The Glen was established in 1994 and is a modern residential rehabilitation and transitional facility upon 16 hectares of beautiful land.
It is easy to see why Kev is inspired to not only protect the land here but also garden.
Over the years various residents have begun gardening but there has not been any structure to the enable the gardening to continue as residents change until Kev began working at The Glen.
Inspired by the nearby SWAMP (Sustainable Wetlands Agricultural Makers Project) at the Old Pioneer Dairy site, Kev and residents from The Glen have been helping establish a new community garden on that site over the past year.
They work on site at SWAMP once a week and have done everything from mowing, to building garden beds to building a chook house and grown much more than just plants.
Kev tells me, "The difference you see in the guys who go to SWAMP is amazing. Everyone who goes there wants to go back because they feel useful and made to feel so welcome. That's something that some of these guys have never felt in their lives. The all get a natural high from just being there."
SWAMP is now working with Kev to return the favour and help establish his dream of a permanent garden at The Glen.
"I want to get The Glen self-sufficient and one big way I see that starting is working with our chef to grow stuff he can cook. I've been writing out the list and I can't wait until I can get the guys seeing that every day your hard work pays off."
I asked Kev what plans he had coming up for this season.
"We have a big greenhouse that I'd like to move so we have all our gardening activity in one spot. I also want to get our spring plants growing so we will be making garden beds."
I also wanted to know if he was still going to have time to go to the SWAMP.
"Oh yeah because it's the people who garden that make it so good. We all feel so much happier around that lot. I hope we make them happy when they come here to at our new garden."
Websites: theglencentre.org.au, swampcentralcoast.com.au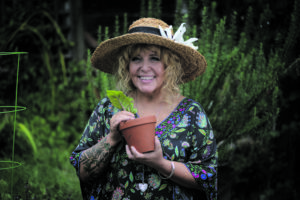 Cheralyn Darcey is a gardening author, community garden coordinator and along with Pete Little, hosts 'At Home with The Gardening Gang' 8 – 10am every Saturday on CoastFM963
Send your gardening questions, events and news to: gardeningcentralcoast@gmail.com