Students at Umina Beach Public School have had enjoyed a number of sporting successes in recent weeks.
The school's boys rugby team participated in the Woy Woy Classic Shield on June 10, winning 40-0 against Kincumber Public School.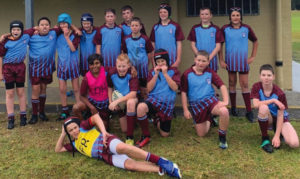 They then went on to play Ettalong and came from 10-0 down to win 18-14 in a 'thrilling nail-biter'.
The team was unfortunate not to return home with the Shield, eventually losing against a 'fresh and organised' Avoca Beach side.
The school said they were proud of the team, noting Dylon and Sandon who drew level with four tries each, Kobey who scored an 'excellent try' from inside the team's own half, and the team's overall 'excellent behaviour and sportsmanship'.
The school's netball team, the Super Salty's, were said to have played a dynamic game against Pretty Beach, coming away victorious.
In round two of the tournament, the team continued on to win against Empire Bay, but ultimately lost in their finals campaign to a very strong Terrigal side.
Source:
Newsletter, July 13
Umina Beach Public School