Central Coast Council has confirmed the planned demolition of the popular Pelican Park in Woy Woy will be put on hold to enable time to further engage with the community around their concerns.
A Council spokesperson said on Monday, June 28, the delay would allow Council to provide more detailed information about their plans to the community.
"Council understands the community's concern over the need to remove the play equipment at this site, which doesn't meet current Australian standards," the spokesperson said.
"We acknowledge there are several community questions which will be addressed before further works are undertaken."
Council said its plans to remove the existing play equipment followed an audit on playspaces that was conducted by an independent assessor.
The audit identified that a number of components in the park did not meet current Australian standards and that the play equipment had passed its 'useful life'.
In a June 29 media release, Council said the key concerns relate to the tree roots from the Taxodium tree located adjacent to the playspace that are currently impacting the existing playspace.
It was reported the 'Taxodium tree's roots grow in an upward direction which impacts the playspace's soft fall level of cushioning and are creating potential hazards', along with the tree roots which 'hinder new work from being undertaken without impacting the tree's health and would also require a high level of financial investment to mitigate the issues'.
The announcement came six days after Council first reported its plans to demolish the popular site – a move that sparked community outrage.
From petitions and protests, chants and chains, and even a call for Premier Gladys Berejiklian to get involved, Council's plan to remove the playground was clearly one that was not in favour with most locals.
Mum of two, Ellie Wright, said she visits the playground most weeks, alongside her friends and their children.
"We come here nearly every Wednesday and as a special treat visit the local cafes or have fish and chips," Wright said.
"This news is really upsetting, it's one of the very few fenced playgrounds on the Peninsula and we love it.
Wright said one of the things she enjoys most about the park is its 'nice, stress free environment', whereby she can watch the children play safely inside the fence.
Local, Lindy Simmons, agrees, saying she takes her granddaughter down to the Pelican Park very often, and would hate to see the space be demolished.
"If this is the council we are going to have after everything else we've been through and they are just going to start taking parks away, its not on, it can't happen," Simmons said.
"It's like everything else …. we are not informed.
"If Council knew this root system was there when they originally built the park, why didn't they remove it instead of waiting, and now using it as an excuse to remove (the park)."
Owner of Woy Woy Fisherman's Wharf, Sam Clayton, said the seafood restaurant was only made aware of the demolition plans outside its premises just one day before it was originally scheduled.
"[Council] have been in consultation with us about the Woy Woy waterfront development but there is absolutely nothing online about removing the park," Clayton said.
"We were told six months ago that they might remove it, but they said if they had plans to do that, they would put it out for community consultation, and they would show residents and local businesses their ideas for a design.
"They said they would turn it into a possible entertainment area where there would be a stage, night-time lighting, seating booths, new vegetation, and kids play sculptures.
"So, to be told [a day before] that it was going to be demolished and replaced with grass is … hard to explain.
"Whenever council or governments get rid of parks, they are losing community assets and to take away
a major asset away and not offer something of like value, or greater value, is unacceptable."
Clayton said the park's demolition had touched a real personal level for many of his customers.
"Our business has been here, not as long as the playground, but it's always gone hand in hand with what we have here– parents get to sit and eat fish and chips whilst watching their kids play on the playground," Clayton said.
"I grew up with this park.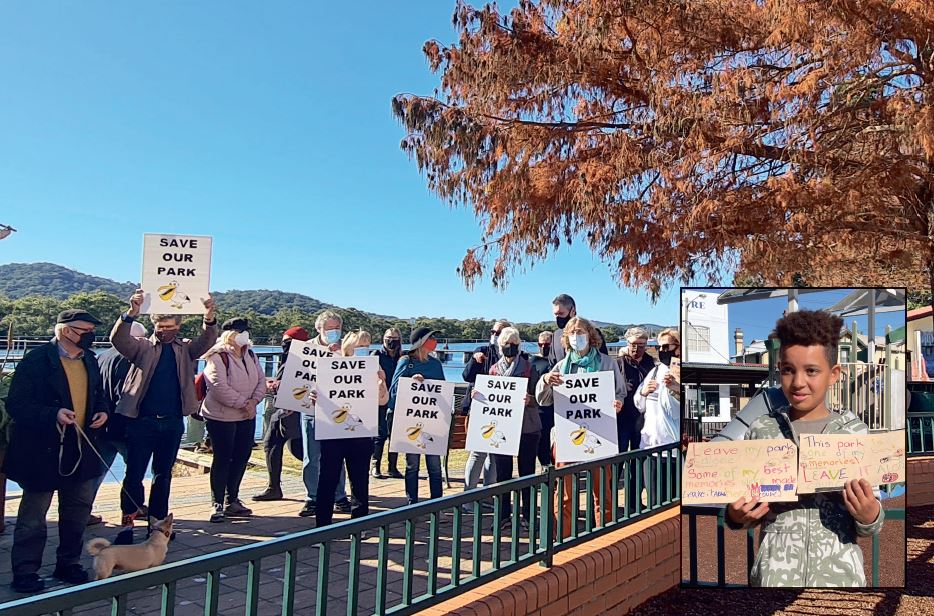 At Council's ordinary meeting on June 29, Administrator Rik Hart admitted Council's plan to demolish the site was 'not our finest moment'.
Council CEO, David Farmer, then said the relocation was consulted during the 'Let's Talk Woy Woy' project two years ago.
This comes after around 50 locals showed up to a protest held at the Fisherman's Wharf on Saturday, June 27 to join the calls for Council to stop the park's demolition.
Protestors said they had major concerns over Council's plan and discussed what they loved most about the Pelican Park, including the nearby amenities, a good distance away from any smoking areas, and high fencing.
Calls for a legal injunction to stop the demolition were also made at the event.
Ten-year-old Jomo, who was at the protest, said he had never felt unsafe on the park or had tripped over the roots.
"I have memories here and I just don't want this to go away," Jomo said.
Several petitions have also been launched to help save the playground, with one online petition reaching close to 7,500 signatures.
The online petition asked Council to enter a formalised submission period to elicit feedback from local residents, whilst delaying the immediate demolition of the playspace.
Member for Gosford, Liesl Tesch, also created a petition to help halt the park's demolition, still available to sign either online, or in person at her Blackwall Rd office.
"I welcome this decision by Council (to stop the) demolition to hear the voices of our community," Tesch said.
"It is very important that in the absence of Councillors, the voice of democracy and transparent community communication and consultation continues.
"Pelican Park is not just any park, it is an iconic destination, where families from across the Coast unite, with ample playing equipment and seating, located next to the water and the lovely pelicans.
"If Council believe Pelican Park is broken, then let's fix it.
"If it is unsafe, let's make it safe.
Council had originally scheduled to demolish the playspace on Thursday, June 24 but reneged on their plans in a dramatic U-turn less than 24 hours after the first announcement.
They then said the park would be demolished in early July after its replacement at Anderson Park was completed and opened to the public.
But with the replacement playspace opening earlier than scheduled on June 26, it was reported the demolition would then continue Tuesday, June 29.
Council said more information and details of the timing for consultation will be released 'soon'.
Maisy Rae