Over 200 people took to the water at Terrigal Haven on Saturday, April 24, to protest with Surf Rider Foundation and Save Our Coast against PEP11.
The protest included men, women, and children with boards of all kinds paddling out together to show their support in the campaign against oil and gas exploration drilling off the Central Coast.
In a development welcomed by the crowd, Liberal MP Lucy Wicks, said 'that under the Morrison government PEP11 won't go ahead'.
"There are some processes that are currently underway, there is a decision as we know to be made, and there are a lot of technical decisions under the joint authority….that process is underway, but the Prime Minister has made it clear that he is saying no to PEP11."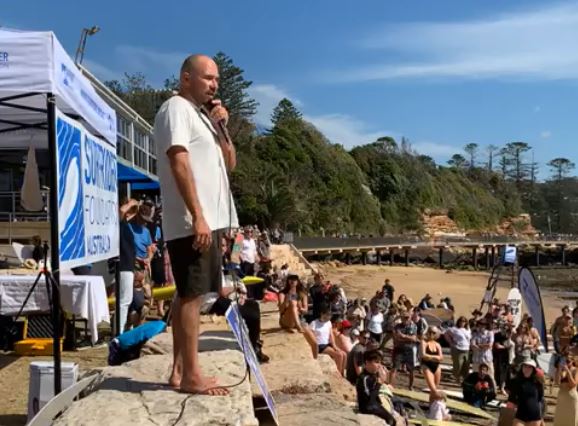 Surfrider Foundation Australia National Campaign Director, Damien Cole, welcomed the news but said the fight was not over.
"I wanted to let you all know that this is not over yet," Cole said.
"We have to keep pressure up until it gets properly knocked on the head.
"It is your responsibility to go out and spread the word about PEP11."
Save Our Coast Youth Representative, Asha Niddrie, said stopping PEP11 was important for the youth of the Central Coast.
"As a new voter this year, I speak for myself and young people, we ask Minister Keith Pitt that PEP11 does not go ahead because we want leaders who care about our future and care about the places we love and depend on."
Parliamentary Secretary for the Central Coast, Adam Crouch, was there to show his support and he said the state government has opposed PEP11 since 2017 and reaffirmed it's opposition earlier this year.
Professional surfers, Ace Buchan and Amee Donohue were there for the paddle out, as were Labor MPs Emma McBride and Liesl Teche who also joined the popular protest.
Federal Resources Minister Keith Pitt (Nationals) is the Minister responsible for approving the PEP11 licence or not.
More to come…
Jacinta Counihan