When many of us think of a perfumed garden, it is easy for the imagination to drift to the introduced cottage flower staples of roses, gardenias, frangipanis and lavender.
These are all introduced plants to Australia and, although I love them too, I think many of us overlook our own perfumed beauties.
What's more, the variety of fragrances will probably surprise you.
These are just a tiny fraction of the perfumed offerings from our bushlands that will be more than happy in your garden.
Spicy/Aromatic Fragrance
Cinnamon Wattle (Acacia leprosa) is a weeping wattle that grows as a large shrub.
Flowers form in early spring as sprays of pale-yellow balls.
The fragrance is very reminiscent of cinnamon and comes from the phyllodes.
These are flat leaf stalks that this species has instead of true leaves.
Southern Sassafras (Atherosperma moschatum) is a forest tree that can grow up to 12 metres in height and requires a cool and moist position in the garden.
The bark of this tree also has a cinnamon-like fragrance and is used to create drinks including one once called 'Victorian Sassafras' that was an Australian export to Britain.
Tranquillity Mint Bush (Prostanthera askania) is a plant that is on the endangered list and endemic to the Central Coast so inviting this small shrub into your garden will not only envelop your garden with its sharp and aromatic fragrance, but you will also be helping save this precious plant.
The aroma emanates from its leaves and is stronger after rain.
Powerful Fragrance
Silver Wattle (Acacia dealbata) is a shrub that grows to about 8 metres in height and produces large bright yellow blossoms with a strong sweet fragrance in late winter through to early spring. In the garden Silver Wattle helps by fixing nitrogen in the soil.
Brown Boronia (Boronia megastigma) is perhaps the most well-known of the boronias because of its fragrance.
It is a small shrub that usually grows in swampy areas and has small bell-shaped brown flowers that are a pale-yellow inside.
The fragrance is strong and heady aroma that is similar to yellow freesias mixed with a peppery layer and also violets.
Native Frangipani (Hymenosporum flavum) is not at all related to other the common Frangipanis (Plumeria spp.).
It is an Australian rainforest tree that blossoms with highly fragrant flowers that are light yellow flowers but deepen to a golden shade as they age. It can grow up to 10 metres and will grow equally well in shade or sun as long as the area is moist.
Rock Orchid (Dendrobium speciosum) is an easily grown endemic orchid that has a fragrance that will carry throughout your entire garden on a warm spring day.
The cream flowers form in sprays and as the name suggests, they are happiest growing from rock formations and on trees but can be successfully container grown as well.
Sweet Floral Fragrance
Spoon Lily (Alocasia macrorrhiza) is a gorgeous rainforest plant with large heart-shaped leaves that sets forth lovely lily-like flowers that do smell like Lily of the Valley.
It will need a warm position in the garden with filtered light and likes to be well-watered.
It can grow as a houseplant as long as you emulate the same conditions.
Native Gardenia (Randia benthamiana) is a shade lover with a lovely floral fragrance.
You will need a very well-drained soil that is kept moist.
Leatherwood (Eucryphia lucida) does need very good drainage and protection from very hot sun but in return you will be blessed with the most delightfully perfumed white flowers in summer.
You are also correct if you are thinking this is the source nectar of the equally lovely 'Leatherwood Honey'.
Scented Paperbark (Melaleuca squarrosa) grows as a bushy shrub which will need plentiful water so mulch well and only consider if you can supply this thirsty plant.
Flowers appear from late spring to early summer and are brush-like in appearance and have an almost sugary floral aroma.
Citrus/Fruity Fragrance
Lemon-scented Myrtle (Backhousia citriodora) will grow up to 10 metres in most domestic situations and will require a protected position with a good level of water.
The soft white flowers cover the tree in summer in an amazing display, but it is the leaves that produce the distinctive lemon scent tinged with eucalyptus when crushed but is also noticeable in the garden.
The leaves can be used in drinks and cooking and also hold anti-bacterial properties.
Lemon-scented Tea-Tree (Leptospermum petersonii) has foliage that releases a very lemony fragrance when touched and as an added benefit, the leaves can be dried and used to make a healthy tea.
It can grow to over 4 metres and is considered a large shrub or small tree which prefers a moist soil.
Long-leaf Wax Flower (Philotheca myoporoides) has foliage that smells very much like apples.
The pretty bright white flowers have a long season from spring through to autumn and although they do best in a semi shade area in free draining soil, they are exceptionally hardy once established.
Strawberry Gum (Eucalyptus olida) sounds like a type of bubble gum, but it is a rare tree that has, as the name suggests, strawberry scented foliage.
Flowers are abundant on this medium sized tree that should grow well on most the Coast as it is endemic to NSW.
It is frost tolerant and most interestingly, you can harvest and use the leaves and yes, they taste like strawberries!
Mixed and Usual Fragrances
Sticky Wattle (Acacia howittii) doubles up in the perfume game with sweet, scented spring flowers and then spicy fragranced phyllodes (oval leaf-like parts) year-round.
It is very large shrub and makes a nice hedge.
Pale-Pink Boronia (Boronia clavate) star-like flowers have a delightful, light floral fragrance and the foliage is aromatic. The plant grows as a small shrub, only growing up to a metre in height.
Sydney Boronia (Boronia ledifolia) heralds the coming of spring along the east coast of Australia with its hot pink blossoms, but that is not where the distinctive and polarising fragrance comes from.
The foliage of this boronia releases a very strong aroma, especially on hot days or after rain and it is much detested as well as it is beloved.
For best use of your fragrant plants, it may seem obvious to plant in areas that people get together but also consider walkways for plants that have fragrant foliage as these are usually stronger if brushed against.
Those that become stronger in aroma at night can be grown near bedroom windows or around areas of the home that are used more frequently in the evenings such as patios where night-time meals and socialising occur.
These are just a few of the Australian Native Plants that are available for you to add to your garden and to find out more about these and others that will suit your garden, I can suggest the following helpful places that have great ranges: Narara Valley Nursery, Narara Valley, nararavalleynursery.com.au
Australian Plant Nursery, Erina; The Wildflower Place, Erina, thewildflowerplace.net.au
You might also consider following or joining The Australian Plants Society NSW (Central Coast Branch), austplants.com.au
TIME TO GET YOUR HANDS DIRTY
I've already noticed I've left it too late to buy a few types of bulbs I had my eye in so get in there and get those bulbs!
Many can be planted now but remember, hold off a few more weeks with planting the Tulips on the Coast.
Keep cleaning up the summer vegetable patch and watch out for powdery mildew as all this rain with flashes of heat are an open invitation for this and other funguses.
Treat with organic controls.
Fruit trees may need a feed and start planning for climbers as it's almost time to plant theses.
This week you could plant: broad beans, cabbage, cauliflower, celery, onion, silver beet, spinach, viola, pansy, lupins, penstemon, petunias, sweet pea, love-in-a-mist, columbine, garlic, rocket, oregano, rosemary
AROUND THE COAST THIS WEEK
Celebration of the Autumn Equinox, Sun. 21st March 10am – 12pm SWAMP, 1897 South Tacoma Rd, Tuggerah.
A circle of friendship, gratitude and learning to connect with the season. Mandala creation, planting, healing meditation and meeting circle dedication. Friendly and welcoming group. Bookings essential:
eventbrite.com.au/e/swamp-autumn-equinox-celebration-tickets-143989116323
Farm & Fork Farmers & Artisan Market, Sun. 21st March 8am – 2pm 40 Ourimbah Street, Morisset. 3rd Sunday of every month. Fresh produce, food vendors, homewares, artisans, kids zone and live music.
Waterwise Gardening Free Workshop to Focus on World Water Day, 12 – 2pm, Mon. 22nd March. Parkhouse Gosford. Learn ways to reduce water loss, harvest and store water along with water efficient watering methods.
bookings essential: centralcoast.nsw.gov.au/whats-on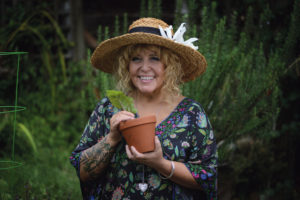 Cheralyn Darcey is a gardening author, community garden coordinator and along with Pete Little, hosts 'At Home with The Gardening Gang' 8 – 10am every Saturday on Coast FM.
Send your gardening questions, events and news to: gardeningcentralcoast@gmail.com