There's no doubt about it – Kraken the Komodo dragon is one big boy.
The Australian Reptile Park's largest lizard had his annual measuring and weigh-in on November 24, tipping the scales at 38 kilos and measuring 2.42 meters in length.
Reptile Park staff said it was a cracking result for Kraken, who has grown 14cm in length and gained 2kg since last year's check.
No animal likes going to the vet but weighing the world's largest lizard species presents special challenges.
The Park engaged the help of Somersby Animal Hospital to weigh Kraken on their giant scales and local vet, Dr Robin Crisman, was on hand to give him a look over and ensure he is in good health.
Park visitors looked on in amazement as Kraken was loaded into the Park's van for the drive to the vet.
And employees at Somersby Animal Hospital had a very different morning in the office – it's not every day a Komodo dragon wanders into your workplace.
Staff were on hand and ensured the animal hospital had no other animals around and stood on guard in the car park to ensure there were no walk-ins.
Kraken then returned to the Reptile Park for measuring.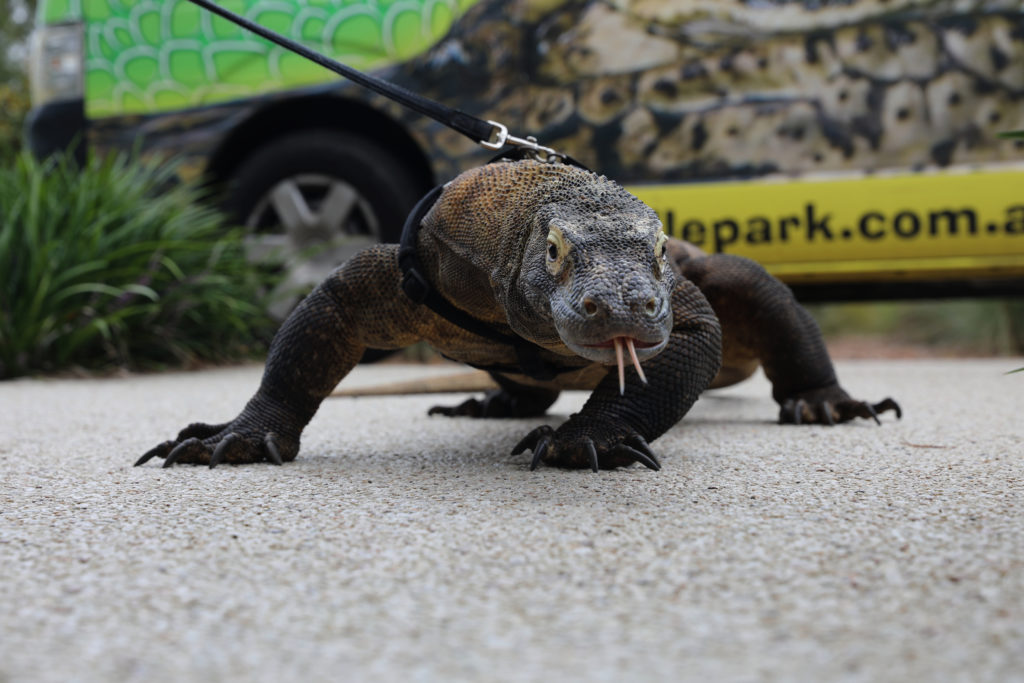 Reptile keeper Jake Meney said unlike mammals, reptiles don't actively show signs that they are unhealthy.
"Yearly health checks are critical for our Komodo dragons – as they are reptiles, they don't actually need to eat that often, so it's not like they just stop eating when they feel sick," he said.
"The best way of ensuring their good health is by weighing them and having Robin the vet complete annual look overs.
"Kraken is my absolute favourite animal here at the Australian Reptile Park, but it's not always an easy task getting him to the vet."
Park visitors can see Kraken the Komodo dragon in his Indonesian temple-themed exhibit and as he enjoys his daily walks or meet him up close and personal in an exclusive animal encounter.
The Komodo dragon is the world's largest lizard, growing up to 3-4 metres in length and weighing over 100kg.
Found on the Indonesian island of Komodo, there is a stable population of about 3,000 to 5,000 in the wild.
The Komodo dragon is a monitor; but its forked tongue gives it a dragon-like appearance.
They are carnivorous predators but will eat just about anything.
The status of the Komodo dragon in the wild is Vulnerable, which is the status level before endangered, on the IUCN red list.
Their numbers are declining because of human encroachment, poaching, natural disasters and a shortage of egg laying females.
Source:
Media release, Nov 25
Australian Reptile Park