Gosford father and son surgical team, Dr Bernie Bourke and Dr Victor Bourke have a lot in common.
For five years they have been performing live-saving vascular surgery side by side out of Central Coast Vascular, which was established by Dr Bernie in 1986.
However, Dr Victor said there is one thing they don't have in common.
"Bernie drinks instant coffee and avoids real coffee, which I will never comprehend," Victor said.
"Victor drinks yuppie style coffee, real surgeons prefer instant," Bernie said.
Both men are fellows at the Royal Australasian College of Surgeons, and they are at the forefront of vascular surgery on the Central Coast.
Since opening the surgery, Dr Bernie Bourke has performed over 2,500 carotid operations (by both open surgery and minimally invasive intervention), and over 1,500 abdominal aneurysm repairs (also by both open surgery and minimally invasive intervention).
In 2015, Dr Victor performed the first endovascular thoracic aneurysm repair at Gosford Private Hospital, and the first fenestrated thoracic aneurysm (where the graft has holes in it to allow flow to the arms and brain) on a patient in his 30s who had developed an aneurysm after a motor-vehicle accident in 2017.
Vascular surgery involves serious arterial conditions such as aortic aneurysm (a weakening of the main artery in the body) which can rupture and kill a patient immediately, neck artery blockage (carotid artery disease) which can cause a patient to have a stroke and leg artery blockage which can lead to gangrene and loss of the leg.
Victor says the nature of the surgery is now less invasive.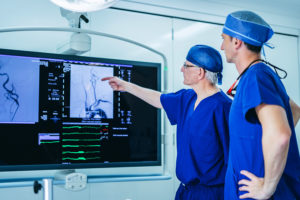 "Endovascular Surgery, which has been a major focus of my training, allows us to provide lower-risk surgery to patients but with comparable results to traditional "open" surgery," he said.
"For example, a patient who has had aneurysms (which is a "ballooning" of the aorta and can be fatal) are commonly treated and sent home the next day.
"We are working at the forefront of a technological revolution in surgery which is exciting, but as with any new technology this enthusiasm also needs to be approached carefully and audited to ensure outcomes are maintained or improved as technology changes.
"Managing vascular disease can be a life-long process.
"One of the great pleasures of being a vascular surgeon is building strong relationships with patients over time," Dr Victor said.
Dr Bernie said he would take young Victor and his two siblings on weekend ward rounds while they were growing up.
"Victor and I never really talked about him being a doctor until two weeks before his Higher School Certificate (HSC) when he suddenly announced he'd like to do medicine if he could," Dr Bernie said.
"There are about 220 vascular surgeons in Australia and New Zealand combined.
"There are 5 or 6 father and sons in vascular surgeons currently, but I think we are the only two who work together in the same practice and at the same hospitals."
Dr Victor said he did medicine because he saw it as a field that fundamentally aimed to help others, and he was fascinated in learning about it.
"I ended up choosing surgery because I enjoyed finding practical solutions to problems," he said.
"I had become a fully trained vascular surgeon which included over 15 years of medical school and speciality training, before joining Bernie in practice in 2015.
"I also currently work at Prince of Wales Hospital in Sydney, which is where I trained in my junior years and enjoy my time practising in both locations.
"Working together has been a career highlight.
"I believe they call us Big Bourke and Little Bourke for the sake of clarity," Dr Victor said.
Jacinta Counihan