A local community sanctuary is calling for volunteers who specialise in local indigenous flora and fauna to join it following a series of species surveys in the area.
The Pearl Beach Arboretum is seeking volunteers with skills in ecology, botany, horticulture, landscape architecture and master planning to help protect and regenerate the bushland ahead of the summer season.
Vivianna Miritis, an ecology PhD student at the University of Sydney, said she has really enjoyed being involved with the arboretum after recently joining to help with mammal and bird surveys.
"We're currently surveying for arboreal mammals and soon nest boxes will be going up," Miritis said.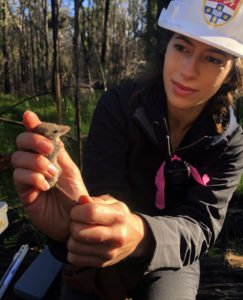 "The surveys will give us an idea of what species are there at the moment and if that changes over time following the nest box installations.
"The arboretum has such a beautiful back story … it is a testament to all the work volunteers have put in to make it what it is today."
The former field biologist said residents who are unable to volunteer can also help at home by planting native flowering plants to help attract pollinators or putting up a nest box for nesting species.
Long-term volunteer at the arboretum, Tony Grantham, said the opportunity to volunteer was a pleasure and privilege that is open to all.
"There is enormous satisfaction in helping to keep such a precious resource looking good with clear pathways," Grantham said.
The committee is also asking for community feedback on the arboretum's facilities through the link https://www.surveymonkey.com/r/ST6DYQV.
The survey closes on November 30.
Maisy Rae