Author: Kate Elizabeth Russell –
Publisher: 4th Estate –
Vanessa Wye is 32, single, working as a concierge at a hotel in Maine, and it is 2017.
She is obsessively checking a Facebook page for updates, for comments, for likes.
Taylor Birch has posted that she had been assaulted while she attended Browick school, by one of the teachers, Jacob Strane.
Vanessa contacts Strane to see how he is coping.
Taylor tried to get Vanessa to come forward and tell her story, but Vanessa ignored the request – she has Strane's back.
Vanessa met Strane when she was 15 and he was 42.
He was her English teacher at Browick.
He told her he never had a student teacher romance, "he'd never had the desire. I was the first student who put that thought in his head. There was something about me that made it worth the risk. I had an allure that drew him in."
The book switches between Vanessa as a teenager in 2000 and as an adult in 2017.
In 2000 Vanessa is a sophomore at Browick, a boarding school which she begged her parents to let her attend.
She had a good friend, Jenny, but they had a fight and don't speak to each other.
She is pretty much alone in school, feeling isolated.
She puts her feelings into the poems she writes.
Fast forward to 2017 and Vanessa is trying to live her life, not holding onto relationships, getting high, drinking, seeing a therapist for grief counselling (her father passed away), barely keeping it together.
She seems to have a string of relationships with much older men.
Vanessa's youthful energy and literary promise has gone unfulfilled.
In 2000, Strane finds out Vanesa write poems and he asks to read them.
He compliments her dress, her hair, her style.
He gives her a copy of Lolita, which she devours and refers to frequently.
He makes a pass at her at the school dance.
He brings her home, buys her pajamas with strawberries on them.
He asks her to call him Daddy.
Vanessa is forced to leave school under a cloud of controversy.
She and Strane remain in contact.
She attends college and gets a job and Strane is always in the background.
When Taylor's story comes out, this prompts more girls come forward to accuse Strane of abuse.
A reporter wants to talk to Vanessa.
She can't come to terms with calling herself a victim, saying she was abused – it was love, "Because even if I sometimes use the word abuse to describe certain things that were done to me, in someone else's mouth the word turns ugly and absolute."
This is not an easy book to read.
Of course, in the era of #MeToo, more literature is emerging on the subject of abuse of power, but it is still disturbing, and some scenes were incredibly difficult to get through.
The writing is very well done.
As the Guardian has written, "Russell cleverly lures us inside the labyrinth of the teenage mind – hot with hormonal turmoil, pushing boundaries, craving admiration, breaking rules and obsessing about sex. Vanessa has never kissed a boy, but she welcomes the advances of her English teacher."
Some have said that the book went on too long, but I had no problem with the length (which is weird since I am the first one complain about that sort of thing).
It is disheartening how the system and adults let her down, "…I've seen how it plays out, how quickly people lift their hands and say, It happens sometimes, or Even if he did do something, it couldn't have been that bad, or What could I have done to stop it? The excuses we make for them are outrageous, but they're nothing compared to the ones we make for ourselves".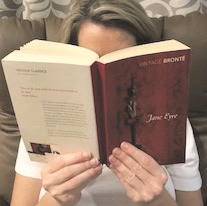 The book has been described as "brave" – you'll need to be brave to read it.