It's getting warm on The Coast and I feel a salad coming on!
We are a lucky bunch here – we can grow many of the warm weather loving plants that go well in salads nearly year-round.
But I thought with the summer holidays approaching now would be a great time to focus on which crops to plant right now for your salad creation foundations.
Making this mixture of fresh, raw vegetables and herbs, sometimes with a dressing, can be traced back to the Ancient Greeks and Romans.
The term comes to us from the Latin 'sal' which means salt and 'salata' meaning 'to salt' or 'salted things'.
During The Renaissance (14th century) the term 'salad' came to mean a bowl of raw greens pickled in salt/vinegar and then later towards to 15th century the word evolved to 'salade' which referred to fresh-cooked or raw vegetables served in the 'Roman way' above.
By the 18th Century, things started getting fancy in Europe, at least with the upper classes, and salads became more and more complicated with vegetables presented separately on platters and in fancy patterns and fancy decorations.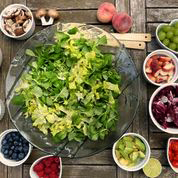 By the 19th century the salad was almost sculptural, either layered or meticulously presently on serving platters, each element with a different seasoning or dressing.
At the turn of the 20th Century, Americans were domestic science obsessed and even gave us the moulded salad formed in a gelatine base.
This carried on to other countries throughout the western world in varying degrees with many leaving the gelatine base out but favouring the orderly fashioning of the ingredients.
By the 1980's the ancient tossed salad was again gaining favour and became the way most of western culture enjoyed raw vegetables again – nice and messy.
LET'S GET GROWING SALADS
Anything edible can find its way into your salad somehow, and your imagination is the only limit to what you can toss in, but here are a yummy bunch of foundation ingredients that you can plant right now in your gardens to ensure you are enjoying fresh, delicious 'Coast Grown' salads this summer.
Lettuce
(Lactuca sativa)
Oh, what an amazing variety we can enjoy these days in our gardens!
As with all plants, you will find a far greater selection available in seeds so check with local nurseries and online suppliers.
Plant 6mm in depth and 20 to 30cm apart.
One important note for Coast gardeners: If the soil temperature is greater than 25C you will find difficultly in germination occurring so seedlings may be a better bet at this time of year with our sudden scorchers
Lettuce need a moist and rich soil.
They detest drying out and can bolt (come into flower) or die rather quickly if their water level falls sharply but drainage is a must as the key is damp soil, not water-logged.
Water the ground, not the leaves in the early morning and never at night or during the day to avoid pest attraction and disease.
A nitrogen-rich feed every fortnight will improve the leaf growth and health.
You can plant most lettuce in pots, ones with loose leaves generally do better.
Harvest individual outer leaves carefully during growth and whole plants on maturity.
For Coast Gardens, you might consider: 'Great Lakes', 'Green Cos', 'Butternut', 'Diamond Gem', 'Green Salad Bowl'.
Tomato
(Solanum lycopersicum L)
There are two types of tomatoes when considering harvesting, those that fruit continually throughout their growing period and those that have fruit which all comes to a ripening stage at about the same time.
I recommend planting at least one of each and it is not too late to plant either, but I would plant seedlings rather than seeds to ensure quicker cropping.
They all need a sunny and warm position that receives at least six full hours of direct sunshine each day.
Ensure your plants are protected from wind and space them around 50cm apart.
Never plant in the same bed two seasons running either as they are heavy feeders of nitrogen and potassium phosphorus – your garden needs time to recover.
Although tomatoes are not too fussy about their soil types, for the best crops, it should have a pH level of 5.8 to 6.8, be high in organic matter and be free draining.
Consistent, deep watering should be undertaken to ensure a healthy plant and well-developed fruits. (Water the base of the plants, not the leaves to lessen the chance of attracting pests and disease.)
Use a liquid seaweed fertiliser weekly at half strength, a fortnightly feed with an organic fertiliser and, to encourage the plant to uptake nutrients, add a heaped tablespoon of sulphate of potash.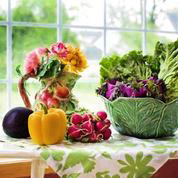 Although unripe fruit will ripen after harvesting, tomatoes are best left on the vine to fully ripen before harvest to ensure full flavour.
Cut from vine, never pull.
For Coast Gardens, you might consider: 'Summertaste', 'Tumbler', 'Roma', 'Tropic', 'Black Krim'
Radish
(Raphanus sativus)
Radish is a double-duty salad favourite as the leaves are also a fantastic peppery addition.
Harvest will vary greatly depending on variety but is generally is between 4 and 8 weeks.
Plant seeds 6mm deep and space plants 3 to 5cm apart.
Harvest leaves lightly while growing, if at all, as it is better to wait until harvest of the bulb.
At this time of the year, radish is best planted in a light shaded area of the garden. (In winter go for full sun.)
They like a lighter soil that is lower in nitrogen to promote quick bulb growth.
Feed with a low nitrogen fertiliser every two weeks and keep watering constant but do not allow to become waterlogged.
Radish is harvested by carefully pulling from the garden and it must be harvested as soon as it matures because they will turn woody and tough if left too long in the ground.
For Coast Gardens, you might consider: 'French Breakfast', 'Cherry Belle', 'Scarlet Globe'
Cucumber
(Cucumis sativus)
Cucumbers are climbers so will need a support structure to grow upon.
They must have a nice loose soil and, on the Coast, will prefer a semi-shade position as we have very hot summers.
This need not be more than about 20 per cent shade time during the day and you may consider just using a temporary structure (like an umbrella or cloth) on very hot days.
Plant 12mm deep and space place 40 to 50cm apart.
You do need to ensure they have very good airflow and that the soil is compost rich.
Mulching is non-negotiable for cucumbers but ensure you use lucerne, pea-straw, or the like and keep it away from the stem.
Hold off on feeding too much before fruiting as you want to encourage cucumbers, not cucumber leaves but once they appear, feed every fortnight with a seaweed-based fertiliser.
Care must be taken with watering as they are prone to fungal disease so water the ground, not the plants.
Harvest in around 8 weeks, cutting the cucumber off the vine, don't pull.
For Coast Gardens, you might consider: 'Green Gem', 'Bushy Champion', 'Crystal Salad', 'Telegraph Improved'
Spring Onion
(Allium fistulosum and cepa var.cepa)
Much discussion and confusion reigns when it comes to spring onions and shallots as the common names have become rather interchangeable, especially in Australia.
The growing conditions though are very similar, and both can be used in salads.
Plant seeds 6mm deep and space plants 1 to 2cm.
Bunching types of spring onions with healthy roots can be replanted as well. Simply cut off the bulb to at least 4cm in length and plant.
They will need a full sun position and like a friable, fertile soil to grow in.
They are rather thirsty and will require constant watering and a liquid fertiliser every few weeks to ensure good growth.
Weeds need to be removed by hand gently as they can unsettled the root structure of these plants which will kill them.
Pests tend to be attracted to dry plants so keep watering consistent.
They do not produce as well in pots and do far better in garden plots.
Harvest in about 10 weeks by gently pulling up the plant.
For Coast Gardens, you might consider: 'White Lisbon', 'Straightleaf'
GARDEN TREASURES TO MAKE YOUR SALADS EXTRA YUMMY
Edible Flowers
I cannot go past edible flowers for summer salads and growing your own not only helps make your salads extra delightful but assists your garden look that way too (and helps invite pollinators!).
Correct identification must be undertaken and naturally only ever use organically grown flowers.
A few to spinkle on your salads include: Rose, French Marigold, Nasturtium, Native Violet, Dahlia, Pansy, Snapdragon and Stock.
Herbs
So many delicious herbs work so well tossed through your salads raw, fresh or lightly toasted to bring out their flavours even more and naturally, added to dressings.
Right now, just a few of the herbs you can plant include basil, parsley, sage, lemongrass, marjoram, chilli, oregano and mint.
Of course, there are endless possibilities to what you can put in your salads and these are just a few you can plant right now here on the Coast to enjoy through summer.
UPCOMING GARDEN EVENTS
TOOL DRIVE: SWAMP – (Sustainable Wetlands Agricultural Makers Project) Central Coast. New Community Garden at Tuggerah is looking for donations of your unloved gardening and handy tools. Meet the team and drop off in the overflow carpark opposite Tuggerah Super Centre Friday 20th Nov 2pm – 6pm & Saturday 21st. 6am to 12pm www.swampcentralcoast.com.au
COASTFM GARDENING GANG LIVE: Come and say hello! Cheralyn Darcey and Pete Little will be presenting their popular Saturday morning show live at the SWAMP tool drive in the overflow carpark opposite Tuggerah Super Centre Friday Saturday 21st. 8am to 9am www.coastfmgardeninggang.com
HERBAL TEA WORKSHOP: Includes plants and tuition on growing and making your own herbal teas. Coachwood Nursery Somersby. 4pm to 6pm 28th November. $49 Bookings: 0491147448
GARLIC PLAIT & WREATH WORKSHOP: Create these beautiful festive gifts for the foodie in your life. Bumble Hill Shed Shop, Kulnura. 11am 5th December. Bookings: 04256834459
STORYTELLING IN THE GARDEN: Tangerine Elephant Storytelling, 'The Unexpected'. The Eco Garden, Kariong. Free Entry, food available. 6pm, 27th November. Bookings: 0429431889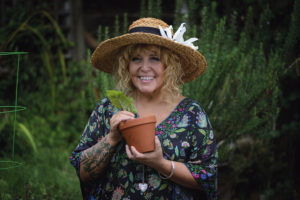 Cheralyn Darcey is a gardening author, community garden coordinator and along with Pete Little, hosts 'The Gardening Gang' 8 – 9am every Saturday on Coast FM.
Send your gardening questions, events and news to: gardeningcentralcoast@gmail.com