One of Narara's favourite residents, Betty Child, celebrated turning 100 with balloons, banners, and bubbles on November 11.
Ms Child is known to have always been an active member of the community, has become the matriarch of the street she lives in and never misses a barbecue for a big occasion.
Heather Finlay-Brown started doing Betty Child's hair 35 years ago and has been a good friend ever since.
"The day was a small gathering of neighbours and her nearest and dearest which included bubbles, balloons, flowers," Finlay-Brown said.
"One of the neighbours dressed her, and I did her hair, and she loved every minute of it.
"She had her medal on from her service and a poppy flower, and she was so happy everyone was together."
Born in the United Kingdom in 1920, Ms Child has lived a life of adventure, serving in World War II from 1939 driving military vehicles for the Royal Electrical and Mechanical Engineers in the British Armed Forces.
After making the voyage to Australia in 1988, she involved herself in many community groups and spent time volunteering at Niagara Park Primary School.
She also joined "The Chat Group", which is a group of seniors who meet at the Community Centre at Niagara Park shops every week and occasionally go for lunch when enough funds are raised.
Sadly, there are only a few members left of this group, and Ms Child is unable to venture too far from home these days.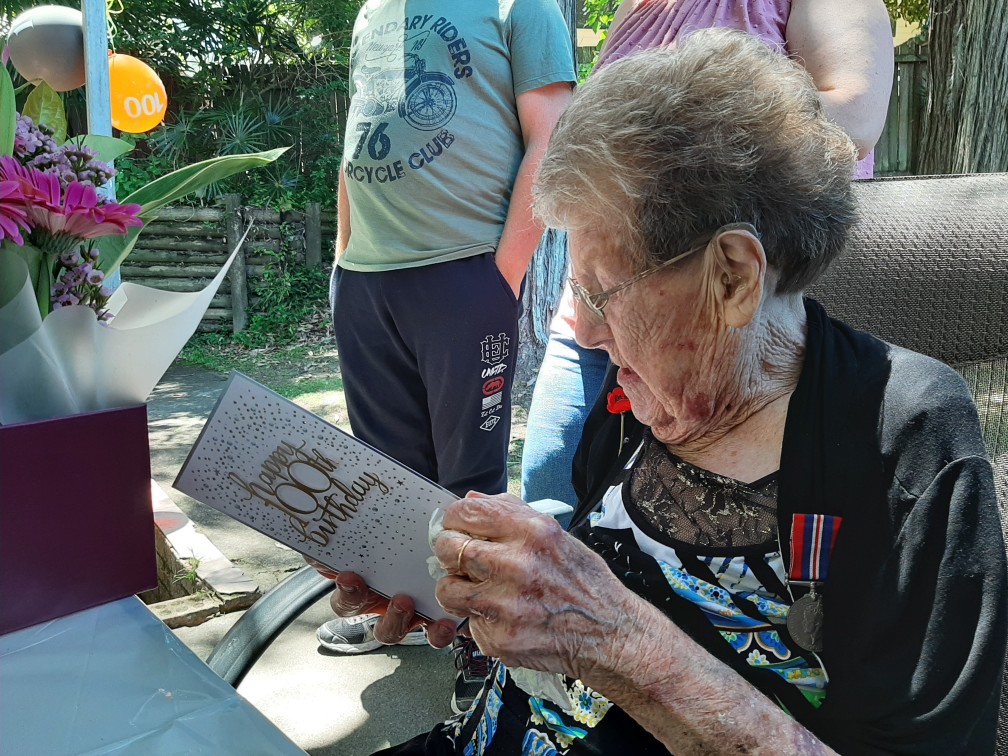 But her entire neighbourhood family in Narara came to help her to celebrate the big day.
"She knew it was her birthday and she had the best day.
"Whenever we have an occasion, Betty always loves to come and be involved, and today was no exception."
MsChild also received a beautiful photo book from her grandchildren living in London and Brussels as they could not travel to see her for the day.
After the day, Finlay-Brown said Ms Child followed up celebrations with her usual glass of Merlot at 3pm, followed by a taste of sambuca.
She said Ms Child did not want a royal letter to mark the day as "the Queen has so much to do and so much on her plate."
Jacinta Counihan