For Charmhaven's Monique and Dustin van Damme, the loss of their daughter, Avaline, will always be raw, but the couple are giving purpose to their pain to ensure that little Avie's legacy is one of love and compassion.
One of more than 2,000 Australian families who experience the heartbreak of stillbirth every year, the van Damme's have created 'Butterfly Boxes' in memory of Avie, with the special kits designed to bring comfort to other bereaved families.
A hand stitched blanket and beanie set, a teddy bear and a memorial candle are just a few of the items each Butterfly Box contains, with many of the pieces sourced from other locals impacted by infant loss.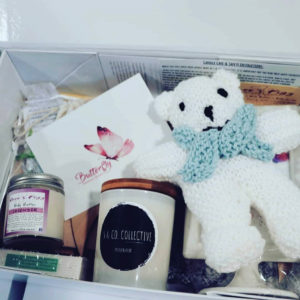 A care package from bereavement support charity, Bears of Hope, served as Monique's initial inspiration for the boxes.
Filled with advice on how to access counselling, grief support and making funeral arrangements, as well as a teddy bear donated by other bereaved parents, Monique said Butterfly Boxes took the idea a step further.
"After losing Avie, Dustin and I wanted to give back, so we held two fundraisers to purchase Cuddle Cots for Royal North Shore's Neonatal Intensive Care Unit," Monique explained.
Specially designed insulated bassinettes, Cuddle Cots, allow families to spend extra time with their baby in a hospital room rather than a morgue.
The van Damme's were able to spend two days with Avie because of Gosford Hospital's Cuddle Cot, an experience for which they'll be eternally grateful, and with money left over from the purchases, the couple were able to put together their first 10 Butterfly Boxes to donate alongside the second cot.
Now preparing another 25 to donate to Gosford Hospital, Monique said the boxes had one key underlying message that bereaved families are not alone.
"We were able to find comfort in families who'd gone through something similar, there's a genuine connection there and a personal touch, which to me, is the most important part of the boxes.
"They're filled with all these symbolic things made by others touched by loss, and I think they're a great representation of the love and support we want to send to families, so they don't feel so alone," Monique said.
With Pregnancy and Infant Loss Remembrance Day (October 15) having just passed, the van Damme's are also hopeful that their Butterfly Boxes will help dismantle some of the stigma around infant loss.
"I want the boxes to help raise awareness about infant loss because it happens to a lot more families than people realise.
"Making them has helped me process my own grief and I want all bereaved families to know that they can grieve for their baby as openly as they want."
Dilon Luke