Central Coast Council held it's second extraordinary meeting in two days on Tuesday night, though this 'extraordinary meeting' was not foreshadowed in the normal way to the media or the public.
The Mayor said the meeting was called specifically for the purpose of considering the legal advice received by Council about its financial situation and an update from the CEO.
It was not made clear by the Mayor whether the financial update was from the Acting CEO Jamie Loader or the CEO Gary Murphy, who is on sick leave and not present at the meeting, although his name was on list of being in
attendance.
The Acting CEO went through a series of reasons under certain Acts of Parliament why this meeting was allowed, despite the fundamental reason of transparency and openness that it was not in real-time, open to the
public.
Council, in 'Confidential Session' behind closed doors, were deciding about whether they should secure a commercial loan including an overdraft as well as pursue the State Government for emergency financial support.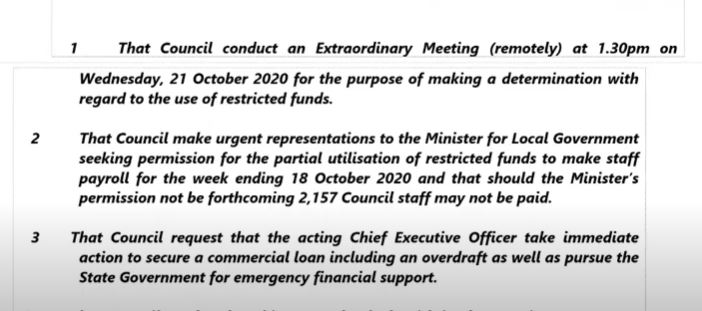 As of 9.32 pm the council resolved to hold another extraordinary meeting to be held Wednesday at 1.30pm for the purpose of making a determination with regard to the use of restricted funds.
The council also resolved to instruct the acting CEO to make immediate representations to the state government to access some restricted funds to enable payroll to be met for the 2,157 council staff.
In a media release issued after the close of the meeting the Mayor, Lisa Matthews said the following:
"Council will make urgent representations again to the Minister for Local Government, Shelley Hancock seeking permission for the partial utilisation of restricted funds to make staff payroll for the week ending 18 October 2020.
"Should the Minister's approval not be forthcoming, then some 2,157 full time equivalent Council employees may not be paid this week.
"We urgently require a response to Council's query made on Tuesday October 13 about borrowing from restricted funds."
More to come as information comes to hand.
Sue Murray