Surf life saver Lachlan Franz of Killcare has helped save a group of Port Jackson sharks stuck in a rock pool at Killcare Beach on Sunday, October 4.
While on patrol with a friend, 16-year-old Lachlan had spotted the sharks and noticed that they weren't moving.
"When we looked closely, we saw their gills opening and closing, so we knew that they were alive and breathing," Lachlan said.
He was encouraged by Killcare Surf Club Kiosk proprietor Ms Helena Hopner-Hansen to help save the sharks from stranding at low tide.
Lachlan said a nearby fisherman had lent him a net and helped to lift the first shark out of the rock pool.
"I moved the net in front of its nose and tapped it lightly so it would swim into the net, and then I scooped it up," he said.
Lachlan's mother, Ms Susan Franz, helped with the rescue and said the sharks were very docile and swam calmly around their feet as they lifted them out.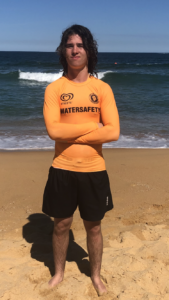 "There were five sharks in total.
"We released four, but the fifth one was in a separate rock pool and was big and heavy to handle," Ms Franz said.
"Plus, it was closer to the ocean, and would have gotten away with the high tide."
With the help of some beachgoers, the smaller sharks were carried to the ocean's edge and released safely.
"Some of the sharks were too heavy to lift on our own.
"One of them would have easily been 20kg," Lachlan said.
"The tide was very low, so there was quite a stretch of beach that we had to walk.
"I made sure to stop at rock pools along the way and lower them into the water so they could have a breath," he said.
Ms Franz said the rescue was tricky as the sharks struggled when being moved, but once they were free in the ocean, it was a rewarding experience.
"Between all the people down on the beach no one had a phone to take pictures of the rescue.
"It was actually quite refreshing.
"Everyone was just in the moment," Ms Franz said.
"Lachie wants to study biology and would love to work with animals, so this was a great experience for him as well."
Lachlan said he had watched Steve Irwin when he was younger and was interested in animal conservation.
"When I saw the opportunity to help out, I jumped at the chance," he said.
"We did our best and got them back in the water, so we are just really glad they are okay."
Hayley McMahon