The first sod has been turned on a $15.3M social housing development in Beane St, Gosford, which has been fast tracked by the State Government as part of its efforts to keep the Coast economy alive during CoVID-19.
Secretary for the Central Coast and Member for Terrigal, Adam Crouch, was on-site on September 10 to help get work under way on a seven-storey development which will deliver 41 new homes and support as many as 77 jobs.
"The Gosford CBD is currently undergoing significant transformation, and this architecturally-designed building will set the standard for future housing developments in the area," Crouch said.
"At least 60 per cent of the workers are local and the company undertaking the work, Mono Constructions, is also committed to ensuring 20 per cent of all skilled tradespeople on-site will be apprentices."
Minister for Water, Property and Housing, Melinda Pavey, said the project was among $4.7B worth of projects given a fast-tracked assessment to generate economic activity in response to the pandemic.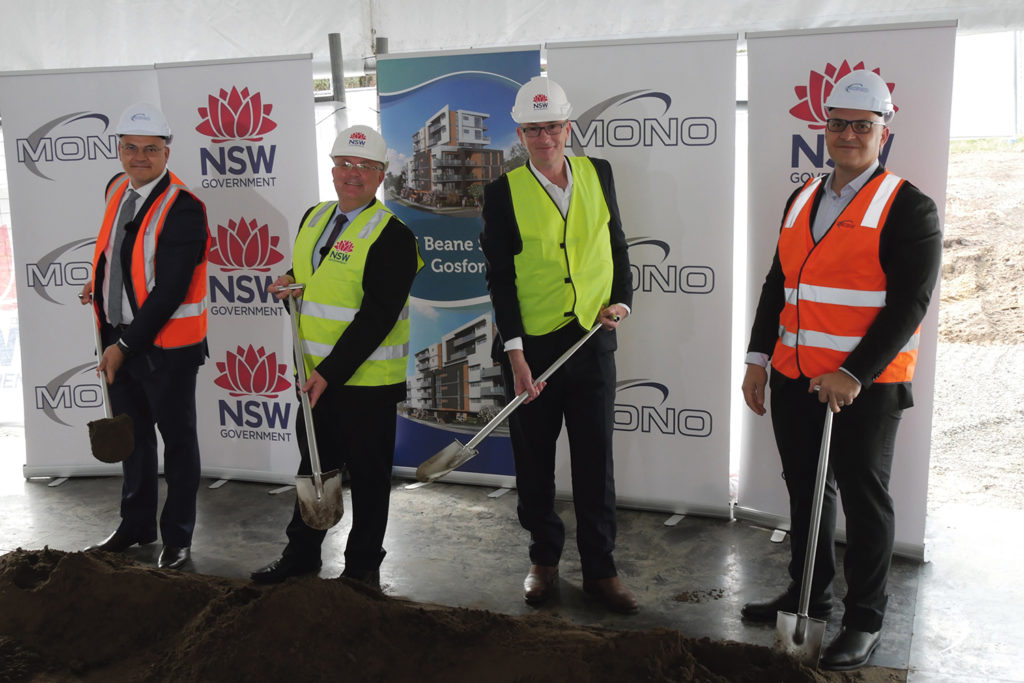 "At a time when we need it most, this development will deliver new fit-for-purpose housing for the most vulnerable people in our society and support much-needed jobs – including jobs for local apprentices, tradies and subcontractors," Pavey said.
"It also demonstrates our smart approach to delivering new housing, transforming a vacant lot into contemporary new homes built to the highest standards and located close to employment and vital community services such as schools, hospitals and public transport."
Mono Constructions has a proven record on the Central Coast, having successfully completed upgrades to Wyong Public School and new apartment buildings in Terriga.
"We are delighted to be commencing work and engaging with the talent and knowledge of local trades, contractors and manufacturers," company director, Christopher Moujalli, said.
Delivered on behalf of the NSW Land and Housing Corporation, the Beane St project consists of 21 one-bedroom and 20 two-bedroom units with secure basement parking.
The project includes a rooftop solar photovoltaic system which will power common area lighting for energy efficiency, and rainwater harvesting for use in landscaping, and is expected to be completed in 2022.
Source:
Media release, Sep 10
Parliamentary Secretary for the Central Coast, Adam Crouch