Author: Elin Hilderbrand –
Publisher: Hodder & Stoughton –
One of the drawbacks of finishing a book is that I have to find another one to read.
This shouldn't be an issue … there are so many books.
The challenge is that they aren't all good – and reading time is precious.
It seems wasteful to use that scarce time reading a bad book.
Ergo, I spend quite a bit of time researching what books to read in the hope that the next book will be a good one.
For the past few months, each time I searched for a book 28 Summers kept coming up.
I would skip it for another book but I felt fate at play here and so I finally purchased it.
Was it a good call?
Mallory Blessing is 24 years old and struggling in New York City.
She is a receptionist and lives in an apartment in the Upper East Side with her childhood friend Leland.
She can't afford the rent so her parents chip in.
Leland is growing tired of the arrangement.
When a promising job comes up Mallory applies for it … and so does Leland – Leland gets it.
And so, things for Mallory are bleak.
But her escape comes when her aunt passes away and leaves Mallory a house in Nantucket. Mallory gladly leaves the futon in the living room for a new life on the beach.
Mallory's brother, Cooper is getting married (it will be the first of many, many marriages).
In lieu of a bachelor party he wants to spend Labor Day weekend with his friends, Fray and Jake, in Nantucket.
Fray and Cooper are old friends, while Jake and Cooper are friends from university.
Mallory has spoken to Jake throughout the years, when she would call Cooper and Jake would pick up the phone (in the days before mobiles phones).
They were flirty on the phone but when she sees him in person the sparks fly.
The bachelor weekend ends up being a weekend alone for Jake and Mallory and they have so much fun they agree to do it every year, ala the movie Same Time, Next Year.
As promised, Mallory and Jake meet up every Labor Day weekend for the next 28 years. Nothing is going to stop this arrangement.
Even when Jake gets married to Ursula and has a daughter, Bess and even when Mallory has a son, Lincoln.
Ursala decides to leave her very successful job as a lawyer to run for the senate, and then congress and ultimately the President of the United States.
Being the husband of the president will make Labor Day weekends complicated.
And things get even more complicated when Mallory is confronted with the prospect that her latest summer dalliance may be her last.
The reason I kept skipping 28 Summers to choose another book, is that I have previously read two other books by Hilderbrand.
The first was Summer of '69, which I quite enjoyed.
The other book was The Identicals, which I enjoyed less – so much less that I wasn't going to read another book by Hildebrand, until I did.
Other (less reluctant) critics, including the New York Times, have described 28 Summers as a "sweeping love story" and "Hilderbrand's best ever" – New York Times
I suppose the intrigue is obvious – married couples are (hopefully) very content in their relationships and their busy, family-focused lives, but there is always a small longings for the things they don't have, or the things they once give up.
The notion of a secret, unrestrained relationship, a short break, an escape, a chance to break the shackles, even for a short time – well, you can see the allure.
But it didn't work for me.
To be honest, I was so frustrated reading this book – it just didn't make sense that Mallory would find it acceptable to only have Jake for one weekend of the year. Who does that?
And while Jake professes love for Mallory, why then did he marry Ursala?
Sure, Jake and Ursala have history, but he doesn't seem to like her that much.
And Ursala running for president to make a change? Is her character not otherwise too self-centered?
The writing just isn't good enough to help you escape from the glaring oddities of the situation.
The repetition of the yearly meal and music also got a little tiresome.
Although I did enjoy "What are we talking about (insert year)?" which started each chapter. It brought back some memories and made me realise how little I know of pop culture.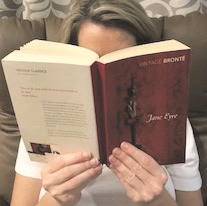 Kim Reardon
The Reluctant Book Critic