Over 47 per cent of Central Coast businesses, some 11,453 organisations in total, were receiving JobKeeper payments in May.
The JobKeeper data, compiled by local data analytics company, See Change, also reports the number of JobKeeper recipients by postcode and shows that the highest concentration of businesses receiving JobKeeper was the 2261 postcode, including The Entrance, Bateau Bay, Killarney Vale and Berkeley Vale, at 49.7 per cent in total.
The JobKeeper data is sourced from the ATO and includes organisations that have had their JobKeeper applications processed for the April and May fortnights as at 8 July 2020, while the count of businesses as at 30 June 2019 is sourced from the ABS (8165.0).
The initially-reported number of JobKeeper recipients for April was revised upwards in the latest data release from 10,649 to 10,833, with the number increasing by a further 620 businesses to 11,453 in May.
Approximately 24 per cent of businesses in the Central Coast Local Government Area are in the construction sector, of which many are likely to be sole traders or have low numbers of employees or apprentices.
Recent ABS data for Weekly Payroll Jobs and Wages data by Industry suggests that NSW saw a 7.8 per cent fall in construction jobs between 14 March and 11 July.
Assuming these numbers are reflective of the Central Coast, this would imply approximate losses of around 1,500 construction jobs locally.
The accommodation and food services industry, also a major employer on the Coast, saw a 16.1 per cent fall across NSW, equating to around 1,800 jobs on the Central Coast.
A significant number of remaining jobs in this sector are likely being supported by Jobkeeper.
ABS data also shows women in NSW lost jobs faster than men in the second week of July, as the COVID-19 crisis fuelled a "pink recession" across the state.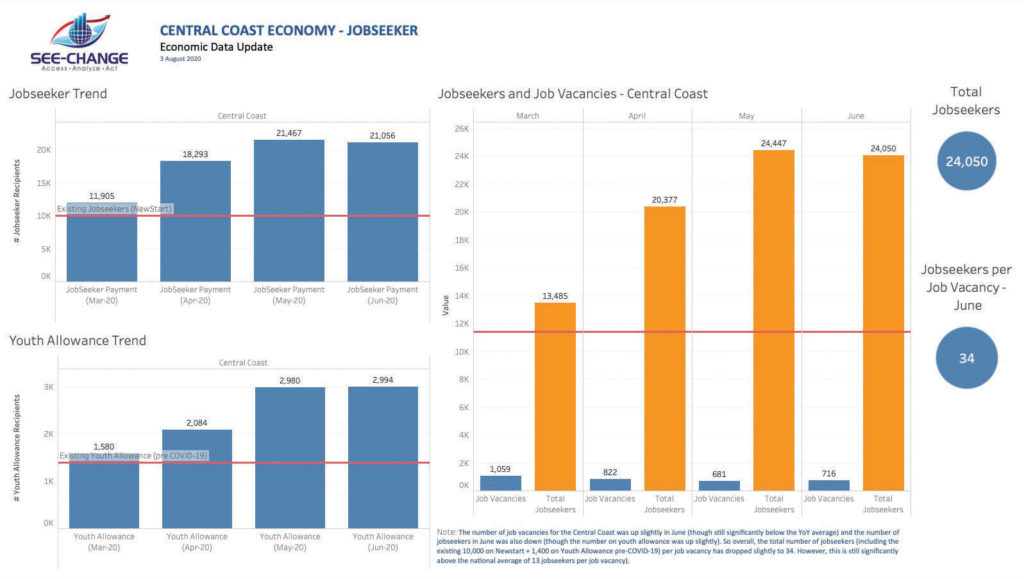 While payroll jobs held by men fell by 0.3 per cent in that week, they dropped by 1 per cent for women.
Georgie Dent, Executive Director of The Parenthood, a community of mums and dads working together to create positive change for kids, said women were over-represented in part-time and casual work and in industries including the arts and hospitality, leaving many women vulnerable to unemployment or underemployment during the pandemic.
"A 'pink recession' threatens to undo 30 years of progress and relegate another generation of Australian women into life-long economic insecurity and even poverty," Dent said.
"Paid work has been decimated by the COVID crisis with women losing hours and full-time employment in greater numbers than men at the same time that their unpaid work has soared.
"One of the best ways of increasing women's participation in the workforce and solving the 'pink recession' is providing quality, affordable early learning education and child care.
"(This) would pay dividends in supporting more women into paid work, growing employment in a female-dominated industry and giving kids the best start possible."
See Change also reported data in respect of JobSeeker (including Newstart) and Youth Allowance recipients, sourced from the Department of Social Services and the Department of Education, Skills and Employment.
Data for June showed that the number of both JobSeeker and Youth Allowance have plateaued on the Central Coast since May at around 24,000 and 3,000 respectively.
Patrick Spedding, Director of See Change, suggested a material number of JobSeeker recipients in April may be casuals who were stood down and who might now be returning to paid employment.
The number of jobseekers however, continued to rise in some areas, including Woy Woy, Narara and Saratoga/Davistown.
The overall number of Jobseeker payments is still highest along the Peninsula, most notably in Woy Woy and Umina, and the North Central Coast areas of Charmhaven, The Entrance and Bateau Bay.
Finally, the number of job vacancies for the Central Coast, as measured by the Labour Market Information Portal, was just over 700 in June, down by around 30 per cent from March levels.
This means the number of job seekers per job vacancy on the Central Coast is 34, which has more than doubled since March and is significantly higher than the national average of 13 jobseekers per job vacancy.
Ross Barry