[April 1, 2020] Today, we have a further update on the virus from Local District Health and a range of news and announcements about closures on the Central Coast, including the temporary closure of Kincumber High School, a local data analyst is calling for more data and news that the Central Coast Mariners have decided to stand down all players.

Published at 2020, April 01
Show More
Local District Health Case Update.
Well, authorities are urging everyone to continue to adhere to restrictions on travel and social gatherings, despite nascent signs that the rate of spread of the virus is slowing, at least in NSW.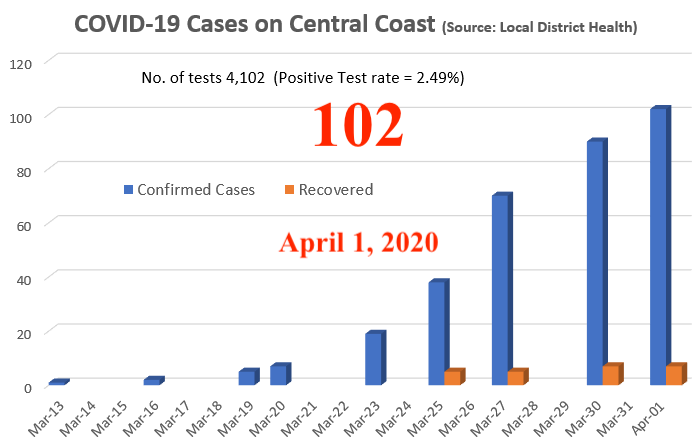 Here on the Central Coast, Local District Health advised us earlier today that the number of confirmed cases here has risen to 102, an increase of 12 cases in the prior 48 hours – in the previous two 48-hour periods, th increase was 32 and then 20, so that's starting to look like a trend.
4100 people have now been tested which implies a positive test rate of 2.5 per cent.
Of the 102 positive cases, only one has been hospitalised and seven have now recovered.
A similar slowing in the rate of infection has occurred across NSW in the past week.
There were 114 new cases in the last 24 hours compared with daily increases of over 200 late last week, NSW Premier Gladys Berejiklian did warn yesterday however that there were likely many more cases that had unreported as well as a ongoing risk of new clusters, as observed yesterday in a bondi beach backpackers lodge.
Separately, Local Health District is calling on health workers to join it in a bid to bolster its workforce in response to COVID-19.
The Health District is hiring
A range of casual positions are being advertised for nurses, doctors, allied health professionals and pharmacists and the District will also be seeking patient support staff, cleaners, switchboard operators as well as people with logistics and warehouse experience.
The full media release from District Health is available on our website.
Kincumber High School, call for more data and local government elections
Well, earlier today we learnt that Kincumber High School had closed temporarily after learning that one of its students had tested positive to the virus.
Let's go to David Abrahams.
Thanks Ross, yes, Kincumber High closed its gates this morning after confirmation a senior student had tested positive to COVID-19.
Principal Brent Walker advised parents early this morning and said the school was working with NSW Health to assist their contact tracing process and all staff and students are being asked to self-isolate until that process has been completed.
Call for more CoVID-19 data
A locally based international data analyst is calling for more COVID-19 data to be released to the public to help educate and inform people about the spread of the virus.
Copacabana resident Patrick Speding is a Strategic Advisor in Data Analytics and
points out that other countries such as the UK and US are now providing COVID-19 data at postcode level while here in Australia, data is only available at a broader regional level. I spoke with Patrick a short while ago.
[Patrick Spedding interview]
Local Government elections postponed
And finally, the State Government announced late last week that all local
government elections would be postponed by one year, a decision we understand that has been welcomed by most local Councillors.
We'll be talking later this week with Bruce McLaghlan on that so we'll have more to say about that then. Back to you Ross
Mariners
The Central Coast Mariners announced yesterday that it would follow the
contentious decision by Perth Glory to stand down all players and freeze all
payments indefinitely.
The PFA has already flagged legal action against Glory and we can only assume the Mariners decision will get a similar reception.
We understand the decision is linked to the expectation that Fox Sports will suspend payments to clubs, worth around $900,000 each after the FFA postponed all remaining A-League games this season.
It is widely believed that the Mariners have struggled financially for a long time due to poor performances and small crowds.
April rumour for Mothers Day.
That's all for today. We don't normally deal in rumour, but we've heard from the Woy Woy Philosophers Society this week there is a call for Mother's Day, due in May, to be cancelled this year and that, in its place, Father's Day, in September, would be extended to be Father's whole weekend – that might be one for us to take a poll on and get back to you.
Make sure you grab a copy of this week's Coast Community News, out on Friday, where we've put together a full-page description of the stimulus measures available to workers, households and small businesses here on the Coast.
Stay well and join us again Friday afternoon for our next edition of 5@5.
Presented by Ross Barry with David Abrahams, film and editing by Alex Herget