The 22nd IWWF World Water Ski Racing Championships crowned its first Champion Elect on the third race day, Wednesday, November 15.
In choppy, challenging conditions on the Brisbane Water, Leilani Cartledge of Victoria made it three wins from three races behind Gro Up F2.
Cartledge's domination of the junior girls continued, seeing her amass enough points to be Champion Elect heading to Saturday's final race.
There were emotional scenes heading to the boat ramp as it sunk in that she had done enough to hold an unassailable lead heading to race day four.
Her father Jason leapt onto Gro Up 2 to hug Cartledge – after he came off Speed Lab as observer for her brother Kohdi's victory in the boys race.
Kohdi got home in front of race two winner Zak Armstrong, while Trim Lab's local skier, Jaali Walsh kept his title chances alive with third, and race one winner, American Ryder Tovatt, fought back with a fourth position.
It's game on for second place in the girls title with Kianna Walsh (twin of Jaali) holding that by 11 points over Charlotte Neal, who is narrowly in front of Australian wildcard, Demi Simmonds.
Meanwhile, the men's open race finished with the most dramatic moments of the championships so far with the top two contenders both falling in the last 10 minutes.
The battle between Team 50 F1 and Superman continued, Carter Robertson and Daniel Graziano swapping the lead on several occasions before heading into the last 10 minutes of the race.
The first to fall was Graziano, who failed to finish the race.
With five minutes to go, the drama continued with Robertson falling.
He had more than one lap up over the new second-placed runner, Coldys F1's Jack Coaldrake, but it was tense moments while the Team 50 squad scrambled to get Robertson back in his ski and on top of the water.
Despite having lost his goggles in the incident – and a charging Coaldrake closing in at full noise over 150km/h in the choppy waters – Robertson had enough of an advantage to take a 46 second win.
Brock McMillan behind Strike F1 continued his forward charge with a third-placed finish, his best of the championship thus far, earning a double podium for the family from the day.
Livewire American Mason Goldsmith brought it home in fourth as the best of the internationals followed by his countryman, Rayson Normandin.
Joining Superman on the sidelines was pre-event favourite Lachlan Nix behind Sapphire – an early casualty – and Steven van Gaveren's Diamond Bulls out of Belgium.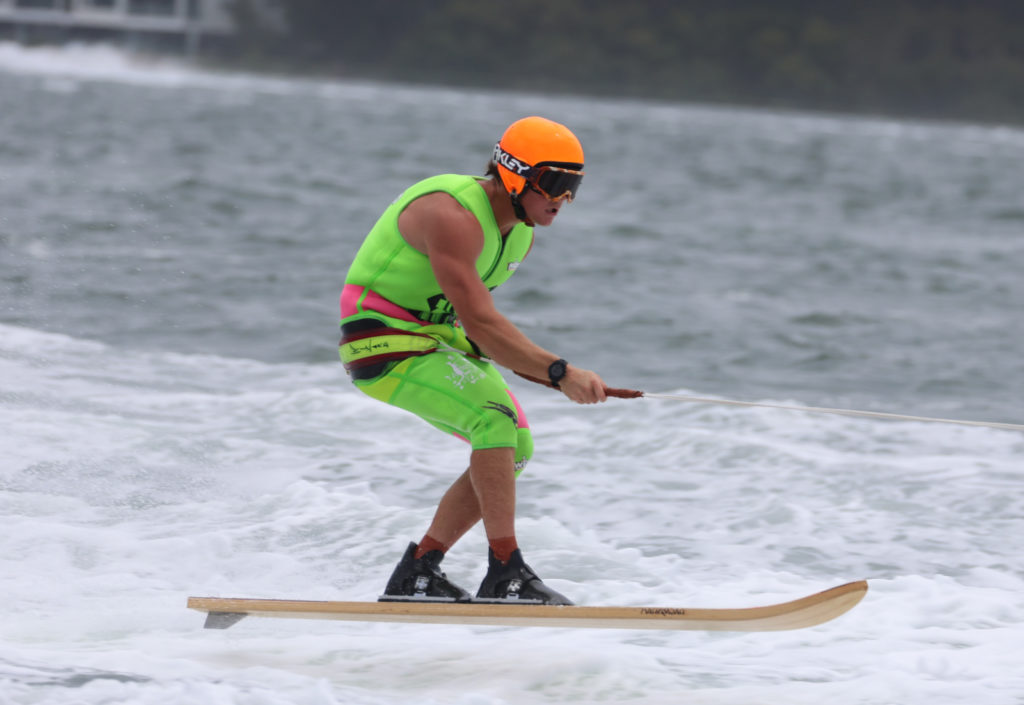 The women's open saw a new race winner with Nellie McMillan staging a thrilling strategic race to take the win on Wednesday.
After striking trouble on Monday, but still finishing second, McMillan's pilot, her father David, was able to pick a line that enabled them to get by championship leader, Maddi Boyer behind Showdown and Coldy's F1 – with Rachael Stapleton on the rope – completed the podium, continuing her tremendous run at the world title.
Wednesday's result ensures the open women's title race is going to the wire.
With Boyer's two wins to McMillan's one (with a pair of seconds), just 13.59 points separates the pair.
It will come down to who scores the best three of the four race points after the 45 minutes plus one lap on Saturday.
American Sophia Rivera's run kept building with a victory in women's F2 with Snappy 377.
The 18-year-old Californian's races have seen her finish consecutively third, second and first – keeping her in the hunt for the title heading to Saturday.
She is 36.61 points behind race one and two winner, Australian Emma Barnes.
It was a hard race between Rivera and Barnes behind HiJact and another podium for Speed Lab's Molly Palser sees her 123.7 points from the title lead.
The men's F2 race went right to the wire with Revenge's Aiden Cuff getting his second win of the titles having fought it out with youngster, Jake Clancy and Agent 86 with Sam McKenzie following Speed Lab home in third.
Experienced Kiwi Mitch Horan crossed the line fourth.
Cuff leads the championship race by a mere 21.73 points over Clancy with McKenzie 142.42 points off the pace.
The IWWF World Water Ski Racing Championships resume with race day four from 9am on Saturday, November 18.