ONE outstanding specification. Two very different powertrains. We pit the 2022 Kia Sorento GT-Line Plug-in Hybrid against one of its own, in the form of the V6 petrol version of the same SUV, at the same trim level.
It would be easy to sum up the differences between the two as horses for courses, or a similar analogy, but it's not that simple. We were blown away by the capabilities of one variant, to the point where a friend of the team has gone and bought one on our advice.
We'll tell you which version that is shortly, but first, let's break down what's on offer in the Sorento GT-Line and individually in the PHEV and petrol variants, and just how we tested them out to see which one came out on top.
To describe our time testing these two vehicles as being at the height of COVID chaos is an understatement. Omicron was running riot across NSW, and indeed Australia, and yet, with the right precautions, we were able to hit the road for some actual road trips.
In the case of the PHEV version of the Sorento, we went north, engaging in a number of shorter road trips that were no more than two to three hours in duration, but gave us the opportunity to put it to the test in a variety of circumstances and driving conditions.
Conversely, the petrol variant went long, in what was a good comparison of the scales of fuel economy, with tonnes of highway driving. We ventured south, to the country town of Goulburn, and then onto the sleepy hollow that is Crookwell.
The Kia Sorento comes in four specifications, in the form of the S, Sport, Sport+ and GT-Line. There are three powertrain options; a 2.2-litre diesel (not tested here), a 3.5-litre petrol V6, and the new kid on the block, the plug-in hybrid.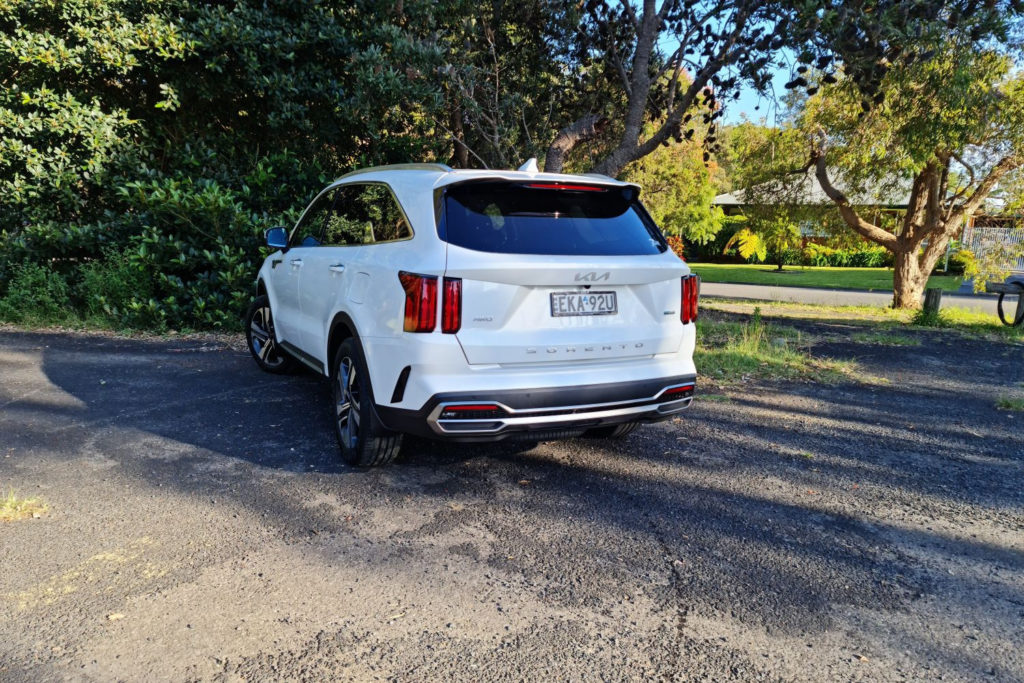 ---
It's powered by a 1.6-litre turbocharged petrol engine, paired to a lithium-ion battery powered electric motor. The PHEV is only available as a GT-Line, and that's good, because the range topping spec is a really well put together package, with all the goodies thrown in.
But first, let's talk numbers. The 3.5-litre V6 petrol model is front-wheel drive only. It delivers 200kW of power and 332Nm of torque through an 8-speed auto transmission. It rides on 20-inch alloy wheels. It has a 2,000kg braked towing capacity.
It also offers a claimed fuel economy of 9.7-litres/100km. We managed 8.4-litres – consistently, on our long haul drives to Goulburn, which we have to say is fairly impressive for the naturally aspirated Sorento 7-seater. In traffic, it sat around 10.4-litres/100km.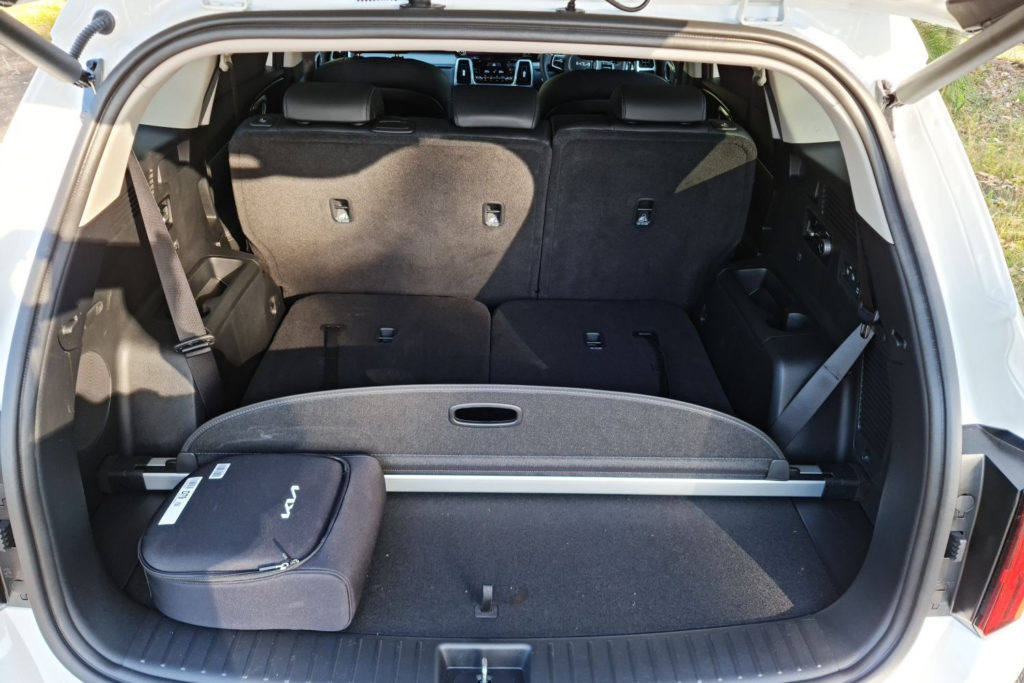 ---
It has an AC (that's plugged into the power point) charge time of 3 hours and 25 minutes to 95 per cent charged – that's pretty on the money. It has a claimed battery only range of 68km (again, good luck) – which is more like 51km in reality.
Both variants have the same 67-litre fuel tank. Here's the thing though. We started both seven day testing periods with a full tank. We did roughly the same amount of kilometres in travel for both test periods (give or take 50km). We never refilled the PHEV.
That says buckets about the capability of the PHEV, particularly in terms of fuel economy, but more on that later. First, let's talk about luggage space, because thanks to the fact the batteries are under the second row seats, the two vehicles are different.

The 2022 Kia Sorento GT-Line in petrol V6 form costs $64,290 drive away. The plug-in hybrid is priced at $81,990 drive away. Both had premium paint in Steel Grey and Snow White Pearl respectively.
The latter costs significantly more than its petrol counterpart. There's no denying that. But the savings you make over the 5-7 years, or longer, you'll own the Sorento (assuming you've a family and normal budget constraints), mean it's worth it.
Our test vehicles were supplied by Kia Australia. To find out more about the 2022 Kia Sorento GT-Line Petrol V6 and Plug-in Hybrid, contact your local Kia dealer.