Most would agree that an Aussie burger (vegetarian or not!) would not be 'True Blue' without a slice of juicy beetroot.
It is beloved in salads, roasted, in sandwiches and as a dip with beetroot juice rising in popularity due to its many health benefits.
The wonderful thing about beetroot (Beta vulgaris), is that although it is an annual, it can be planted year-round on the Central Coast and, with staggered planting, you can enjoy a continuous supply of both the delicious green tops and bulbous roots.
Well prepared beds, rotation cropping, and an even water supply are all important factors to success with beetroot.
You will also need to keep an eye out for 'popping' as they tend to rise out of the ground.
Garden Bed Position and Preparation
Although they will grow in a partially shaded spot, beetroot will develop faster in a full sun position and this should be considered when stagger planting crops – you may wish for a bumper crop all at once but then again you may not.
Beetroot do not like acidic soil so check the pH level and aim for between 6.0 and 7.0.
If too acidic, add a little dolomite lime to achieve the correct level.
A clay soil is not good, you need to have a loose, free-draining structure, free from rocks and they will grow in a slightly sandy soil.
Although the soil does not need to be necessarily 'rich', improvement with compost and a well-rotted cow manure a week or so prior to planting will give you really strong plants.
Some cultivars, especially mini varieties, can be grown successfully in pots.
Planting Your Beetroot
If planting seeds, they will need to be soaked for half a day first.
The seeds look like little rocks and are actually a bunch of seeds coated in a protective layer.
Plant 2cm in depth in their final position and 2cm apart and then cover with a seed raising mixture for best results.
Thin out once they sprout leaving about a 7cm space between each.
Seedlings can be planted about 7 cm apart and thinned after 2 weeks if needed to maintain that gap.
Mulch is very important as it will conserve water and keep the temperature of the ground even while deterring pests. In order of preference use lucerne hay, pea straw or sugar cane mulch and lay it around 5cm in depth, leaving a space of about 5cm around the base of the plant to avoid fungal disease.
Avoid planting with fennel or dill but companion plant with carrots, cucumber, lettuce and onions.
Food and Water for Your Beetroot
If you do not water with care you can cause root rot from overwatering and split or uneven growth in the beets from inconsistent or insufficient watering.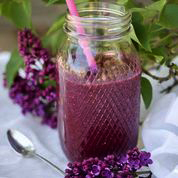 The soil needs to be kept moist when planting and awaiting seeds to sprout and then, for seedlings, water at least twice a week depending on conditions.
You want moist soil, not wet.
When first planted, a light feed of a chook manure-based, slow-release pellet could be used or well-rotted chook manure and then feed fortnightly with a seaweed-based liquid fertiliser.
Unless your crop is going to be primarily used for the greens, you do not want too much nitrogen (which will give you an abundance of stems, not juicy roots).
Possible Pests and Diseases
Beetroot are a rather hardy crop and will grow very well here on the Coast.
After heavy rain in humid conditions, the foliage can be prone to fungal attack, indicated usually by brown spots and although these should be disposed of, it will not affect the beets below ground. Beetroot are also rather tolerant of pests as long as you weed often.
Non-Stain and Colourful Varieties
Love beetroot but not the mess?
Try 'Golden Beetroot'.
As the name suggests, these have a yellow/gold colour, non-staining attributes and remains sweet throughout its life without going woody.
'White' is another obviously non-staining variety which is highly recommended for roasting and pickling.
'Avalanche' is another white type that is also lovely and sweet.
For a bit of beet fun, try growing the candy-striped 'Chioggiaa', which looks very much like a bullseye when cut crosswise.
The Beet Harvest
For most of us, eating the greens of the beetroot plant is a relatively new idea but, when first cultivated, people ate them in favour of the roots.
The soft leaves and the crunchy stems of beetroot are quite delicious and a festive touch to salads but do not over-harvest your plants.
Only remove a leaf or two at a time from each plant and use snips – taking too many leaves will disrupt the growth of the root system.
To ensure a sweet and juicy beet, most types are best when harvested between 5 to 10cm across and this will occur at around 10 weeks from planting seeds/12 weeks from small seedlings.
Letting them develop larger than this will tend to make them woody and the taste will start to lean more towards 'earthy'.
Another tactic is to pull every second beet and enjoy baby beets now, larger beets larger.
As they are an annual, simply pull up and use the whole plant and do this by gently lifting by hand, with the help of a hand-held gardening fork, to tease them upwards.
To preserve a glut of beetroot, freeze by washing well, then boiling, skinning and chopping or slicing. They will keep in airtight containers in the freezer for up to six months, or …
You may also consider pickling them! (see below)
Recipe – Pickled Beetroot
There are lots of pickled beetroot recipes out there, but this is an old one that I use and love – simple, quick and delicious!
a dozen beetroots (about 8 to 10cm across)
3 cups malt vinegar
2 cups water
2 cups brown sugar
2 teaspoons salt
1 teaspoon whole black peppercorn
sterilised jars and lids
Wash the beetroot and remove fine roots and stems.
Bring to the boil in the water and simmer until soft, (approx. 20min).
Remove the beetroots and place on a plate to cool while saving the cooking water.
Once cool, gently rub the skin from the beetroots and then slice.
Fill jars with the beetroot slices and add all the remaining ingredients to the cooking water and bring to the boil, simmering for ten minutes.
Allow to cool slightly and then pour into jars, tapping them often to release any air pockets.
Seal and store in a cool dry place – ready to eat in a week and will last at least a year.
Beetroot Health Notes
Rich in fibre, antioxidants, potassium, copper, magnesium, folic acid and they also are a great source of vitamins A, C and B group (B1, B2, B3, B6).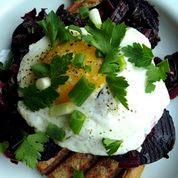 Beetroot will also help lower blood pressure and is being studied for the possible benefits in fighting cancer.
There is such a thing as 'too much of a good thing' when it comes to this vegetable and something you need to be very aware of is that beetroot is high in oxalates which can cause kidney stones and trigger gout.
They are also high on the glycaemic index so those with unstable sugar levels need to be aware of this.
The betaine and nitrites found in beetroot are not recommended during pregnancy.
Recipe – Warm Beetroot Salad
There are so many ways to enjoy beetroot beyond the burger – here's one of my personal beetroot salads.
300g cooked cannellini beans
3 medium sized beetroots, chopped roughly
3 large cloves of garlic, chopped
2 tbs of fresh thyme leaves
300g mixed salad greens
1 red onion, thinly sliced
150ml olive oil
2 tbs fresh lemon juice
salt and pepper to taste
3 tbs toasted almonds
Toss the beetroot and garlic in about 50ml of the oil and roast in a pan, in a preheated oven (180C) for about an hour.
In the last 10 minutes, add the thyme.
Place the mixed greens in a bowl with the cannellini beans and onion.
Mix together the remaining oil and lemon juice and season to taste with the salt and pepper.
When ready to serve toss the beetroot and garlic mix in with the greens, drizzle over dressing and top with warm toasted almonds.
Beetroot Botanical History and Fascinating Facts
Australians are a little unusual in their love of beetroot.
I found my own children were looked on as very strange for insisting on beetroot sandwiches, beets on their burgers and always in salads when I lived in the USA.
(Former US President Barack Obama and his wife Michelle hate beetroot and when planning an organic vegetable garden at The White House, they specifically asked that 'beets' not be planted.)
The Ancient Greeks and Romans however, loved them more than even modern-day Australians.
They ate the leaves and stems and used the whole plant as offerings to their gods, probably because of their resemblance to a blood-filled human heart.
Medicinally they were employed in many ways including as a hangover cure and wound dressing.
Interestingly, perhaps the first garden shade houses were invented because of the love of beetroot as these societies wanted to enjoy them year-round.
The earthy smell and taste they have is due to the presence of 'geosmin' and leads to the love-hate relationship we humans have with beetroot, depending on individual sensitivity to it.
The Ancient Romans even believed that beetroot is an aphrodisiac and there may be something to it as in does contain high levels of the sex hormone booster, boron.
UPCOMING GARDEN EVENTS
DRIED FLOWER WORKSHOP: Bumble Hill Shed Shop, Kulnura. 11am to 1pm with Ruth Donnelly of Coachwood Nursery. $49, everything supplied. 0491147448 to book
FARM TOURS: Grace Springs Farm, Kulnura has morning and afternoon farm tours on multiple dates and a 'Small Farm Workshop' – 8th November. Various prices, to book: 0425 258 699 www.gracespringsfarm.net
GARDEN TOOL DRIVE: SWAMP – (Sustainable Wetlands Agricultural Makers Project) Central Coast. New Community Garden at Tuggerah is looking for donations of your unloved tools. Drop off to in the overflow carpark opposite Tuggerah Super Centre Friday 20th Nov 2pm – 6pm & Saturday 21st. 6am to 12pm www.swampcentralcoast.com.au
THIS WEEK YOU CAN PLANT:
Asian greens, beetroot, beans, capsicum, chilli, eggplant, kale, okra, pumpkin, turnips, sweet corn, zucchini, coriander, rocket, rosemary, thyme, amaranths, aster, begonia, cosmos, sunflower, zinnia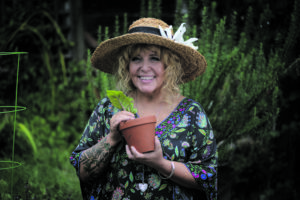 Cheralyn Darcey is a gardening author, community garden coordinator and along with Pete Little, hosts 'The Gardening Gang' 8 – 9am every Saturday on Coast FM.
Send your gardening events and news to: gardeningcentralcoast@gmail.com