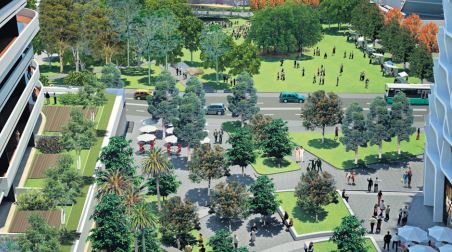 Mr Morrison said the design of the residential tower and podium apartments was sculptural and dynamic with faceted facades and tall and slender towers. Mr Ristwej said Lederer Property had not yet given consideration to pricing points for the housing that will be developed as part of Gosford Alive.
"That depends on the planning outcome but what we would like to give to Gosford and the community is quality, and that is what is important for the city's repositioning into a capital city," Mr Ristwej said.
Stage two of Gosford Alive will include a further 400 apartments, gym facilities, a medical centre and more retail. Stage three will be the redevelopment of Imperial Centre to have a larger footprint of retail space and an additional 800 apartments overhead.
Mr Ristwej said the development of 1,600 new apartments in Gosford over 15 to 20 years was a "reasonable absorption rate, sustainable and something that has the ability to be delivered. "It was not realistic to say we are doing it all in one go, but we will be doing it in a sustained way that makes sense.
"We are really putting Gosford on the map, delivering social space, housing, employment, and an architectural outcome." Each stage will be covered by a separate development application. The resulting residential precinct will be open to the public to weave their way through the development and access Rumbalara Reserve from the CBD. In determining the mix of housing, Mr Ristwej said the main driver was who the customers for the product would be.
"We identified through the research we conducted through BIS Shrapnel that there are different housing requirements on the Central Coast including townhouses, larger apartments, lower rise and two-storey town houses incorporated in a podium environment.
Mr Ristwej said a key component of the target market for the new residential stock would be owner occupiers including existing Coast residents along with Sydney escapees "from the upper north shore where housing prices are exorbitant.
"It is amazing to me that Gosford, that has all the infrastructure, rail, schools, and even more so, we have national parks, waterways and some of the best beaches in Australia, isn't already the place to live." He said Lederer Property's master plan was responding not only to Gosford Council's vision for the city but also to the State Government's call to action to create active cities, inner city living, jobs growth.
"This development considers all these mandates," he said.
Interviews, Feb 24, 2016 Marek Ristwej, Lederer Property William Morrison, Conybeare Morrison International Jackie Pearson, journalist