Two Central Coast teachers have been recognised at the top levels of national accreditation, meeting the highest standards for Australian teachers and demonstrating effectiveness, innovation and influence in their teaching practices.
Wadalba Community School teacher, Alison Clark, and Warnervale's MacKillop Catholic College teacher, Erin Sullivan, have received their Highly Accomplished accreditation from the NSW Education Standards Authority (NESA).
In the official Highly Accomplished and Lead Teacher (HALT) Recognition Ceremony on June 28, 85 teachers across NSW were recognised and celebrated for their commitment, innovation and hard work in the classroom since 2019.
Minister for Education and Early Learning, Sarah Mitchell, said teachers who achieved the accreditations had met the highest standards for Australian teachers.
"These teachers are not only leaders and advisors in the classroom, but they also lead innovation and change across their school, region, NSW and beyond," Mitchell said.
"I'm inspired by the commitment of these outstanding teachers to ensuring their professional practice is making an impact in the classroom and sharing their methods and results with colleagues far and wide."
Alison Clark from Wadalba Community School not only received her Highly Accomplished 2021 accreditation but was also awarded The Minister's Award for her excellence in teaching.
"The Highly Accomplished accreditation is something that you work towards over some time where you give evidence, showing you meet the expectations of the NESA professional teaching standards," Clark said.
"It was a long process where I set some goals and worked towards achieving those, so it was a high sense of achievement and quite emotional when they told me I had met the standards.
"Receiving The Minister's Award was a complete surprise as I was nominated by my colleagues who had valued my work…so that was really amazing and humbling."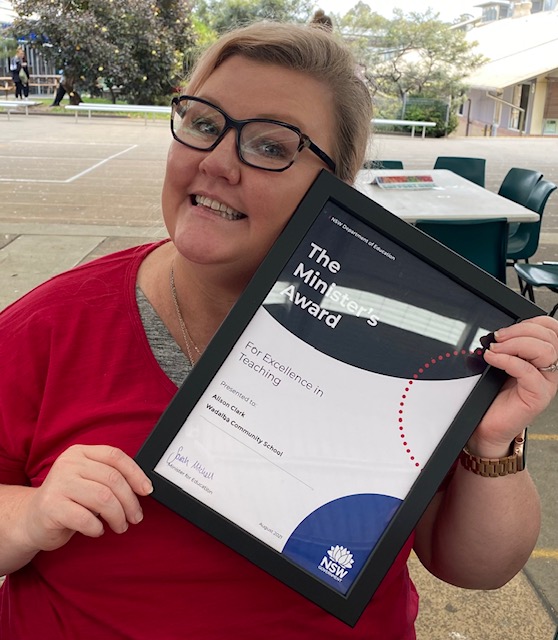 Clark said there were many things she loved about teaching, including the opportunity to make a difference in young people's lives and empower them to realise their potential.
She said teaching was a social role which meant that COVID-19 had greatly impacted the profession and forced them to adapt and implement remote learning strategies.
"Because lockdown happened so quickly, we went from having kids in our classroom one day to having to engage students and keep them online the next," Clark said.
"Learning to implement new forms of technology and education at a rapid rate was a challenge, but all those things we learned we still use every day to keep our students engaged, which is a positive."
Erin Sullivan from Warnervale's MacKillop Catholic College said she had a similar experience during the challenges of COVID-19.
"Amongst the health concerns and remote learning challenges, we were able to gain some positive outcomes amongst it all," Sullivan said.
"It highlighted the benefits of face-to-face teaching and the value of a school community.
"We still use the apps and support programs created during lockdown every day; this comes in handy when a student is away or sick as they can still access their education or resources…we weren't able to do this before."
Sullivan said it took her three years to achieve her Highly Accomplished 2020 accreditation, and the final part of the process occurred during the first COVID-19 lockdown in 2020.
"It was very much an honour and a relief to be given the accreditation … I feel very grateful," Sullivan said.
"I've wanted to do this for quite some time as I already have a master's degree, so this was something else I really wanted to achieve.
The NSW Government recently set an ambitious target to recognise at least 2,500 expert teachers with HALT accreditation – a tenfold increase by 2025.
Hayley McMahon