Three officers from Tuggerah Lakes District have received one of the highest, and rarely awarded, commendations from the Commissioner to acknowledge their courage.
The annual Tuggerah Lakes Police District Awards and Medal Ceremony was held in Wyong earlier this month to present medals and certificates for diligent service and to recognise brave acts by police and civilians assisting police.
Senior Sergeant Anthony Grace, Senior Constable Benjamin Harrison and Senior Constable Shannon Thomas were presented with the Commissioner's Commendation for Courage.
At about midnight one Saturday, Snr Const Shannon Thomas was at Gosford railway station after reports of a drug-affected man inciting people to fight him and threatening people with a 12cm knife.
She found him hiding in a dark alley and was confronted by the man wielding a 30cm bladed knife.
During attempted negotiations, the man ran towards her attempting to cause harm, resulting in Snr Const Thomas discharging her firearm a number of times but as the offender refused to succumb and despite gunshot wounds, the man continued to wield his knife and advance on police until he was disarmed and arrested.
Snr Const Benjamin Harrison was one of the first police to arrive at Wyong Hospital to rescue a nurse who was forced against a wall and threatened with a meat cleaver by a man requesting to see mental health staff.
The man had the nurse in a headlock and walked her into the emergency area where other nurses attempted to negotiate with him unsuccessfully.
Snr Const Harrison attempted to comfort the man and after building a rapport with him he was able to take hold of his hand holding the meat cleaver but he started screaming and raised it to his own throat attempting self-harm before the police officer could pull the meat cleaver away to stop him injuring himself.
After the struggle, the man was treated by hospital staff and discharged into police custody.
The quick thinking actions of Snr Sgt Grace saved his own life and that of a man who had been walking along the Hunter Expressway near Cameron Park.
After locating the man, the police officer sat with him on the safety barrier talking, when he noticed an approaching car was about to hit the parked police vehicle.
Snr Sgt Grace jumped the barrier and pulled the man over with him and when the police car was hit it was forced forward to where they had just been sitting.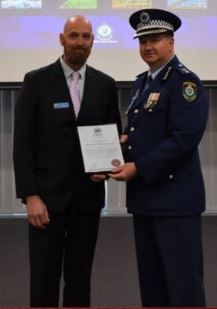 Another five police officers were recognised for bravery and received the Region Commander's Commendation – Chief Insp Colin Lott and Snr Const Jason Russell for a rescue at Blue Bay; Det Snr Const David Kerrsmith for a rescue at Snapper Point; Det Snr Const Eric Andrew for a counter terrorism operation, Snr Const Blake Iddles for bravery in a fire at Neutral Bay.
Det Snr Const Dave Kerrsmith dived into dangerous waters off Snapper Point to assist a struggling man and woman who'd been washed off the rocks while fishing and were being swept out to sea.
He managed to keep them afloat until the Westpace Rescue Helicopter arrived and retrieved the woman but stayed in the water with the man until after dark when a police launch could reach them.
His bravery saved the life of the man and contributed to the recovery of the woman's body under difficult circumstances.
Snr Const Jason Russell and Chief Insp Colin Lott went into the water at Blue Bay to rescue and arrest an offender who was attempting to escape a series of offences but got into difficulty in the rough surf and was injured when he washed up on the rocks about 100m from the beach.
The drug-affected and irrational man was subsequently dragged from the water while he continued to struggle violently, before being subdued.
Chief Insp Colin Lott was acknowledged for his leadership which was integral in bringing this matter to a successful conclusion.
Snr Const Katrina Hardie was awarded the Regional Commander's Unit Citation for a rescue at Lavendar Bay.
Tuggerah Lakes Police District Local Awards were presented by District Commander Det Supt Chad Gillies to various brave rescues by civilians – Brett Langford, Nikki Rowe, Wendy Warren and Richard Warren who rescued a father (deceased) and young child whose kayak had capsized on the lake near Lioness Park at Gwandalan; Sam Campbell for a Budgewoi Beach rescue; Nathan Gregory for the rescue of a motionless infant at the bottom of the pool at Blue Lagoon Resort as well as Sgt Shannon White for an incident involving police cars being rammed by an excavator.
The District Commander's Certificate of Merit was awarded to Sgt Sally Scott for the rescue of an elderly woman trapped in her car in the fast-flowing flood waters of Wyong River. Just after the woman was saved her car was swept away.
Snr Const Nicole Coombs also received the Certificate of Merit for singlehandedly organising the Central Coast Charity Ball which raised just over $10,000 for Police Legacy.
District Commander's Excellence Award went to Leading Snr Const John Liddle and Snr Const Kurt Webb was awarded the Commander's Certificate of Appreciation.
Many police officers and civilians were acknowledged for their long service with either the National Police Service Medal, National Medal, the NSW Police Medal or the Certificate of Service.
Civilian Denise Helleman received the 20-year NSW Police Medallion and Lapel Pin.
Other awards included the Commissioner's Unit Citation to Det Snr Const Eric Andrew and Warrant of Appointment to Sgt Owen Seaman.
Sue Murray