Erina Rotary Club's Youth Art Exhibition, Culture of Youth, will be on show at the Erina Centre Gallery, Erina Fair until June 24.
The Rotary Club has coordinated the exhibition of contemporary artworks by local high school students from Erina and Terrigal as a part of the celebration of Youth Services month in the Rotarian calendar.
Supported by Central Coast Council, the exhibition aims to showcase the cutting-edge creativity and culture of our local young people.
It focuses on the use of mixed media and technology to support their self-expression and creative endeavours.
Teachers Gail Wright, of Terrigal High School, and Rebecca Slocombe, of Erina High School, have been keen supporters of the exhibition and submitted their students' artworks for the occasion, assisting in the set up and curation of the exhibition.
"It's a great opportunity for the students to be able to present their artworks to the broader community as well as their families and friends." Wright said.
"The gallery space is free and open to the general public visiting the library, which means so many people will see the artworks."
The works include Terrigal High's Year 7's digital prints of drawings inspired by American animator, Gary Baseman, creator of the cartoon Teachers Pet.
Also on show are Year 8's skateboard decks, decorated with painted designs themed on celebrating the local environment.
There are also works from the multi-categorial class of iconic/totemic designs.
Erina High School's Years 9 and 10 submitted works of digital drawings and photography, themed through the environment and the circular nature of existence.
Slocombe said the school would definitely want to be part of the event if it is held again next year.
"The more opportunities that our students get to present their work publicly the greater confidence they get," she said.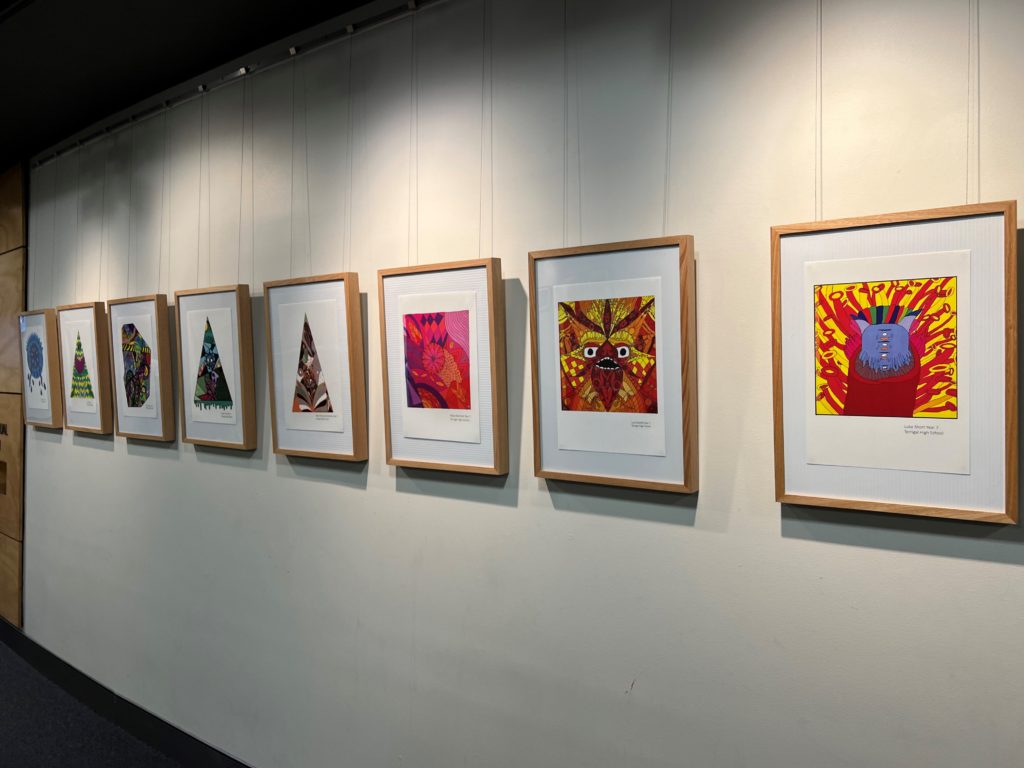 The exhibition was launched on June 5 when students, their families, teachers and Department Head teachers joined Erina Rotary Club members to view the artworks exhibited in a professional setting, curated with the gallery hanging system and lighting.
An Erina Rotary Club representative confirmed the club would love to repeat the event next year.
"The students' work is so impressive, and I love how they have used a mix of techniques to create the works, including analogue drawing and painting with digital editing and printing," the representative said.
"The purpose of the exhibition is to encourage the young artists.
"I hope that this will inspire some of the young people to continue and pursue a career in the creative arts sector in the future."
The exhibition is open from 9am-5pm Monday to Friday and from 9am-1pm on Saturdays.
Source:
Media release, Jun 13
Erina Rotary Club