Uniting NSW ACT has revealed new plans for its controversial redevelopment of Nareen Gardens retirement village at Bateau Bay which have been scaled back by 20 percent following community resistance.
The original development application (DA) was lodged in October 2021 to overhaul the existing village into a $148M six-building vertical development, however, community concerns have forced Uniting to draw up a new masterplan with significant changes.
Some of the main changes are the removal of Building 4 completely, removing the top floors from three buildings and reducing the size of two buildings on Altona Ave.
Uniting's new plan proposes a 20 percent decrease in independent living apartments to 186 and an extra 28 accessible ground-level apartments with courtyards across five buildings.
There is an increased distance of at least 12m between each of the five buildings and three of them will be further from the eastern boundary to allow for more privacy vegetation landscaping.
Removal of Building 4 means the central Village Green has been increased in size by 48 percent in the new plans but still includes a children's playground, barbeque area, activities and seated areas.
Other changes include wider roads, improved access and security and clothes drying areas for residents.
Uniting's Head of Property Development, Adrian Ciano, said there were gaps in quality and affordable housing for seniors in Bateau Bay which this community services development would help fix.
He said Uniting had made changes to the masterplan after listening to feedback from its existing Nareen Gardens residents, surrounding neighbours and other stakeholders.
"Uniting is pleased to provide greater privacy through less dwellings, greater setbacks, lower heights, additional screening, solid balustrading as well as increased landscaping," Ciano said.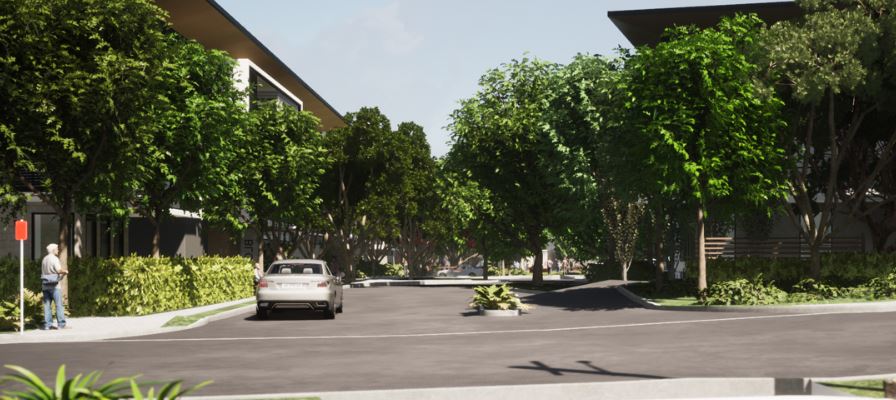 Spokesperson for the Bateau Bay Community Collective (Nareen Gardens Development), Erin Breneger, says the community is still far from happy.
"The development is still too big and even though they've reduced it by 20 percent it is basically still a mix of two and three storey buildings and out of character for this low-density area," she said.
"We have given Uniting, the Regional Planning Panel and Council a lot of feedback and they've done nothing really to address our concerns, except to put up some No Parking signs on Altona Ave, which means there won't be any access to parking on half that street.
"That's a huge issue; it's a tiny little cul-de-sac which was only meant to service the seven or so houses in that street, not to be a secondary entry/exit point for a village that's now going to be built four or five times the size of its original design.
"We've asked Uniting to close off Altona Ave or to use it for emergency vehicles only.
"Also, we think the buildings bordering the eastern boundary should be reduced to two storeys because of the huge privacy element and over-shadowing of homes along there."
Breneger said another issue was the disruption caused by the unreasonable six-year timeframe Uniting says it will take to complete the redevelopment.
"We accept that the retirement village needs to be upgraded but we want to make sure it's done appropriately and we're committed to working with Uniting to try and keep everyone happy," she said.
Full details of all the changes to the proposed redevelopment will be made available once the DA is re-submitted to Central Coast Council and subsequently placed on public exhibition for community feedback.
Uniting says it expects to lodge its revised DA "about mid May".
Sue Murray