Federal Member for Dobell, Emma McBride, has retained her seat for a third term and gained some ground with a 4.9 percent swing towards the Labor Party.
McBride achieved an even better result than when she first won the seat from the Liberals in 2016 when there was a 4.6 percent swing to Labor.
Although, when re-elected in 2019, McBride slumped to a narrow 1.5 percent margin after a three percent swing away from Labor.
With 98.5 percent of the vote counted at 4.30pm on Monday, May 23, McBride held 56.4 percent of the vote at 49,725; and the Liberal candidate, Michael Feneley, recorded 39,515 votes, or 43.6 percent.
McBride was the clear winner at all 60 polling places across the Dobell electorate.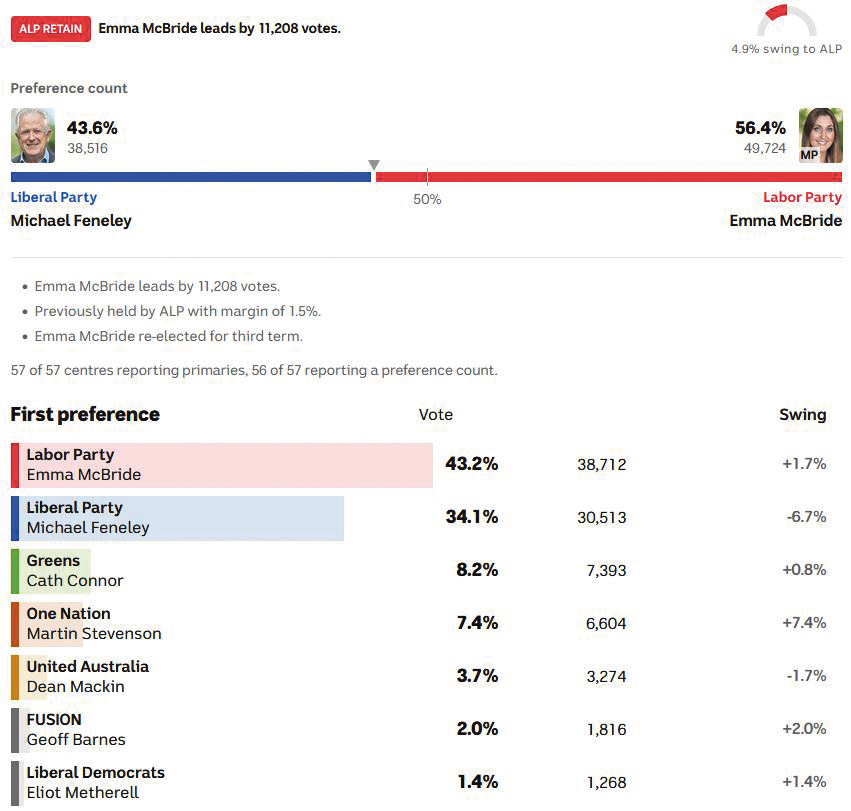 McBride said it was an honour to be re-elected as the Federal Member for Dobell for a third term.
"Dobell is always a tightly contested seat, and I would like to thank our community for placing their trust in me to represent them for another three years," she said.
"I would also like to acknowledge every candidate who ran for the seat of Dobell for being willing to stand up for our community.
"I will make sure I continue to stand up in Canberra for people on the north end of the Coast, because the Central Coast must be a priority.
"We have to hit the ground running on the Central Coast, there are so many pressing priorities; to clear the backlog of infrastructure, to create quality local jobs and to improve health services.
"Housing affordability is a growing problem and the cost of living is affecting most people, families and businesses."
McBride said $40M will go directly to improving local roads and Labor would top-up the Regional Infrastructure Fund by another $250M to go to regional areas across the country, including Central Coast.
"One of my key election commitments was an MRI licence for Wyong Hospital, so locals can access the lifesaving medical scans they need close to home.
"I want this licence to be delivered as a matter of urgency.
"As a pharmacist and a local MP, I understand the importance of quality and affordable healthcare.
"This is what I want to deliver for people on the Central Coast over the next three years.
"An Albanese Labor Government will make sure we put the care back into healthcare, because this is what all Australians deserve.
"We've committed to 50 urgent care clinics across Australia and, Dr Gordon Reid and I will be making sure that one in the north and another in the south of the Central Coast is a top priority so that people can get affordable health care close to home when they need it."
McBride reinforced her commitment to quashing the PEP11 permit for oil and gas exploration off the coastline between Newcastle and Sydney.
"Absolutely, PEP11 is off the table, as it should be," she said.
"Our environment is critically important to us and our future and I think many people will be relieved now, knowing that the change of government with a strong change of priorities, that this is going to be front of mind for this incoming government.
"So much of our local economy relies on our natural environment; tourism, hospitality and retail, and it should not bel jeopardised by a risky project like PEP11."
"I look forward to working with my Labor colleagues, including the new Member for Robertson, Dr Gordon Reid, so we can create a better future on the Coast," McBride said.
To see the full video interview with Federal Member for Dobell, Emma McBride, go to our website coastcommunitynews.com.au/news/video
Sue Murray