Blind cricket will soon be arriving at Central Coast schools, delivered by a NSW blind cricket player – and Coast schools can volunteer to host the program, run over 90 minutes.
Not-for-profit organisation Social Futures is rolling out blind cricket to develop an awareness of disability and demonstrate how the community can adapt and be inclusive to all – in this case through sport.
Social Futures community development coordinator, Scott Jones, a former NSW captain and current state blind cricket team member, will run the program.
"The rules of blind cricket are based on standard cricket rules, with a couple of key modifications – the ball is hard plastic and filled with ball bearings to provide audible cues," he said.
"The wickets are made of metal and have the ability to rattle when shaken to identify their location."
Jones said the sport is not only inclusive but loads of fun to play.
"Every student can take part in this interactive game," he said.
"When I visit school, I also have a short chat about disability awareness and inclusive sports.
"When playing blind cricket, we use experiential glasses that replicate the experience of vision impairment, and when deprived of an essential sense – vision – players are prompted to find new skills as they play."
In blind cricket there are 11 players in each team and, under competitive blind cricket rules, there must be at least four players who are totally blind and seven partially blind players.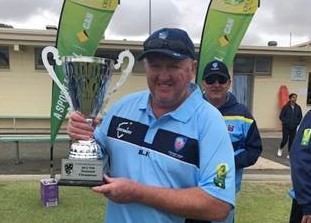 That seven includes a minimum of three players with less than 5 per cent vision and a minimum of three players with less than 10 per cent vision.
"Other differences to blind cricket are that verbal signals are widely used both by umpires and players," Jones said.
"The bowler must ask the batsman if he is ready and shout 'Play!' as he bowls the ball, and they must bounce at least twice when bowling to a completely blind batsman but only once to someone with partial sight.
"All methods of dismissal are in play including bowled, caught, LBW and stumped.
"Totally blind batsmen are scored two runs for every one run they achieve."
Primary schools that would like Jones to visit for a teaching session can contact Social Futures on lac@socialfutures.org.au or 1800 522 679.
Source:
Media release, Apr 26
Social Futures