Member for Gosford, Liesl Tesch, is calling for immediate government assistance for oyster farmers, with the Central Coast oyster industry at risk of collapse following devastating heavy rains over the past year.
Deb O'Sullivan, who runs Hawkesbury Rover Oyster Shed at Mooney Mooney with husband Peter, said they haven't sold an oyster since last November.
Oyster farms on the river have been decimated over the past year, with heavy floods in March 2021 followed by a year of heavy rainfalls, culminating in a deluge in February this year.
O'Sullivan said the situation had been exacerbated by constant releases of water from the overflowing Warragamba Dam.
"The latest rains in February completely wiped out our Pacific oysters and we are still under flood now because of water from the dam," O'Sullivan said.
"We've also lost around 50 per cent of our Sydney oysters and can't touch them right now because they are under stress."
The oyster shed employs farmers to supply its stock, which is then sold to the public, but supply has completely dried up.
"We've had no income since November from oysters and I've been trying to keep paying the farmers and staff employed but we can't do it much longer," she said.
The O'Sullivans have been importing oysters where they can and selling mussels and seafood chowder to try to keep their heads above water but fear for the future of the local industry.
"People don't realise how beneficial oysters are; losing them could ruin the whole ecosystem of the river because they keep it clean," O'Sullivan said.
"It takes two years to grow oysters and we still have to pay lease fees, land fees and food authority fees while no oysters are being harvested."
One oyster farmer said he had lost two or three years' worth of Pacific oysters with no income for over a year.
"We grow oysters and sell to wholesalers," he said.
"Any government assistance requires you to have 50 per cent of your income from primary production – but if you lose your oysters you don't have one.
"It's a Catch-22; we don't qualify.
"We lost 600,000 oysters this year and a similar amount last March and we still have to pay money to the government and local authorities for leases, etc.
"Everyone's had to go out and find some sort of other work and the future looks dismal.
"We are down to 10 oyster farmers on the Hawkesbury, where there were 35 just a couple of years ago."
He said quality assurance and water testing costs were high, and shared between the farmers.
"If the number of farmers goes down any further we won't be able to keep it up," he said.
Tesch held a crisis meeting with oyster farmers recently and has called on the NSW Minister for Agriculture to act immediately by providing some financial relief.
She said the Government should waive fees and rents for at least 12 months for flood-affected oyster farmers and better disaster-proof the industry from shocks such as floods and bushfires.
"The industry pays a wide range of fees and rents to State Government agencies like NSW Fisheries, Crown Lands and the NSW Food Authority," she said.
"Our industry means healthy rivers and estuaries and the Government needs to act more quickly in providing support and financial relief.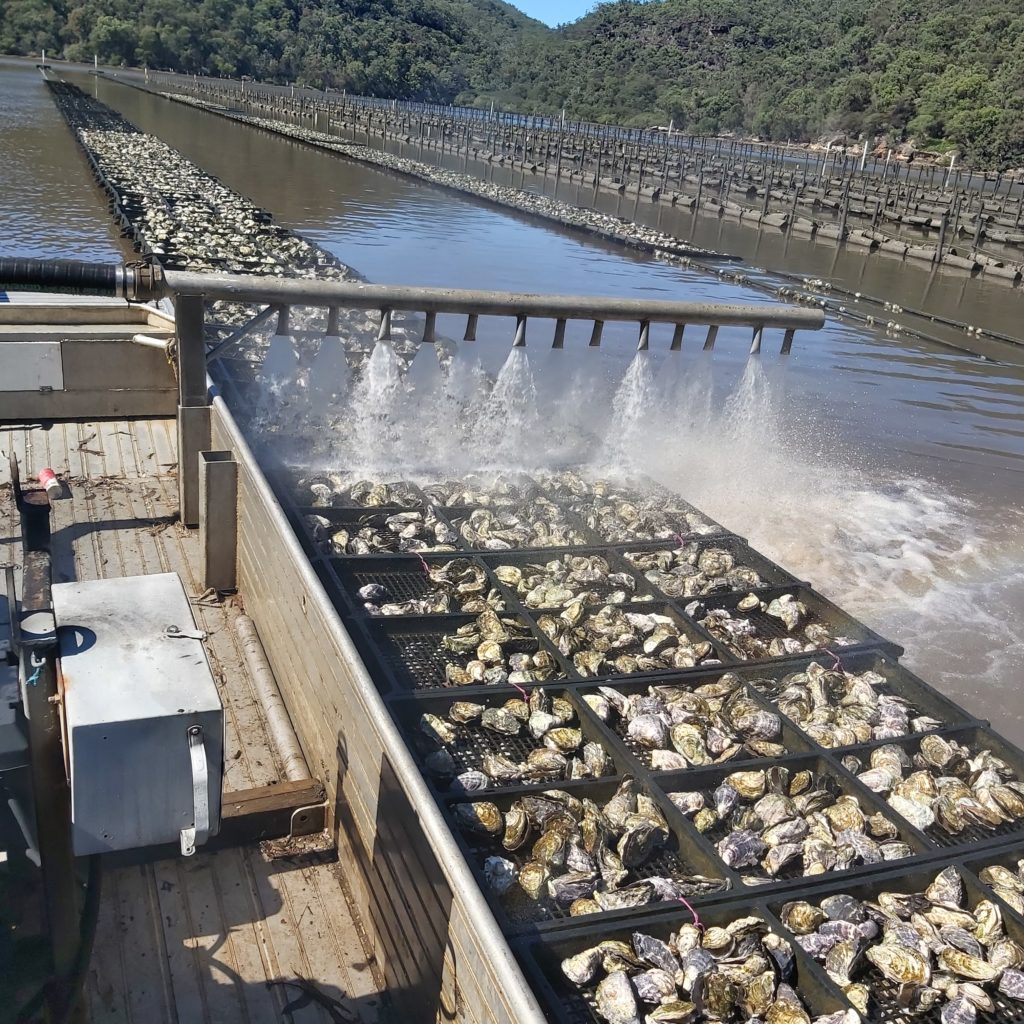 "Our oyster farmers generate almost $60M in product – we need to ensure this industry not only survives but grows."
Shadow Minister for Agriculture, Mick Veitch, said oysters were often referred to as the canaries of our waterways, and were susceptible to deterioration in water quality.
Recent flooding has caused damage to infrastructure and left pollution and debris in the waterways, impacting the salinity and creating difficult conditions for oyster farmers, he said.
The NSW Opposition has also called on the Government to appoint a designated industry support officer to work with oyster farmers on immediate threats and recovery, and to look ahead at ways of "disaster-proofing" the industry from the threat of climate change and disease.
What the farmers want
DPI, Food Authority and Lands Department fees waived for two years.
Financial relief until the next batch of oysters is expected to be harvested in December 2023.
A review of the eligibility criteria for Flood Relief and Supply Chain Grants for NSW.
Recognition from the State Government that oyster farming on the Hawkesbury has been devastated by three years of floods and previously by QX and POMS diseases.
Terry Collins