The recent postponement of the auction of the Dooralong Public School site has been welcomed by the Darkinjung Local Aboriginal Land Council (DLALC).
While the DLALC is well-known as one of the largest private landowners in NSW, its broader activities to support Aboriginal communities on the Central Coast is less well documented.
Established in 1983 under the Aboriginal Land Rights Act 1983, the DLALC works in partnership with both Aboriginal community organisations and non-Indigenous entities to deliver social outcomes for over 15,000 Aboriginal people living across the Coast.
The DLALC says it has been working in partnership with Barker College to deliver education outcomes for Aboriginal children from the Central Coast since 2016.
"The Central Coast has one of the fastest growing Aboriginal communities in Australia, with the Aboriginal population growing 38 per cent between the 2011 and 2016 ABS Census," says DLALC Chairperson, Barry Duncan
"Unfortunately, these statistics also show that Aboriginal people experience higher levels of youth suicide, homelessness and chronic health issues and lower levels of education, employment and income."
Barker College is one of Australia's most prestigious schools.
Located on the upper-north shore of Sydney, and catering for students from pre-Kindergarten through to Year 12, Barker has a strong reputation for exposing students to diverse opportunities and experiences to build confidence and resilience.
The school known as Darkinjung Barker operates from a small facility located in Yarramalong which is owned by an independent Trust and leased to the school.
Currently, up to 35 Aboriginal students attend Darkinjung Barker.
Duncan says the school has demonstrated strong educational results.
"Initially, between three and five years growth was evident in the first calendar year alone, and each child attending continues to demonstrate at least one additional year of academic growth in each calendar year."
"This dramatic improvement is due to the teaching model and strong partnership between Darkinjung and Barker College," he said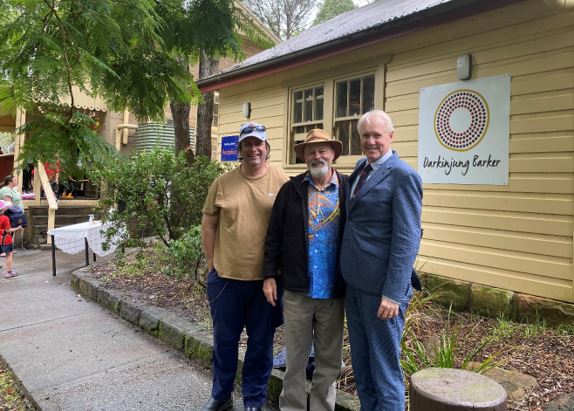 According to Duncan, the current Yarramalong site does not allow for further growth of the service to meet the needs of the growing Aboriginal community, and is often exposed to flooding which means that at times the children are unable to attend school.
"If Darkinjung is able to negotiate the ownership of the old Dooralong Public School site, it would give a new permanent home for Darkinjung Barker and allow positive outcomes for up to 100 Aboriginal students, giving them a brighter future through stronger education."
Darkinjung and Baker College are exploring ways in which the site can include contemporary cultural learning spaces and bush foods while honoring its history, and how this can be shared in partnership with children from a variety of schools across the Central Coast.
Under the National Agreement on 'Closing the Gap', the NSW Government has committed to working in partnership with Aboriginal communities to deliver real tangible outcomes and Duncan see this as a perfect example.
"We are committed to working with the NSW Government to determine the best and most appropriate use of the old Dooralong Public School site – one that recognises and preserves its history and focus on educating the youth of the Central Coast, while also promoting shared understanding and reconciliation with Australia's oldest living cultures."
CCN