Applications are still open for a Coast and Country Primary Care (CCPC) scholarship scheme which aims to provide financial peace of mind for First Nation's people studying at TAFE or University on the Central Coast.
CCPC Chief Executive Officer, Kathy Beverley, said the inaugural scholarship scheme was launched last year and has supported four students with the cost of their studies.
"Our scholarship program provides financial assistance for textbooks and other learning supports for people undertaking studies in the community services or related health fields," she said.
"At CCPC we are committed to supporting the development of pathways for Aboriginal and Torres Strait Islander students by also providing opportunities for scholarship recipients to undertake work placements with us.
"We're committed to growing the diversity of the community services workforce through this program, which was an action from our Reconciliation Action Plan."
Eight scholarships are awarded each year with recipients receiving $1,250 to assist with textbooks and other learning resources.
Former recipient Jacob Smeaton is a Gunditjmara man who grew up on the Central Coast.
Currently employed as Project Officer for Barang Regional Alliance, he is also studying a Bachelor of Indigenous Studies majoring in Government Policy and Political Economy at Newcastle University.
Smeaton said the scholarship gave him financial peace of mind and freedom when it came to being able to afford his university textbooks.
He was also able to buy himself a new laptop.
"It has given me some tools and freedom to do my courses," he said.
Smeaton plans to continue working with Aboriginal community and developing his leadership skills to influence positive and inclusive reform for Aboriginal people in Australia.
"I am also part of the Uluru Statement from the Heart dialogue and so reform is something that I am passionate about," he said.
"In 5-10 years, hopefully I will be the CEO of a community-controlled organisation that works toward reform, especially for the Central Coast as we often get swallowed into Sydney or Newcastle.
"We are a standalone region with a large population of Aboriginal and Torres Strait Islander people and we have the fastest growing population in Australia; it's important that we work together to have a unified voice."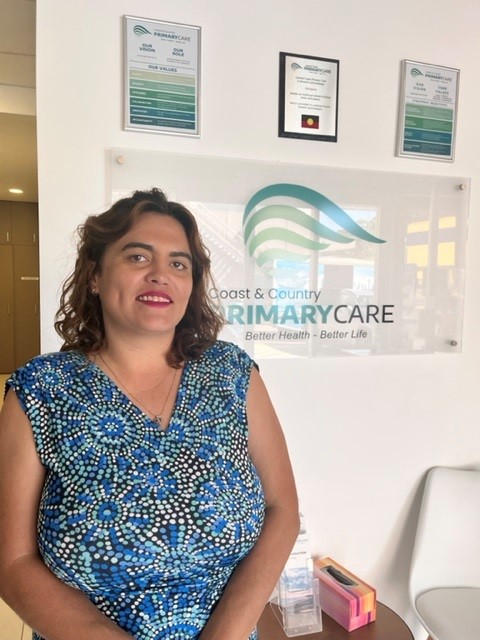 Fellow recipient Erica Smits is a Gamilaraay woman from Walgett in northwest NSW who has lived on the Central Coast since she was 12.
Smits, 40, is a Compliance Officer with the Office of the Registrar Aboriginal Land Rights Act 1983 (NSW), and is married with two children.
She was a late starter to tertiary education.
She graduated with a Bachelor of Business in 2021 and has since commenced her Master of Business in Social Impact with the University of NSW.
"I recently moved from a role as a Director with NSW Aboriginal Lands Council to the Office of the Registrar because I want to get into the political side of making land rights changes," she said.
Smits used her scholarship money to buy an iPad and iPad pencil to use for her university studies.
She strongly encourages other Aboriginal or Torres Strait Islander people who are studying to apply for the CCPC scholarship.
"Go for it – sometimes it can be daunting, but if you don't do it, we're never going to get anywhere and one day we want to see the first female Aboriginal Prime Minister."
Source:
Media release, Feb 22
Coast and Country Primary Care