We're back for the fifth instalment of our Summer salads series. This week, we're chatting to Paige from local business Phat Platter – a team of food and styling experts taking the coast's picnic blankets by storm.
Originally providing the Coast with grazing tables, they have now expanded into providing the Central Coast, Sydney and Hunter Region with a wide variety of stunning grazing tables, catering boxes and luxury picnics.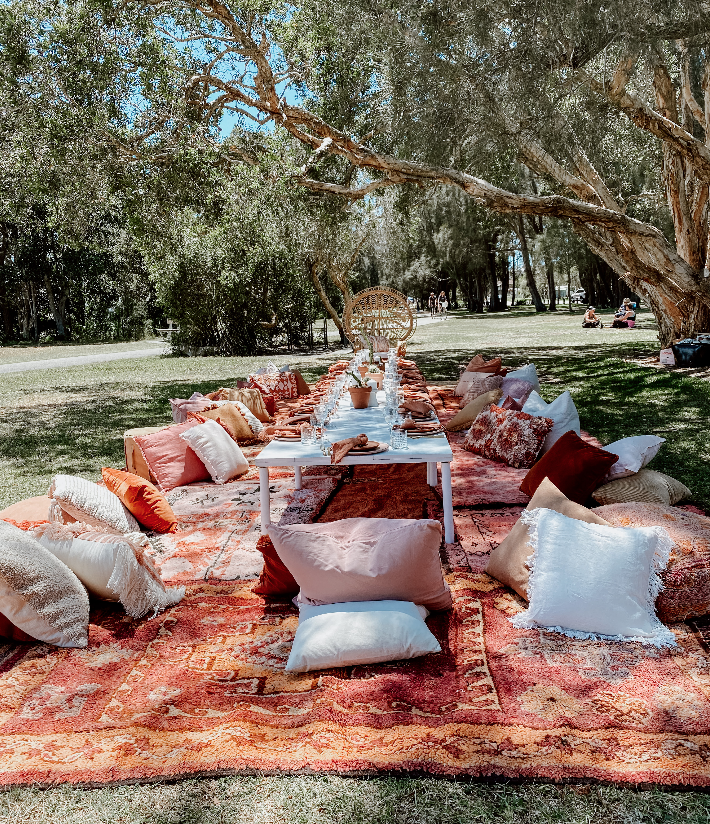 It starts with cheese
We're passionate about high-quality foods here at Phat Platter, so we thought we'd introduce you two of our favourite cheeses. Our team has curated a beautiful blend of Australian and international cheeses providing you with what we think is a perfect mixture of different flavours and textures.
Our first favourite is our local triple cream brie from Binnorie Dairy – sourced from the Hunter Region, which has been supplying Australia with amazing cheeses for almost 20 years. The triple cream brie is made using cow's milk which has a soothing, mellow flavour with subtle tones of nuttiness and fresh mushrooms sauteed in butter extending into a creamy and smooth finish.
The second cheese we feature regularly on our platters is a traditional French cheese called Fromager D'affinois Excellence. This soft cheese has an infinite sweetness due to the extra cream that is collected from dairies in the surrounding countryside, located in the picturesque hills of the Rhone Valley, France. This extra cream gives an elegant, silky-buttery mouth feel that adds to the enjoyment of this cheese.

Our tips for creating the ultimate grazing platter
At Phat Platter we believe that any season is a good season for cheese, but we do think that enjoying a grazing spread on a summer afternoon accompanied by your favourite drink is very hard to beat.
The most important tip for creating the best summer platter is to source the best quality seasonal ingredients that you can find. Juicy fruits and fresh vegetables pair perfectly with cheese – so freshness is everything. We also love adding local raw honeycomb to our platters as it adds a sweet element to the spread.
Styling your platter
Believe it or not, there is a method to our madness when it comes to our grazing tables!
When creating your own graze, it's important to precisely place each element so that people are more inclined to taste each cheese with specific meats and accompaniments.
We went around and asked the team their favourite combinations to give you some inspiration of how to assemble your own.
Stevie (The Boss's) favourite combination on a grazing table is our 'Shadows of Blue' cheese paired with quince paste and prosciutto, "It is the perfect combination of salty, sweet and soft and creamy blue."
Alex's (Picnic Master) favourite is our delicious goat's milk, truffle manchego paired with red wine and garlic salami and a smoked, sundried tomato. "This is my all-time fave, the creaminess of the manchego combined with the smokey tomato and garlic notes in the salami is unbeatable!"
My personal favourite is the amazing D'affinios Excellence paired beautifully with our local raw honeycomb, a slice of fresh pear and a caramelised walnut. Once you try this combination your taste buds will be begging for more.
It's all about pairing delicious elements and textures to your platter so be sure to add a good variety of different cheese, meats and fresh produce.
Taking care with your cheeses
It's always a great idea to let your cheese sit out to get to room temperature before serving as this is when you are able to experience the cheese at its full potential. Both the texture and flavour of the cheese can change if it has come straight out of the fridge.
We also recommend with some of your hard cheeses to slice it and create a fan or different shape with the slices. This adds layers, height and more dimension to your graze – because we all know it's all about that insta pic!
Another tip is to crumble any hard, crumbly-textured cheese to add a new texture to your graze, which will encourage your guests to try it. It's especially great to do if you have two similar looking cheeses as it helps guests to differentiate between the two.

Styling your cured meats
When it comes to cured meats it's always a great idea to have a few different varieties to pair with different cheeses.
The most important thing with cured meats is to ensure that it's sliced thinly. A thick cut of cured meat becomes overpowering with cheese, so when you're sourcing meats for your graze, be sure to ask your deli for a thinly sliced product.
It's so important not to merely slap meat onto your platter – it will look flat and unappetising. At Phat Platter we use a method we call 'curling'. We take the slice of meat and curl it around our fingers to create a unique shape for each meat, which adds more dimension on the platter. For example, we fold prosciutto like an accordion, so that it takes on the appearance of a delicate ribbon sitting amongst the other ingredients.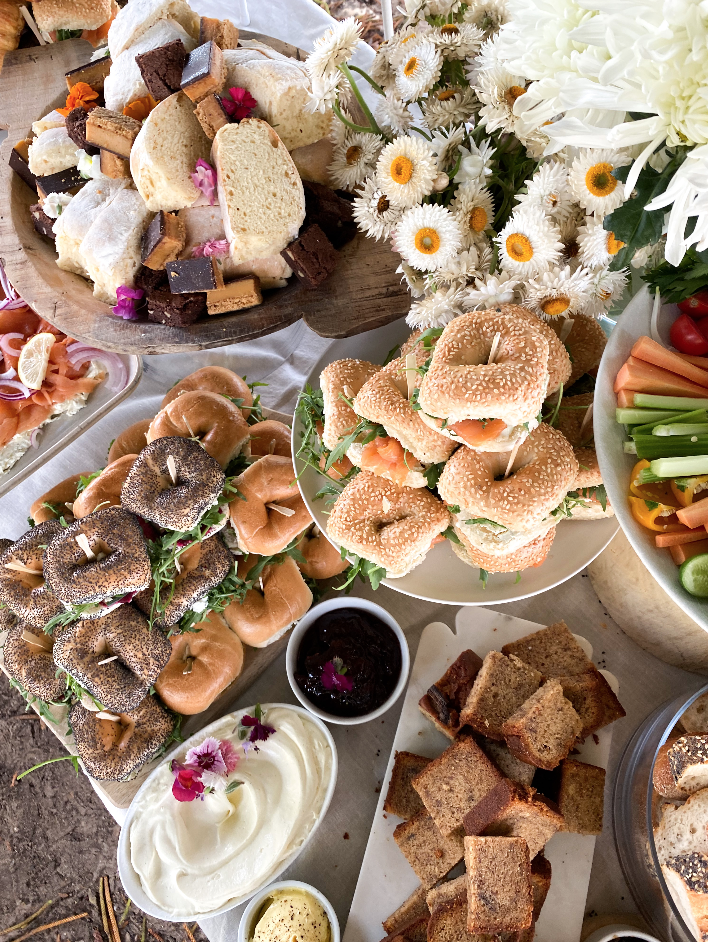 The finishing touches
It's always a good idea to leave adding fruits and fresh vegetables as one of the final steps as this allows you to see where your platter needs certain colours, textures and height and you can place them accordingly.
Edible flowers – whether they are dried or fresh – will completely transform your graze. The colours add an unmistakable flair that no other element can.
Phat Platter are open to order Wednesday – Sunday. Keep up to date with their latest seasonal offerings on Instagram and Facebook or shop for their boxes, grazing tables or luxury picnics on their website.
Georgia is a clinically trained nutritionist, wholefoods chef, columnist and mum. She's been featured in Body & Soul and had TV appearances on ABC Breakfast and Studio 10 for her unique approach to food and health. She's known for reinventing traditional foods for the modern kitchen and was instrumental in a radical new approach to sports nutrition with a program for the NRL Parramatta Eels, kickstarting their ascent on the ladder in recent years. Find out more at stirringchange.com.