We're back for the final instalment of our Summer salads series. This week, we're chatting to Victoria Abraham from Jimalie Coconut Products. Victoria is a nutritionist whose passion for whole, nutritious food stemmed from a desire to improve the health of her eldest child, who was diagnosed with severe Autism at a young age.

When the Summer heat has you craving fresh, crisp salads but you want to make sure that you're having something more substantial than your basic side, adding some form of protein will make the perfect Summer dish.
Poaching chicken in coconut milk is such a delicious way to prepare chicken to add to Asian inspired salads. Not only does the chicken stay juicy and moist, the subtle sweetness of the coconut milk is the taste of Summer.
The addition of coconut amino sunflower seeds on top, is a delicious, healthy way to add a bit more crunch and flavour to this salad. This is our crunch element in substitute of deep fried (in industrialised seed oil) packet noodles that regularly feature in this type of salad. Sunflower seeds also provide healthy fats and minerals such as selenium and zinc.
If you're going to the effort to make them, it can be a great idea to make extra amino sunflower seeds and store them in a glass jar (for a week) to add over soups, other salads, omelettes, or pretty much anything you like.
Hope you love it as much as we do!
Asian-inspired salad with poached coconut chicken
Ingredients (serves 2)
Chicken:
1 x chicken breast
½ can Jimalie Coconut Milk
¾ cup water
Salad:
2 x big handfuls of wombok, chopped
1 x packet of bean sprouts
½ capsicum, sliced
1 x Lebanese cucumber, sliced
Handful fresh coriander
2 x handfuls snow peas trimmed, cut in halves
1 tbsp Jimalie Coconut Amino Sauce
Handful sunflower seeds
Dressing:
1 tsp sesame oil
1 tsp tamari sauce
Vinegar of choice (I used apple cider vinegar)
Pinch Jimalie Coconut Sugar

Method
For the chicken:
Place chicken breast, coconut milk and water in a saucepan and bring to the boil.  
Reduce it to a simmer and poach the chicken for 15-20 minutes, then set aside to cool.

For the sunflower seeds:
In a hot pan add the sunflower seeds and lightly toast.
Transfer to a bowl, add a tbsp (or more) coconut amino sauce while seeds are still hot and stir through. Set aside.
For the salad:
Place the wombok, bean sprouts, capsicum, coriander, snow peas and cucumber in a bowl.
Roughly shred the chicken breast and add to the bowl along with the desired amount of dressing and toss through to combine, then sprinkle the amino sunflower seeds over top.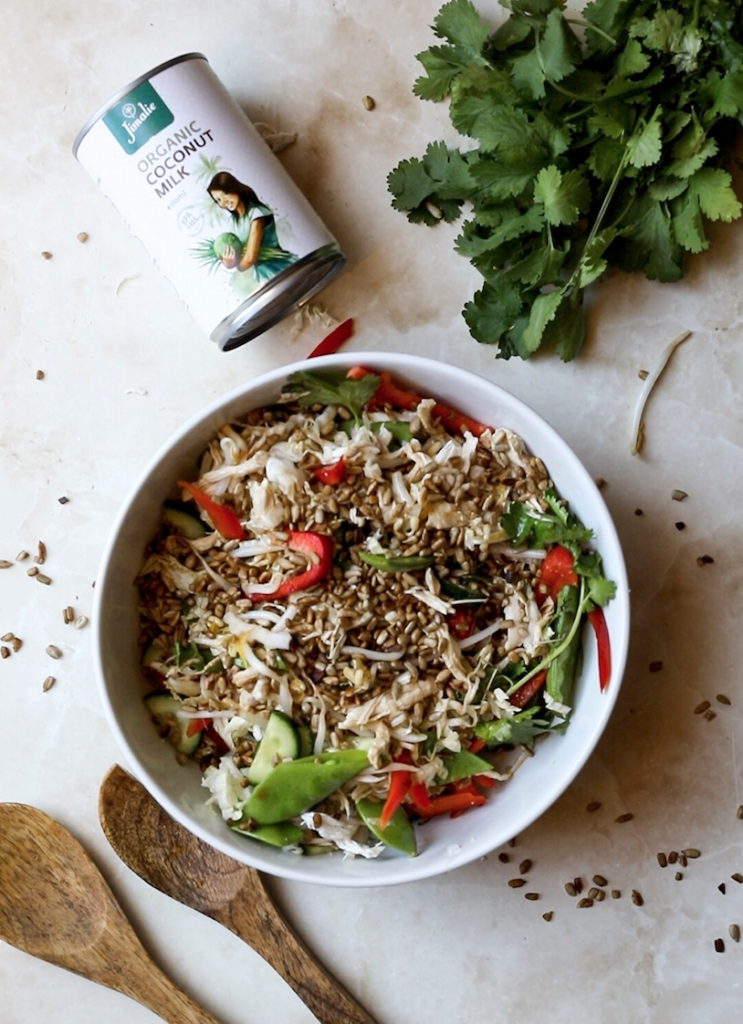 More about Jimalie
Jimalie is our small, family business based on the Central Coast. We import organic coconut products from an area in the Philippines where our family farm is located. The range includes centrifuge virgin coconut oil, coconut wraps, coconut milk, coconut amino sauce, MCT oil and powders and more.
The farm in the Philippines belonged to my husband, Jaypee's grandparents and later his father, Jim. The name Jimalie is a tribute both to him and the location of the family plantation in Alijal in the Davao Region of the southern Philippines.
Growing up, Jaypee travelled to the Philippines and saw first-hand the passion and commitment he put into the farm, providing employment and training for the local villagers. When Jim passed away in 2005, Jaypee wanted to create a lasting legacy in his memory.
Our product range continues to evolve and demand far exceeds the output of our family farm. And the plantation continues to operate today as an everlasting symbol of Jim's commitment to providing employment and support to the local people of the village.
For more information, head to: www.jimalie.com.au
Georgia is a clinically trained nutritionist, wholefoods chef, columnist and mum. She's been featured in Body & Soul and had TV appearances on ABC Breakfast and Studio 10 for her unique approach to food and health. She's known for reinventing traditional foods for the modern kitchen and was instrumental in a radical new approach to sports nutrition with a program for the NRL Parramatta Eels, kickstarting their ascent on the ladder in recent years. Find out more at stirringchange.com.