As four busloads of local nurses and midwives travelled to Sydney to take part in industrial action on Tuesday, February 15, it came to light that staff in residential aged care across the seats of Dobell and Robertson fall victim to COVID far more frequently than the residents they care for.
Data taken from the 18 aged care facility across the seats that report their case figures on a weekly basis to the Department of Health shows that there were 153 active cases of COVID among residents in the week to Friday, February 11.
Some 227 nurses care workers across the 18 centres were active COVID cases in the same week.
"Nurses and healthcare workers have borne the brunt of a pandemic that our health system was unprepared to cope with," said the Nurses and Midwives Association ahead of a strike this week.
"Our patients know what years of rampant understaffing means to safety; it's time the NSW Government did too," it said.
While the 18 centres paint a small snapshot of the entire system, staff shortages have weighed heavily on local care homes for some time with the pandemic only serving to exacerbate the problem.
Local nurse and Nurse and Midwives Association delegate, Michelle Cashman, told CCN from the Sydney demonstration: "We are at the end of our tether, working many extra shifts and expected to front up time and time again. We are now falling down in heaps, exhausted."
"Everyone is struggling, it's not safe, we are dealing with some aggressive and tired patients who simply want to be treated.
"We can't take it anymore and we've taken this unusual strike action," she said.
Cashman said nurses from around NSW were attending the demonstration in Sydney yesterday.
"All across the state there are similar rallies, in Newcastle, out west and up and down the coast," she said.
Fifty buses had arrived in Sydney by early Tuesday morning to join the rally outside State Parliament, according to Cashman.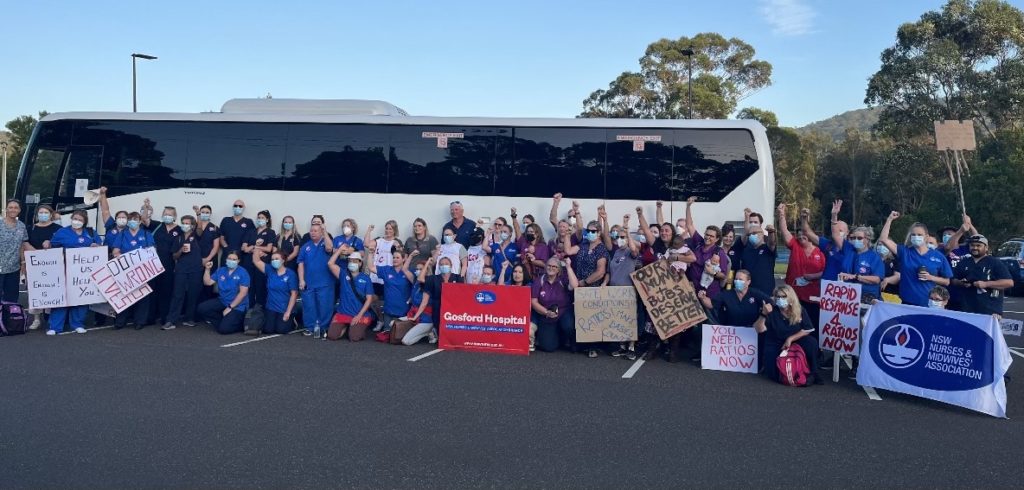 "We are asking the government to wake up and take us seriously, we want all MPs in parliament to take us seriously, we have very real problems in our healthcare systems.
"Our local health district's management has been sending threatening text messages demanding nurses turn up though the union has brushed off the directive.
"We are here to help people; we're not threatening people.
"We want safe staffing levels and reasonable pay and conditions but really it's about ratios primarily, nurse ratios so we can keep our patients safe.
"It's very disappointing that the government is treating us like this, after all that we've been through – sending us to the industrial relations commission the day after the by-elections".
Health Services Union members supported the nurses but did not strike as they were maintaining the hospitals during the strike action.
Debbie Hoffman, an Aged Care Worker on the Coast for more than 30 years, said there was a chronic staff shortage even before her colleagues started to take COVID-related sick leave.
"As an AIN (Assistant in Nursing), I can tell you that we can't do everything.
"We can't keep up with the demands of all the residents, even at the best of times.
"Sometimes there will be 45 or 50 residents with just two AINs to look after all of them.
"For example, there are patients who require help for 30 minutes just to eat breakfast.
"We were struggling before, but it's virtually impossible now," she said.
This week's strike calls for the NSW Government to re-introduce nurse-to-patient ratios.
NSWNMA General Secretary, Brett Holmes, said the pandemic has exacerbated the failings of the health system and highlighted the disrespect shown to nurses and midwives by the government.
"The platitudes will not be enough to sustain our already fatigued and diminished health workforce," he said.
Care workers, and the owners of the care facilities, are reluctant to come forward and speak on record about the effects of the pandemic, staff to patient ratios and the general day-to-day occurrences that happen under their watch.
Most prefer the unions to speak on their behalf.
One Coast Aged Care Manager, who refused to divulge her name for fear she would be "shot" if her "company found out" said that she doubted the government would be able to provide a thorough and considered solution to their problems.
She said the recent $400 one-off thank-you payment to Care Workers and Nurses was a slap in the face.
"Staff are angry. They know there's an election coming up.
"We would rather they spend that money on more PPE, on more RATs and better still, more staff.
"We just want to be able to look after the vulnerable population," she said.
"We have a sustained crisis that has been brewing for years.
"Yet all we get is more short-term political management, more kicking the can down the road, more denial of reality. When will this Government grow up?" said Health Services Union General Secretary Gerard Hayes.
The full details of the residential care homes with figures for staff and resident case numbers:
| | | |
| --- | --- | --- |
| Yallambee Lodge (West Gosford) | 2 staff | 3 residents |
| Tarragal House (Erina) | 5 staff | no residents |
| Peninsula Village (Umina) | 6 staff | no residents |
| BlueWave Living (Woy Woy) | 27 staff | 12 residents |
| Aurrum Kincumber | 7 staff | 1 resident |
| Aurrum Erina | 20 staff | 2 residents |
| Woodport Aged Care Plus Centre (Green Point) | 52 staff | 45 residents |
| William Cape Gardens (Kanwal) | No staff | 21 residents |
| Wallarah Point Care Community (Toukley) | 3 staff | 2 residents |
| Vietnam Veterans Keith Payne VC Hostel (Noraville) | 15 staff | 3 residents |
| Uniting Nareen Bateau Bay | 3 staff | no residents |
| Norah Head Care Community | 1 staff | 1 resident |
| Kanwal Gardens Community Care | 37 staff | 52 residents |
| Hakea Grove (Hamlyn Terrace) | 5 staff | 2 residents |
| Chamberlain Gardens (Wyoming) | 4 staff | no residents |
| Bupa Bateau Bay | 19 staff | no residents |
| Arcare Kanwal | 16 staff | 8 residents |
| Adelene (Wyoming) | 5 staff | 1 resident |
Current active cases to February 11 2022
Nicola Riches