The spread of the Omicron variant has resulted thousands of COVID-19 cases officially recorded across the Central Coast since the start of January.
The number is likely to be much higher as these results currently reflect laboratory confirmed tests and those from people who have managed to report their results from the sought-after Rapid Antigen Tests (RATs).
What should you do if you do catch COVID-19?
Central Coast Local Health District's (CCLHD) Director of Public Health, Dr Kat Taylor, said most people can now safely manage COVID-19 at home.
"Most people with COVID-19 will have a mild illness and will recover in a few days or so, with some people having no symptoms at all.
"Most symptoms can be managed with bedrest, regular paracetamol and ibuprofen to help relieve pain and fevers, throat lozenges for a sore throat and keeping hydrated with regular sips of water.
"However, you should contact your GP or call the NSW Health COVID-19 care at home support line on 1800 960 933 if you're pregnant or if you have a chronic condition including obesity, diabetes, heart, lung or kidney problems, compromised immunity including cancer and severe mental illness.
"Irrespective of your age or medical history, if you develop severe symptoms, you should call 000 straightaway and tell the ambulance staff that you have been diagnosed with COVID-19."
Severe symptoms of COVID-19 include severe dizziness, feeling drowsy or confused, suffering shortness of breath, chest pressure or pain lasting more than 10 minutes, or being unable to stand.
As of January 18, NSW Health said people who test positive with a PCR or RAT must isolate immediately for seven days.
NSW Health said that if symptoms such as a sore throat, runny nose, cough or shortness of breath remain after seven days, to remain in isolation until 24 hours after symptoms have resolved.
You do not need to test before leaving self-isolation in NSW.
For general safety, under the current guidelines, CCLHD states to practice COVID-safety measures such as physical distancing, socialising outdoors and wearing masks, and isolate and get tested if you have any symptoms.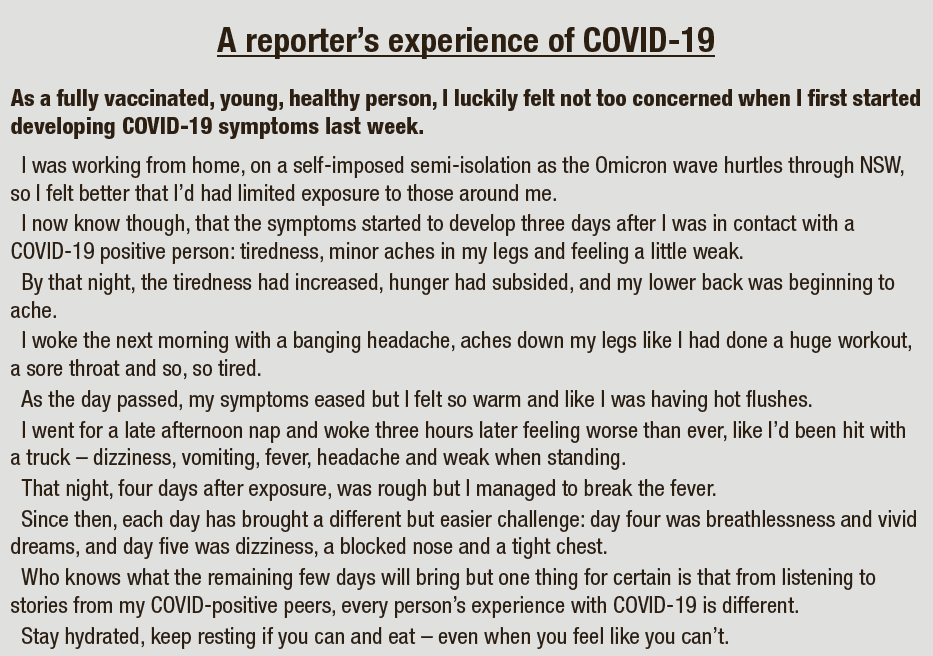 If you have no way of obtaining food or other essentials, call the NSW Health Isolation Support Line on 1800 943 553 and you will be directed to Service NSW for assistance.
A number of 24/7 mental health services are available including the NSW Mental Health Line at 1800 011 511, Beyond Blue at 1800 512 and 348, and Lifeline at 13 11 14.
More information about managing COVID-19 from home is available on the NSW Health website.
Maisy Rae