As case numbers surge and residents across New South Wales struggle to navigate the era of "personal responsibility", the state government has reintroduced a number of restrictions across the state.
NSW Premier Dominic Perrottet has backflipped on his previous stance on restrictions, and reinstated previous controls such as nightclub closures, and the banning of singing and dancing at hospitality venues from Jan 8.
The ban will not include weddings, performers and other functions or dance classes.
While major events are set to continue, they will be reviewed on a case- by- case basis, and those deemed high risk will need to adjust their COVID- safe plans to proceed.
Additionally, category 3 non- urgent elective surgeries will be suspended until February under the new changes.
The NSW government has also declared booster shots to be included in mandatory vaccination and that from mid next week, positive RAT tests are to be reported through service NSW to NSW Health.
Health authorities have also recommended that people reduce mingling and household visits, hold outdoor gatherings where possible and to sit down while at venues.
The restrictions comes as New South Wales recorded 38,625 new infections and 11 deaths. 1738 residents across the state were hospitalised with 134 submitted into intensive care.
RAT's to ease pressure on PCR testing laboratories
With rising wait times for PCR testing and delayed results nationwide, the federal government and health authorities have encouraged residents to take advantage of Rapid Antigen Tests, available at retail stores nationwide. 
NSW Health has reminded locals to only get a PCR test if completely necessary, advising that "testing capacity in NSW is currently under enormous pressure and the only people getting a PCR (nose and throat swab) should be those who have COVID-19 symptoms; live in a household with a confirmed COVID-19-positive case; or have otherwise been advised by NSW Health to get tested."
Health authorities revealed RAT's would also be available for free at testing centres, alongside PCR tests, to ease pressure on labs.
The free tests have been restricted to close contacts, symptomatic residents, health care workers and aged care workers.
Delays associated with PCR testing labs have been attributed to higher numbers of cases produced by the Omicron variant, said Prime Minster Scott Morrison.
The PM claimed that while Omicron is "75 per cent less severe" than Delta, it "has the disadvantage of having very high levels of transmission, which gives a big volume problem."
"This is a strain that is less severe but more contagious," he said.
A National Cabinet meeting on Wednesday agreed that residents who now test positive to a RAT test are no longer required to have a PCR test to prove they are positive.
Now, residents who test positive to a RAT test are subject to isolating guidelines reserved previously for PCR tests exclusively.
Public health orders for both positive RAT's and PCR tests will soon dictate that residents must isolate for a full 7 days, before needing to secure a negative reading on day 7 to be released from isolation.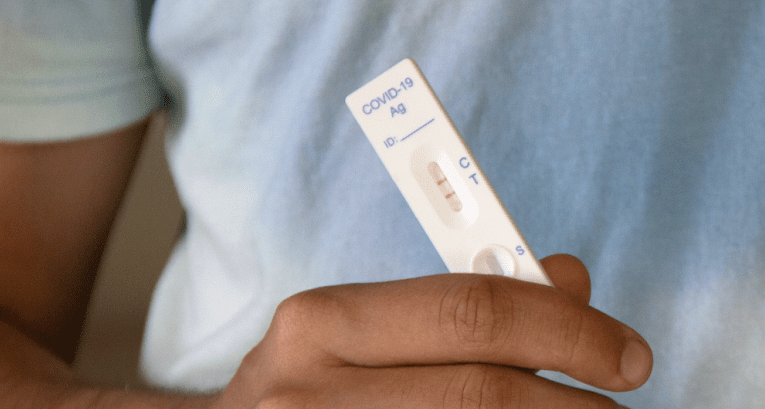 Medical experts have warned residents that long testing queues and result delays for PCR tests would continue for several more weeks, as pathology labs struggle with increased demand.
Demand outstrips supply
Residents across the region have expressed frustration with the shortage of home-testing kits, worsened by a rise in COVID case numbers and the subsequent change in testing requirements.
After an emergency national cabinet meeting on Wednesday, PM Scott Morrison announced that RAT products would be made more accessible by placing a ban on price gouging, with businesses caught facing fines of up to $66,000, and up to five years in jail.
Federal government rejects calls for universal free access to RAT's
While the Federal Government has rejected possibility of universal free access to RAT's, Scott Morrison announced on Wednesday that low-income earners, welfare recipients and pensioners will be offered 10 free RATs over a three-month period, which will be available from pharmacies within the next fortnight.
To access the kits, eligible residents must present a Commonwealth seniors health card, a healthcare card, a low income card, a pension concession card, DVA Gold card or a DVA white card, as well as personal identification to participating stores. 
Maia O'Connor